Because you can't pass through Epernay without taking the time to walk along and visit its famous Avenue de Champagne, a UNESCO World Heritage Site, and much less without stopping at one of the Champagne Houses that gives it its world-famous reputation. Come and take the time to visit and tour the most beautiful cellars of Épernay, France.
Formerly known as the Avenue du Commerce for its strategic position between Paris, France and Germany, it has become a must-see in the Champagne region. It owes its success above all to the Champagne Houses which have set up their headquarters there in the beautiful houses, each more sumptuous than the next.
There are more than 110 kilometres of underground wine cellars and more than 200 million sparkling bottles waiting to be tasted by wine lovers from all over the world. But today, we invite you to be the privileged ones who will enjoy a few bubbles and discover all the activities offered in places full of history and rich heritage.
We are Sarah and Romain, two locals from Epernay who love our town, our region, champagne and meeting our visitors.
Like you, we love to travel, discover and explore places that have a story to discover, but what we like best is to share moments with the guests who stay in our gîtes, located just a few minutes walk from the centre of Épernay, and not far from Reims.
That's why we have decided to offer you our top choices of the best Champagne Houses to visit and tour in Epernay, to get into the heart of the history of Champagne while savouring some of the best bubbles in the region.
Here is our selection of the most beautiful Champagne Houses to visit and tour.
Visit Info: For your visit during the summer season, don't forget to bring warm clothes, the average temperature of the cellars is 11 degrees!
Champagne Alfred Gratien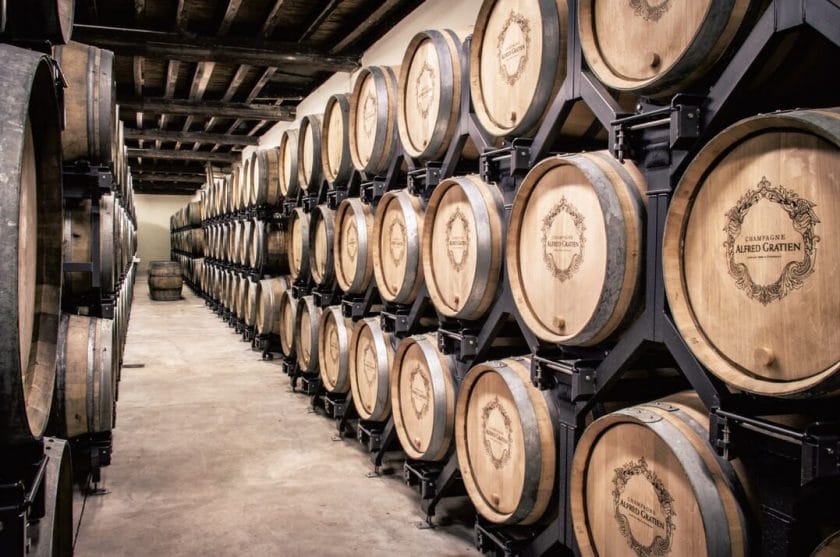 Looking for the ultimate champagne tasting in Epernay experience? Let me whisk you away to the enchanting world of Champagne Alfred Gratien. From the moment I stepped in, I was completely mesmerized by their winery with its 1,000 barrels. The oak barrel fermentation, dominated by chardonnay, gives their champagnes a flavor that's simply out of this world.
But the highlight of the tour? The historic cellar dug in 1873 by none other than Alfred Gratien himself. And the cherry on top? Tasting the cuvée Paradis was an unforgettable moment that still lingers on my palate.
Prices:

30 euros for the tour with two tastings

20 euros for the tasting only

Hours: Closed on Sundays & Mondays
Capacity: Up to 8 bubbly lovers
Champagne Leclerc Briant
On my quest to discover the best Champagne house in Epernay, I stumbled upon the captivating Leclerc Briant. Picture a house that seamlessly blends tradition and innovation. With a passionate commitment to biodynamics and organic farming, it stands tall and proud overlooking Epernay.
What left an indelible mark on me? Their cellar experiments. They play around with materials as diverse as glass, titanium, and even… gold! And let's chat about their cuvée Abyss: a bottle that's been aged 60 meters deep off the coast of Finistère. After such a revelation, I'd recommend lounging in their cozy salon, sipping on their exquisite champagnes, and soaking in the views of Epernay.
Maison Moët & Chandon – To mix champagne tasting and luxury
♥ Cellars listed as UNESCO World Heritage Sites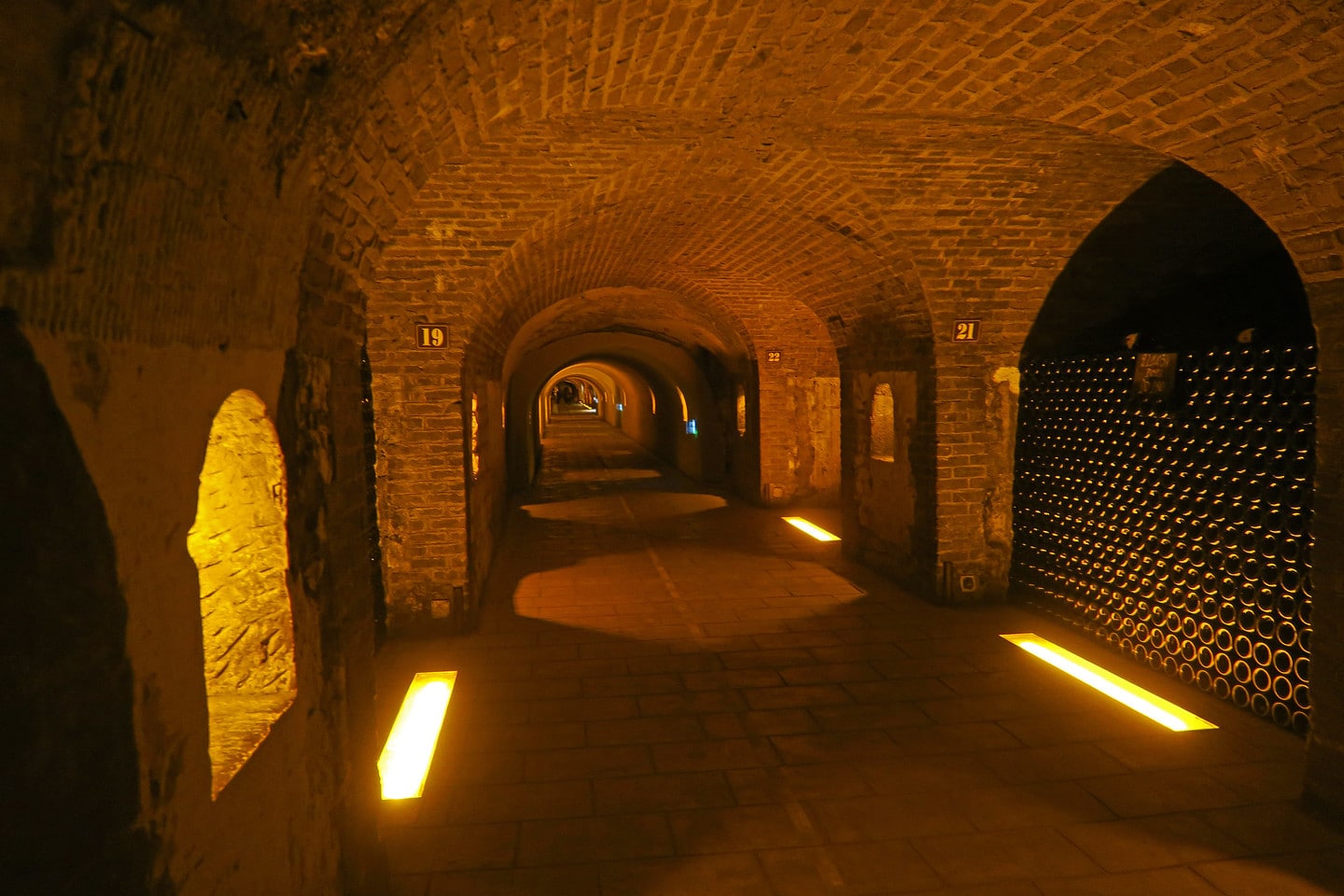 Discover more than 300 years of history at the heart of the House of Moët & Chandon, and uncover the secrets that have kept their unique and emblematic know-how alive from 1743 to the present day. This Champagne House belongs to the luxury group LVMH, and is located on the wonderful Avenue de Champagne in Epernay .
The house offers you an initiatory tour to the heart of its cellars, to discover part of the 28 kilometres of cellars where the bottles intended for the production are aged. This is the ideal opportunity to learn about the history of Moët et Chandon and to taste the symbols that make its reputation. Following this visit, you can choose one of the following tastings activities:
Tasting of the current vintage, white and rosé
Tasting of Moët Impérial and Moët Rosé Impérial
Tasting of Moët Impérial
Champagne lovers who prefer to enjoy just a few bubbles, without discovering the premises, can enjoy a tasting without a tour visit. However, there is no ticket for a visit or tour without enjoying a final tasting.
If you want to take some souvenirs home with you, a shop is open to the public without having to take a tour first.
The guided tour is available in several languages.
Prices: from €40 for an adult entry
House Address: 20 avenue de Champagne – 51200 Epernay, France
Maison Mercier
♥ Cellars listed as UNESCO World Heritage
Also part of the LVMH group, the Maison de Champagne Mercier is happy to welcome you to 30 metres underground for a tour of its cellars. The hosts invite you to take a ride on the little train and explore a section of the 18 kilometres of cellars, which we like to think of as tunnels and immerse yourself in the history of these subterranean passages, built-in 1871. As you will soon notice, these cellars were designed and decorated for explorers who would come to discover them.
Your return to the surface can only be wonderful, as you will have the opportunity to enjoy a glass of Mercier champagne.
You will be able to share a unique moment, to meet your desires, by choosing one of the following visits:
Appointments with the cellar master: gourmets will enjoy a moment with the cellar master, Christophe Bonnefond, who offers a unique tour experience, with a visit of the cellars, followed by a food and wine tasting, an exclusive moment to share with an expert in the field.
Bulles d'or : after a trip to the cellars on board the train, enjoy a tasting of three iconic vintages of this champagne house.
"A contre-courant" tour : enjoy an audio-guided tour in the little train, then join the tasting area to enjoy a Brut Mercier and a glass of the Cuvée Blanc de Noirs.
Founder's tour : following your train ride, attend a tasting of the Brut cuvée with commentary by a sommelier from the beautiful House.
Multilingual audio guides are available for your visits.
At Mercier, on Thursday and Saturday evenings, gourmet boxes combining food and champagne are also offered, to be shared in the house's vineyard.
Prices: from €19 for an adult ticket
House Address: 68 Avenue de Champagne, 51200 Epernay, France
Champagne de Castellane House
♥ Cellars listed as a UNESCO World Heritage Site
Much more than just a Champagne House, you will enter a place full of history, from its 6 kilometres of carved cellars to the Castellane tower, classified as a historical monument, and passing by the museums and original collections.
Since 1895, the House has been committed to excellence, thanks to a tradition that continues to offer the best champagnes to wine lovers around the world.
Visit the cellars: take a guided tour of the cellars and enjoy free access for tours of the Champagne Tradition Museum, before savouring a flute of Brut Croix Rouge, the House's signature cuvee.
Visit the cellars and the tower: in addition to a guided tour of the cellars and entrance to the museum, you will have the opportunity to climb to the top of the Tour de Castellane and admire the panoramic view of Épernay and its surrounding vineyards, which will be more than deserved after a climb of some 200 steps. As a bonus to these two activities, you can also take a look at the permanent exhibition. To close this interlude, we invite you to taste the House's signature Brut de Croix Rouge.
Heritage tours: in complete privacy, in groups of no more than 4 people, discover the secrets of the Maison de Castellane and its historic premises, in the company of a passionate guide with whom you will enjoy tasting two emblematic vintages of the House.
The only downside is that production has moved, so it is no longer possible to see the staff at work on the line, although you can still admire it when it's vacant.
👉I tell you more about it in an article dedicated to Champagne De Castellane.
Visit Prices: from €15 for an adult ticket
Address: 63 Avenue de Champagne, 51200 Epernay, France
Maison Boizel
♥ Cellars listed as a UNESCO World Heritage Site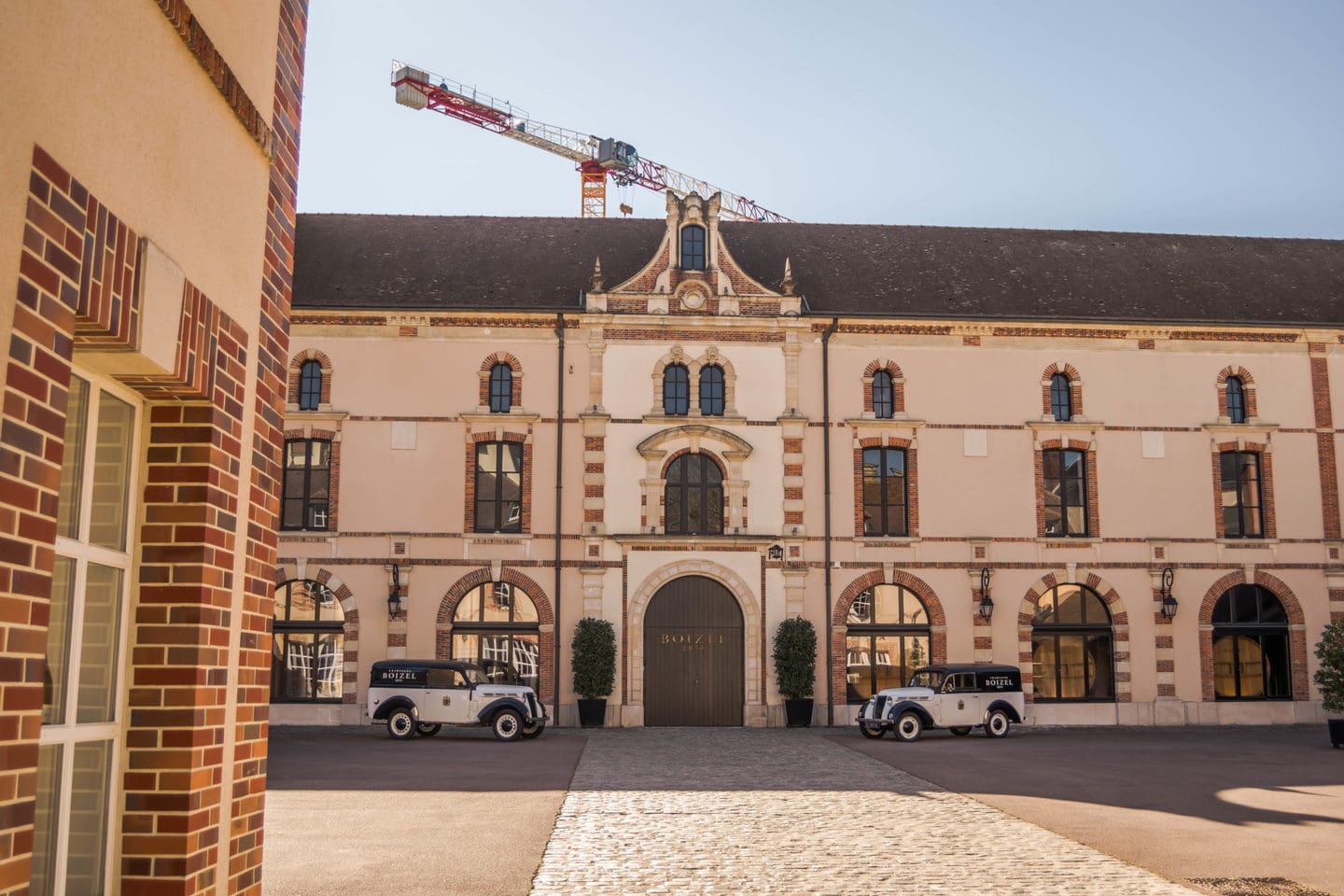 You'll love this family-run house where gestures and know-how have been perpetuated in exacting standards and generosity from generation to generation since 1834.
Cellar visits, private tours or tastings, Atelier 1834 welcomes you to a modern setting dedicated to the exploration of Boizel Champagnes and their secrets.
Each tour experience includes the following activities:
Exploration of the cellar and discovery of the oak barrels and casks
A visit to the vat house with its huge vats
Immersion in the cellars, classified as a UNESCO World Heritage Site and a family treasure of the House
A tasting of your choice, depending on the tour you choose.
The three tours differ only in the cuvées offered for your tasting, depending on the option selected:
Essentiel: two champagnes including the Brut Réserve and a Rosé or a Blanc de Blancs
Millésime: two champagnes including the Brut Réserve and the Grand Vintage 2012
Joyau de France: two champagnes including the Joyau de France 2004 and the Joyau de France Rosé 2007
In order to enjoy these moments in complete intimacy, they are shared in small groups of 12 people. The tours are in French or English and are accessible to people with reduced mobility.
👉I tell you more about it in an article dedicated to Maison Boizel.
Prices: from €40 per person
Address: 46 Avenue de Champagne, 51200 Epernay, France
Maison Vollereaux
At the heart of this House, you will have access to the secrets of the Vollereaux family, which has been preserving and maintaining the wine heritage of the generations that preceded them for over 200 years.
Between discoveries and encounters, the hosts of this Champagne House take pleasure in opening their doors to you in order to share their world with you, all in a family spirit that is dear to them.
Les Instants Vollereaux :
Discovery moment : discover the house before enjoying a tasting of three champagnes.
Gourmet moment : take a guided tour of the premises before savouring three champagnes accompanied by biscuits from the Fossier house.
Chocolate moment : the most gourmand will let themselves be taken on a guided tour before enjoying 3 champagnes associated with 3 chocolates from the Thibaut chocolate factory.
Champagne and cheese pairings: visit the cellars before tasting the champagnes that have rested there, accompanied by a selection of made-to-measure cheeses.
Picnic in the heart of the vineyards : this is the favourite meeting of gourmets who will take a guided tour of the cellars before settling down in the vineyards for a picnic prepared by Maison Vollereaux.
Discovery of the grape harvest : the hosts invite you to spend half a day with them around champagne. On the programme of activities, an appetizer with some bubbles and typical pink biscuits to get your strength back before setting off to explore the vineyards. At lunchtime, you can join the grape pickers, who will be sure to share the secrets of their harvest.
Visits can be made in groups or individually, according to your wishes.
A small exception for this place which is not on the Avenue de Champagne, the House is located only a few minutes from the city centre of Épernay, but the visit is worth it, so we couldn't resist sharing it with you.
Prices: from 21 € for an adult access
Address : 45 rue Léon Bourgeois, 51530 Pierry, France
---
There's no doubt about it, an immersion in one of the most beautiful Champagne Houses will be part of your stay in Epernay.
Because you will also find the best bubbles in the world in the other capital of champagne, don't miss the opportunity to discover the unmissable cellars of Reims not far from Epernay.
Our beautiful region is known for its exceptional champagnes, but this is far from being its only wealth. You will be surprised to learn that excellent craft beers are also brewed in our region and ready to discover.
Discover our favourite local breweries, where beer lovers will be delighted to enjoy a beer in wonderful surroundings. They have all been tasted by us, we can only recommend them to you.
Because we are two locals passionate about the Champagne region, we can't wait to meet you and offer you the best advice, so book your flat in Epernay quickly, we have prepared a comfortable bubble for the perfect break.
We wish you a sparkling stay!
This article contains affiliate marketing: this means that I get a small commission on the Booking links.
This allows the blog to live (translation, etc.) however it does not increase the price for you.