Welcome, we are Sarah and Romain, the happy owners of our apartments in the heart of the Champagne region, in the city centre of Epernay, France. Here, we share with you our good plans to discover Epernay and its surroundings, the unmissable visits in Champagne and our favourites, including La Cave aux Coquillages.
There is no shortage of things to do in France's Champagne region. There are also unusual places that you should not miss under any circumstances, making you experience a magical interlude.
Today, we take you to one of these places where you can enjoy an unusual and unique experience, an atypical moment in the heart of Champagne.
Do you want to discover unique places in Champagne? We take you with us to the heart of the most impressive wine cellar in the Champagne region: La Cave aux coquillages.
In this timeless wine cellar, you will encounter history and discover a world halfway between oenology and geology.
Are you ready for an unusual and unique experience? Let's push open the doors of La Cave aux Coquillages with you!
La Cave aux Coquillages: a unique experience
Suppose the arrival on the Champagne Legrand-Latour estate gives the impression of going to a visit of any wine cellar. In that case, it is instead a question of diving into underground galleries for an exceptional moment.
For the guided tour of this wine cellar immersion, we had the pleasure of being accompanied by Patrice Legrand, the superb guide of the place. In addition to being professional and very friendly, he is a real enthusiast and expert on fossils.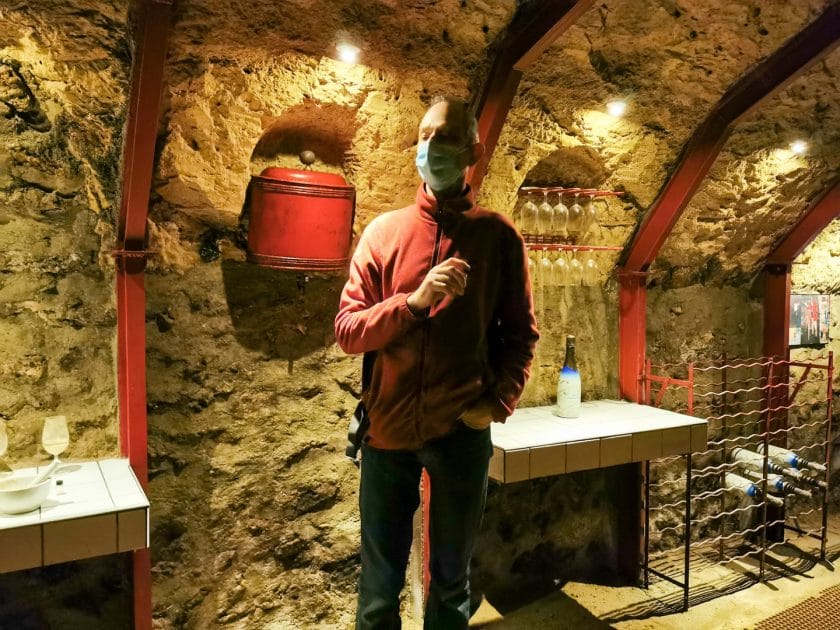 It all starts with a short introductory course during which we learn some of the essentials of geology. But Patrice especially takes the time to tell us which period of history we are going to discover since we will jump back 45 million years ago.
The aim is to project ourselves back to a time when the Champagne region had no vines and looked like a huge tropical beach (yes, we too find that view hard to imagine).
Much more than a simple guide, Patrice is a real enthusiast who makes all the difference because his story is captivating and interesting from beginning to end.
And if this place is incredible, his work is just as unusual because he spends almost all his time in the underground cave. His goal? To continue digging new galleries to discover other species of shells.
And after the excavations, Patrice returns to his laboratory to clean the treasures he then displays for the public to view. Patrice also offers a view during workshops.
What impresses is the quantity of shells on the walls of the cellar. You just must look up to see them. The spectacle offered by small and large shells is incredible and out of time.
The end of the journey is completed by the discovery of a part of the cellars where the bottles of champagne of the vineyard are stored before the fleury, joining your flutes.
And to finish on a high note, the visit is followed by a wine tasting of Legrand-Latour champagne or a glass of orange juice for children and those who do not drink alcohol. After the visit and tasting of Legrand-Latour bubbles, one better understands the appreciable minerality that emerges from the champagnes proposed.
Before leaving, you must visit the small souvenir shop, where you will find geological kits for children.
Info: remember to take a jumper with you, even in the summer, because the visit takes place in dug cellars where the temperature does not exceed 11 degrees, so it's freezing!
Allow about 1h30 for this unique cellar visit.
For the more curious, it is possible to book a paleontological workshop, with a programme that makes you dream:
Archaeological excavation
Removal of shells
Restoration and study of fossils
To make your mouth water and make you want to book your visit to La Cave aux coquillages, we also give you Sarah's opinion on this exceptional place.
Unusual cave cellar: bloggers' opinion
We were lucky enough to be invited to La Cave aux Coquillages in the company of Jessica from Mes ptits bouts du monde & Caroline from Tongs et Sri Lanka, two bloggers we adore. Like us, they are passionate about travel, and you can find tips and good plans on their blogs.
We would like to take this opportunity to warmly thank the whole team of La Cave aux Coquillages for this invitation which allowed us to spend a great time with friends.
It was really an atypical visit for our group where we discovered a unique cellar in the Champagne region, and everyone enjoyed it.
I loved this unusual and totally timeless place! Our children were with us, and they also had a great time.
If, like us, you often have to tell your children that you touch with your eyes, and you can guess how much they want to touch everything. Well, the team of this atypical cellar has thought of everything.
Indeed, if it is forbidden to touch the shells in the museum, there are special areas with shells to touch, and we must admit that we loved it almost as much as our children.
They could even leave the cave with little shells in their pockets, and I can tell you that they still enjoy them!
Now it's your turn to take a trip back in time to discover Champagne in a unique way. Book your cave tickets now!
Address: 41 Rue du Bourg de Vesle, 51480 Fleury-la-Rivière, France
Contact: 03.26.58.36.43 / info@geologie-oenologie.fr
Prices: 15 € for adults / 10 € for children up to 16 years old
Website: https://www.geologie-oenologie.fr
Group rates are available for 15 people or more.
At the risk of repeating ourselves, we loved discovering this unusual cellar. It was an unforgettable moment for the whole family!
Thanks to a passionate and fascinating guide, the visit appeals to both children and adults. We can only recommend this visit, which is not to be missed in Champagne.
Are you looking for other ideas to discover the Champagne region? Take a look at our blog posts where we share our tips for visiting Epernay and the Champagne region of France.
Pin for later!
On Pinterest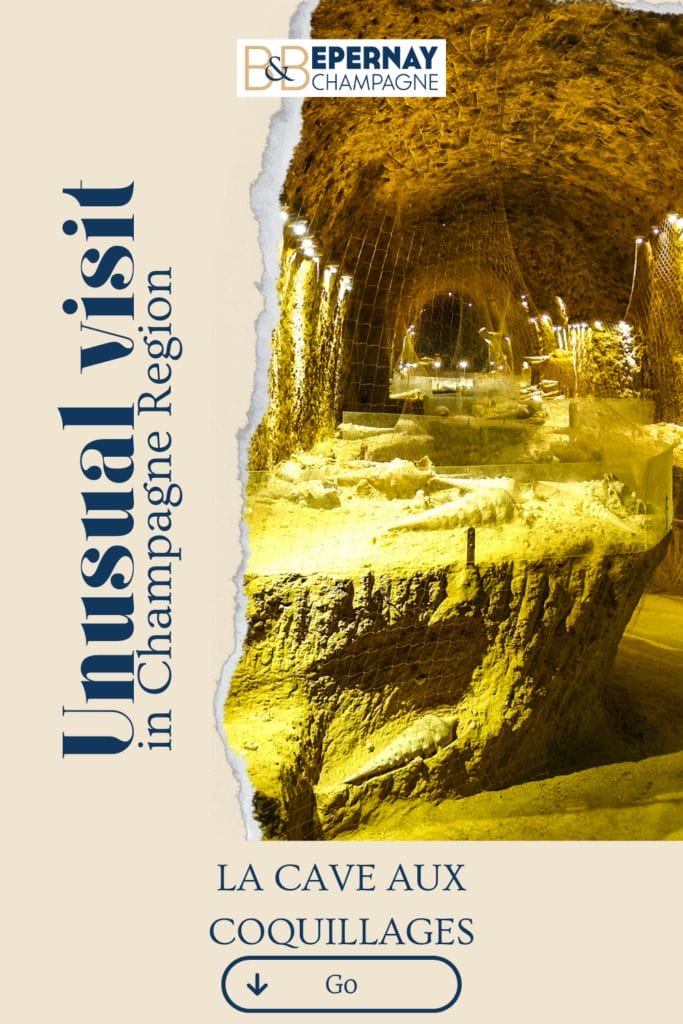 Alcohol abuse is dangerous for your health. Consume in moderation.
This article contains affiliate marketing: this means that I get a small commission on the Booking links.
This allows the blog to live (translation, etc.) however it does not increase the price for you.