Welcome to our home in Epernay, our region, and the Pressoria Champagne, but above all, welcome to our blog!
How about a little introduction? I'm Sarah, host with my husband Romain of apartments located in the heart of Epernay, Champagne, France, but above all, I'm a scout for the best places to discover Champagne. And if Romain is a pure local from Epernay, the Champagne region is my adopted region, which is why I always take so much pleasure in discovering the riches of Epernay and its surroundings.
Today, we take you to the small village of Aÿ-Champagne, about ten minutes away from Epernay, where Pressoria stands, a champagne museum that is really different from the others. Indeed, if you discover the history of champagne, Pressoria offers you a unique and original sensory experience.
Let's go to Pressoria, the sensory interpretation centre for Champagne wines, for an extraordinary and fun experience, but above all, unforgettable!
Five senses awake in a unique place, Pressoria, Champagne
Much more than a museum, a visit to Pressoria is a real invitation to travel, during which you will enjoy a series of stops, each more enjoyable than the last. Indeed, if the tour through the museum's rooms is an excellent way to discover champagne in all its forms, it is also an initiation that awakens the senses one by one.
For once, you won't be asked to touch your eyes (your children will love it) because you will actually take part in this interactive and immersive sensory journey during the 1h30 visit through Pressoria.
You can imagine yourself in the heart of the Champagne vineyard throughout the visit, as the explanations are so well illustrated and highlighted with the help of sounds, lights, images and sensations. But we won't tell you anymore. These wonderful surprises await you behind the doors of Pressoria, France.
This visit takes place at the foot of the hillsides, classified as a UNESCO World Heritage site. The museum is also located in a former pressing centre of the Maison Pommery. We must say that we loved this building and the views of Champagne!
The little extra? After the visit to Pressoria, which appeals to all your senses, it's your tastebuds turn to enjoy a unique tasting experience in the heart of the Champagne vineyards, France.
To allow you to taste the different aromas of the Champagne region, you will taste two champagnes from the Pressoria experts' choice selection. Because the Champagne hillsides are full of nuggets, the champagnes remain on the tasting menu for two months before being replaced by new nuggets. This is the perfect excuse to come back to Champagne again very soon!
To our great delight, we had the opportunity to taste the bubbles coming out of the land of Aÿ-Champagne, bottled by the Ayala Champagne House, as well as Champagne Desboeufs, an independent winegrower from Mardeuil.
Much more than a simple champagne tasting, we enjoyed the explanations of our guide, Simon, while taking in the panoramic view of the Champagne vineyards. Pressoria has thought of everything, and everyone has the right to the pleasure of a tasting. Grape juice is available to children and all those who do not consume alcohol.
Pressoria: the bloggers' opinion
Sarah's opinion: "If I love Champagne, it is my adopted region, and this visit is for me the opportunity to discover the work of the Champagne vineyards differently. In addition to being instructive, it was a great time!
Romain's opinion: "As a lifelong Champagne lover, I loved this immersion in the wine world, thanks to which I was able to learn new things."
We loved this experience so much that we will go back with our children, as the activities are adapted to both children and adults. It must be said that Pressoria is truly an exceptional place, which is a pleasure to discover with friends, family, couples or even alone!
If you would like to take a Pressoria souvenir home, the shop opens its doors to you, using only local products, so that you can leave with a little piece of Champagne and France in your hands.
Pressoria prices
While an adult ticket costs €16 and a child's ticket €8.50, Pressoria also offers special rates for families and groups, as well as reduced rates under certain conditions. Pressoria is open every day except Thursday, from 10 am to 6 pm from 1 November to 31 March and from 9.30 am to 6.30 pm from 1 April to 31 October.
To get the best price, book your visit to Pressoria by selecting the dates of your choice!
Info: Guided tours are available in French, German and English
Address: 11 Boulevard Pierre Cheval 51160 Aÿ-Champagne, France
Contact: 03.26.77.98.77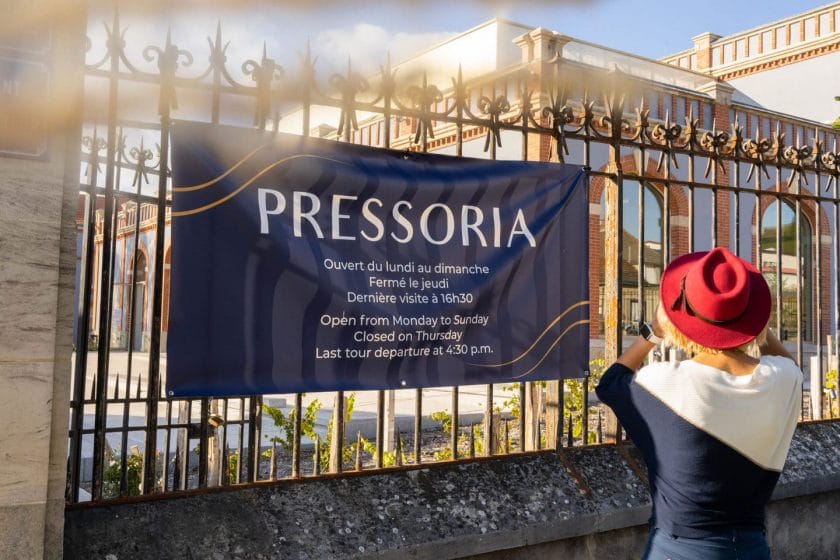 You can go to Pressoria with ease, and it is a unique museum that we include in the programme of wine tourism activities that are a must during a stay in Epernay and Champagne. And if you want to discover the region differently, go and explore the unusual visits in Epernay and Champagne, France!
Do you want other ideas to discover Champagne, France? Are you looking for something to do in and around Epernay? It's time for you to prepare the ideal programme for your stay in Epernay and Champagne, thanks to the tips shared on our blog. Be warned, and they will make you fall in love with our beautiful Champagne region, France!
Pin for later!
On Pinterest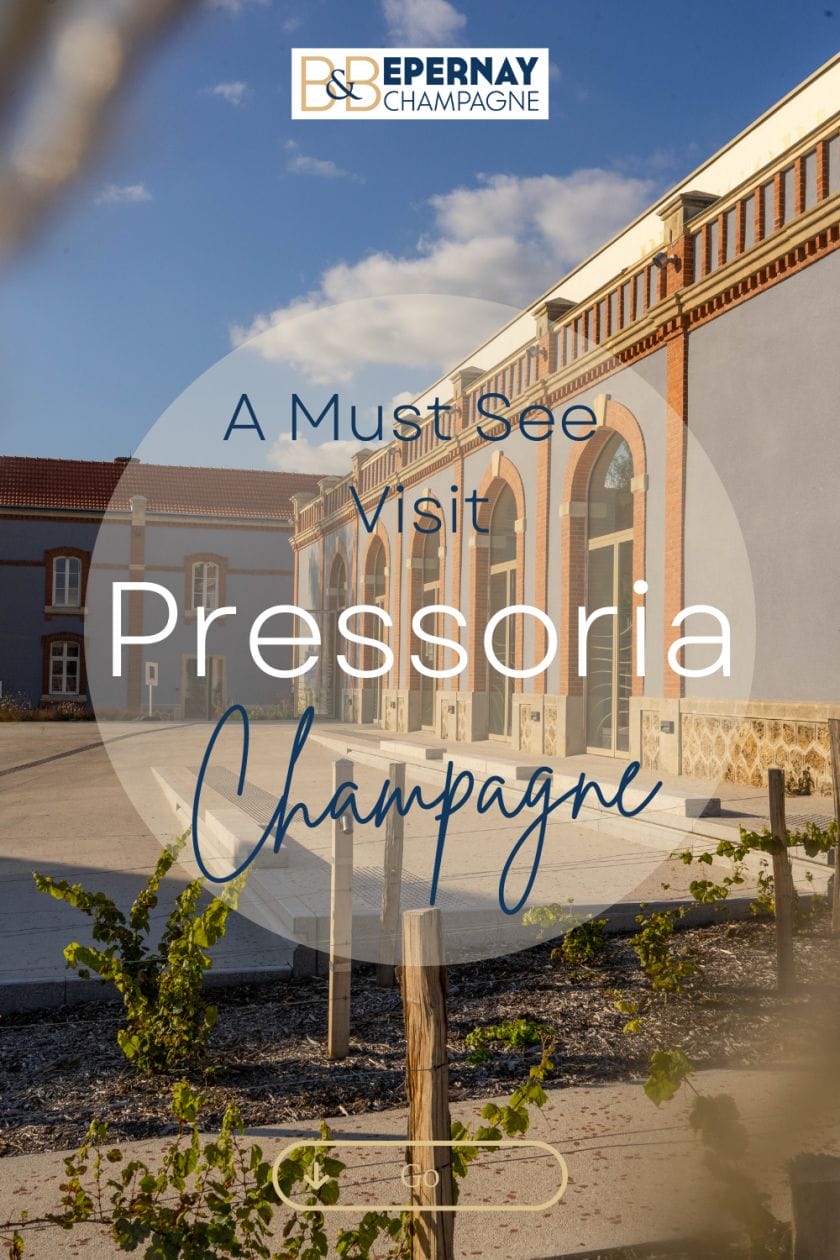 ---
And if you're wondering where to sleep in Epernay, we'll be happy to welcome you to our apartments in the heart of Epernay to enjoy a quiet night's sleep.
See you in Champagne, Sarah and Romain.
Alcohol abuse is dangerous for your health. Consume in moderation.
This article contains affiliate marketing: this means that I get a small commission on the Booking links.
This allows the blog to live (translation, etc.) however it does not increase the price for you.