Welcome to the blog of Sarah & Romain, two people from Epernay who are passionate about the Champagne region and the treasures it offers for Champagne gift ideas. We have been living in our apartments for a few years now, just a stone's throw from the Avenue de Champagne, where we receive visitors from all over the world, most of them leaving with souvenirs and gifts from the Champagne region.

Most of the time, people leave the region with gifts of bottles and boxes of Champagne, but today we want to show you that the Champagne region is full of other little nuggets that reflect its terroir and that you will love to give as a gift to your loved ones.
Why share with you the best ideas for gifts from the Champagne region? Firstly, because we want to help the residents of Epernay and the whole Champagne region to offer personalised gifts made here by passionate people.
Secondly, so that our visitors can take home a souvenir or gift of their stay that is a genuine product of the Champagne region. This is certainly more personal and pleasing than the traditional gifts that can easily be found even without coming to Champagne or Epernay.
Why give a 100% Champagne region gift? We are keen to support the local economy by buying products and gifts from the region's local players. We want to promote local people who keep the Champagne region alive with exceptional shops and gift products and make our heritage shine across the borders.
But offering a local gift also means sharing and promoting the know-how of a craftsman who put their passion for the service of quality personalised products. We are choosing a responsible and supportive economy.
If you share our values and want to discover the Champagne region and its gift products, you will love this article full of the best ideas for gifts from Champagne. We give you our favourite addresses where you can find 100% quality gift products from Champagne, to give or to give yourself without moderation for maximum pleasure!
To enable you to give these gifts for Christmas, but also to treat yourself throughout the year, most of our gift suggestions are available to order online and for delivery.
Champagne delicacies as a gift
We start this tour of the region with some sweet Champagne gift treats. Beware, they are all more appetising than the last, the kind we love to enjoy with our children for a snack or simply to treat ourselves (yes, we are two great gourmets).
Fossier biscuits: pink and croquignole biscuits
To begin this gourmet gift tour, we suggest you discover Maison Fossier, a fine biscuit factory in Reims, especially its pink biscuit and croquignole.
The pink biscuit of Reims, created in 1691, is the culinary speciality of the Champagne region with a crunchy and melting texture that you will love. The croquignole, also from Reims, is a small finger-shaped or round crunchy biscuit reminiscent of meringue and comes in several flavours.
To buy your pink biscuits or croquignoles gifts, six shops throughout the Champagne region are open to you. If you are not from the Champagne area, the best news is that you can buy these delicious biscuits as a gift at the Maison Fossier online for delivery.
Gift chocolate corks
Still, on the subject of sweet treats, we present you with a Champagne gift idea that is all the rage for Christmas: chocolate corks. Our chocolatiers could not miss the opportunity to create chocolates in the shape of a champagne cork, and Chocolaterie Thibaut has even made it its speciality.
The little surprise is that under each colour of the paper that coats these delicious chocolates, we find the flavours and aromas of Champagne.
To treat yourself to a gift, head to the Thibaut chocolate factory located in Pierry, a Champagne village situated about ten minutes from Epernay. And for those who love chocolate but are far away, visit the online shop to stock up on chocolate cork gifts.
The Moelleux Champenois Gifts
This time, we taste a cake with Champagne Marc and Pink biscuit, called the Moelleux Champenois, which was born in Epernay in 2019 following a meeting between eight bakers who wanted to create a delicacy in the image of the local spirit. A few years later, we can say that the gamble has paid off, as this cake has become an essential part of Champagne gastronomy, and above all because we love this gift!
To taste the real Moelleux Champenois, you will have to go to one of the 33 bakeries that have the secret of this recipe that we love.
We leave the sweet delicacies behind to introduce you to savoury products from the Champagne region to give as gifts for cooking great dishes all year round.
Clovis de Reims vinegar and mustard
Food lovers will love to discover these products from the Champagne region, and for a good reason, they are two exceptional personalised gifts!
The vinegar of Reims is elaborated with wine varieties of the Champagne region, namely the Chardonnay, the Pinot Noir and the Pinot Meunier. It is indeed what confers this taste and these flavours that one does not find in another vinegar bottle.
For gourmets, this product has a raspberry flavour, which gives a fruity dimension to this exceptional vinegar. And for the refined palates, you can offer the vinegar of Reims aged six years in oak barrels, the top-of-the-range version which amazes the palate.
To make great vinaigrettes or to accompany meats and other dishes, consider choosing Moutarde de Reims, a silky mustard with a vinous flavour and a vinegar base made from wine from the Champagne region.
One can also offer the refined version by choosing the Moutarde de Reims Ancienne, powerful and spicy mustard which is part of the gastronomic heritage of Champagne.
Champagne lentils
Suppose, like us, you like to prepare good stewed dishes. In that case, you will love Champagne lentils, a dry vegetable that resembles a lentil but which melts in the mouth while offering a delicate, woody taste reminiscent of hazelnut.
Good for the health, good for the taste and good for the morale, lentils from Champagne need to be tried urgently!
We now move on to the best Champagne drinks to offer as gifts for tastings in harmony with the local specialities of the Champagne region.
Sparkling drinks and wines for Champagne gift ideas
After all these Champagne products to give as gifts for tastings full of flavour, we suggest you discover the drinks that can be found on Champagne tables and that you will want to put with a gift set at the foot of the tree for Christmas or for that special birthday party gift.
Gift of Ratafia Champenois
We're off to a great start with Champagne Ratafia, a drink that joined the Champagne products in 2015 thanks to the IGP (protected geographical indication) certification.
What is Ratafia Champenois? It is an alcohol obtained by mutage, a technique which consists of adding marc brandy to fresh grape must, for example, that of the Marc of Champagne. On the palate, aromas of white fruits, honey and dried fruits develop in a full and round note that coats the palate.
And if it is perfect as an aperitif or in a cocktail, ratafia goes wonderfully well with dishes such as foie gras or scallops, as well as for making smooth and tasty sauces.
For us, the Champagne ratafia is truly an original gift that will delight the palate of the curious who like to discover new aromas while tasting exceptional wines.
The Bouzy Rouge Wine
To stay with the great wine vintages, we take you to Bouzy, a village in the heart of the Montagne de Reims, where we find the Maison Alain Vesselle, an independent winegrower.
The symbol of this family business is the Bouzy rouge, a wine matured for nine months in oak barrels and made from 100% Pinot Noir from Champagne, a wine with a ruby colour and aromas of red fruits that explode in the mouth.
We love a good bottle of Bouzy Rouge coteaux champenois, and it's not for nothing that it was awarded the GOLD medal at the Gilbert & Gaillard International Challenge, as well as two stars in the Guide Hachette des Vins 2021.
You can find Alain Vesselle wines at distributors in your area, but you can also order your gifts directly from the winery on the online shop for delivery.
Gift craft beers: the best brewers in Champagne
If the region is the home of Champagne, there are also excellent craft beers brewed by enthusiasts to gift exceptional bubbles to your loved ones or to yourself! Even if we don't necessarily think of a glass of beer when we talk about the Champagne region, we can confirm that local brewers contribute to the richness of the Champagne heritage, and they do it wonderfully.
In our dedicated article, we share with you the best addresses to taste Champagne beers in Epernay. You can also buy your gift beers there directly after receiving advice from the best brewers in the Champagne region.
The single malt of the Guillon distillery
For spirits lovers, we recommend the classics from the Maison Guillon, unique malt beers that reflect the soul of the Champagne region and its vineyards.
The Guillon single malt is the story of a dream, that of creating a spirit based on 100% French malt in the heart of Champagne. And we invite you to taste this dream which was born thanks to the know-how of the Champagne region, to the barley of the Champagne region, but also thanks to the natural spring of the Montagne de Reims.
You can find it with your eyes closed, and it will be a dream gift to offer a tasting of the Champagne spirit with its unique and incomparable taste.
As a matter of course… Champagne
We couldn't make a list of the best Champagne gifts without mentioning Champagne, the emblem of the region that we love so much! As a gift or to treat yourself, consider taking a bottle or box of Champagne with you at the end of a visit to the cellar of a great Champagne House or after a meeting with a local winemaker.
And if you want to be original and show off the Champagne region, we can only suggest that you give as a gift a bottle of Champagne from a small local winemaker, the kind you won't find in supermarkets all over France.
Are you in Epernay and looking for where to buy champagne? You will find an array of shops offering an impressive selection of champagnes. Here are a few that are worth a visit:
Salvatori
La Fine Bulle
Bar Brut
Les Grands Vins
Of course, don't forget the option of buying your Champagne directly from the many houses located on the Avenue de Champagne in Epernay. It's an experience in itself that adds a touch of authenticity to your purchase.
Decorative gift ideas
To finish off this list of 100% Champagne gift ideas, we'd like to introduce you to two designers where you can find interior decoration objects and accessories that make excellent personalised Champagne gifts.
Champagne candle gifts
Welcome to the Marsault family, a company that makes original and unique handmade candles in Champagne. At Marsault, they recuperate and make candles from the bottoms of Champagne bottles, and we admit that we find this idea brilliant and innovative!
In addition to offering ethical and environmentally friendly Champagne candles, the scents are as exceptional as the visual aspect of these candles.
The vases are also made from recycled champagne bottles, an idea to adopt for sparkling flower bouquets
Congratulations to the Marsault siblings. We have fallen in love with your project, which combines a passion for wine with a passion for Champagne craftsmanship. To offer this 100% Champagne gift, Marsault candles can be found on a local online market or at certain Champagne retailers (listed on the brand's website).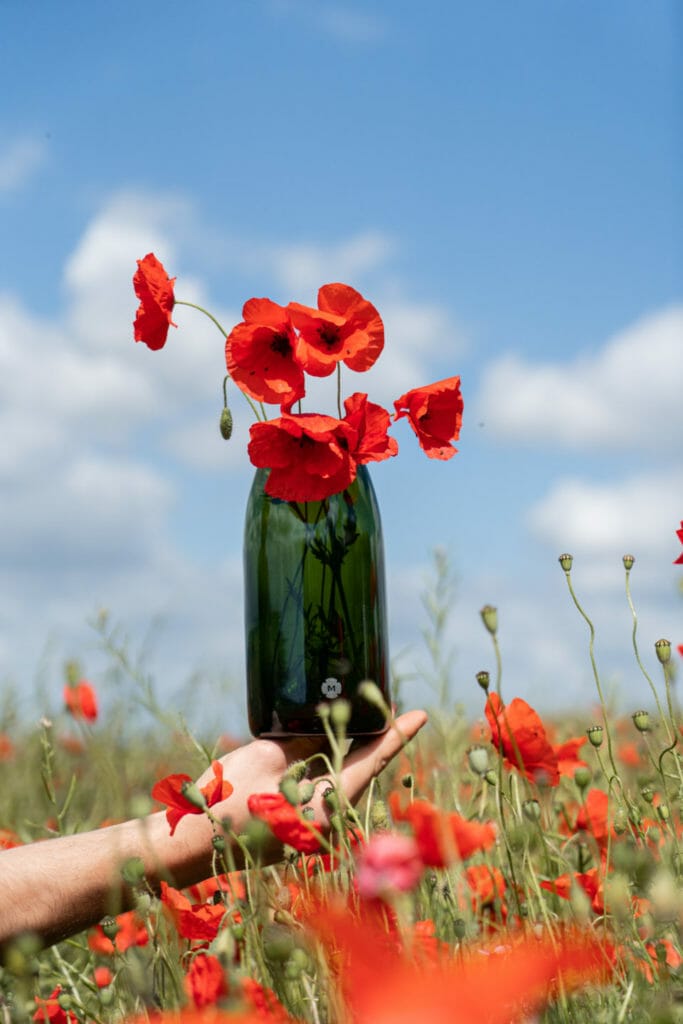 Les Cornichons
In the heart of Reims, Les Cornichons is the story of Mathilde and Damien, a Champagne couple who create unique interior decoration objects and fun accessories.
From champagne flutes to posters, jewellery and mugs stamped with a trademark specific to Champagne, its traditions and values, and we find pieces that are out of the ordinary.
This couple defines Les Cornichons as a sparkling brand, and we recognise that they are in the image of Champagne, the sparkling Champagne drink par excellence!
Where to buy Champagne souvenirs in Epernay?
Besides the small stores in the places you visit, you can find local products in several places in Epernay. To make it easier for you, I give you some of the best addresses to go and buy your champenois souvenirs:
Bar Brut
Terrines, Champagne biscuits, beers, champagnes and other local products are available for sale at Bar Brut. While shopping, you can even enjoy a nice moment seated at the small terrace to taste a winegrower's champagne available on the menu.
Address: 25T Avenue de Champagne, 51200 Epernay
Contact: +33 6.82.56.75.56
Saveurs locales
At Saveurs locales, you can buy fruits, vegetables, fresh products, local specialties, jewelry, decoration items and even cosmetics! You can really find Champagne souvenirs for everyone.
Address: 6 Rue du Dr Verron, 51200 Epernay
Contact: + 33 3.26.54.20.92
Bons vivants
If you love good local products, rush to Lise and Sébastien's to discover the high quality selection of products available in their store Bons vivants. From drinks to food, there is really something to delight your friends and family, and above all something to take with you in your suitcase.
Address: 5 Place Auban Moët, 51200 Epernay
Contact: + 33 3.26.55.54.18
Les grands vins
Whether you want to offer champagne or a 100% Champenois souvenir, you are inevitably going to find what you are looking for at Les Grands vins, a temple dedicated to the region's enthusiasts. From the bottle of champagne to the tasting accessories, as well as carefully selected local products, you will definitely want to buy the whole store!
Address: 6 Rue Flodoard, 51200 Epernay
Contact: +33 3.26.54.23.11
Maison Fossier
I mentioned the famous pink biscuit from Reims and the croquignole earlier in this article. Well good news: there is a Maison Fossier store in Pierry, a small village 5 minutes away from Epernay.
With these two flagship specialties that are very nice Champagne souvenir, you will find other delicacies to taste.
Address: PAC Les Forges, 41530 Pierry
Contact: +33 3.26.54.23.88
O'local
Let's not forget a local gem during your escapade in Champagne: O'Local 51.
This shop is a true treasure of Champagne authenticity. Whether you crave Champagne biscuits, Reims mustard, or other regional delicacies, O'Local 51 is your must-visit stop.
And why not try these treats during a delicious brunch in Epernay? It's an opportunity to extend the gastronomic journey, even when back at home.
O'Local offers a range of cooking workshops and a variety of takeaway meals. Don't hesitate to step over the threshold of this charming shop, a hidden gem in the heart of the city.
We don't know about you, but reading this article makes us want to sit by the fire to taste and share the wonders of Champagne with our loved ones. With our selection, you can now offer a wonderful Champagne gift for Christmas or for any other occasion.
Are you a local business in Champagne that sells products from the Champagne region? Please let us know in the comments section or contact us to introduce your product in our article!
Suggestions from locals and visitors are also welcome in the comments of our article dedicated to 100% Champagne personalised gift ideas.
Want to discover our other tips for discovering the Champagne region? We share our favourites, must-see addresses, and our passion for the Champagne region on our blog.
Alcohol abuse is dangerous for your health, consume in moderation.
This article contains affiliate marketing: this means that I get a small commission on the Booking links.
This allows the blog to live (translation, etc.) however it does not increase the price for you.