Welcome to Avenue de Champagne in Epernay. We are Sarah and Romain, in love with each other, and our beautiful region of Champagne, especially with our city, Epernay, home of Avenue de Champagne.
Because we love to travel, but even more to help our visitors enjoy an unforgettable experience, we welcome guests to our apartments in Epernay. We love to share our experiences with our guests, but above all, enjoy offering them a service off the beaten track, far from the advice given by all the traditional travel agencies.
We know that local advice can make all the difference to your stay, adding a little extra personal touch. This is why, as locals at heart, we want to give you our best tips and places not to be missed in our corner of the Champagne region, France.
Whether it's through its vineyards, heritage, history, or champagne houses, the Champagne region opens its arms to you. Come and discover the riches that make it a region of choice when visiting France.
As you know, we love to take you on a journey, but today we're staying on the Avenue de Champagne, in the heart of Epernay, to discover its unmissable addresses.
We present you the Avenue de Champagne Epernay in all its forms, between history and tradition, through time and the institutions that make its reputation, up to the modern terraces that are waiting for you.
After a short introduction to the Avenue de Champagne, we will give you its best addresses and some places not to be missed, whether you are local, passing through or on holiday in our superb Champagne region.
Info: most of the excursions you can book will take place from the Avenue de Champagne.
The History of the Avenue de Champagne, Epernay, France
We might think that its name has always been the same, but it has only been called Avenue de Champagne since 1925, and it should keep this name for a long time to come, thanks to the Champagne Houses which are located there and which will not be changed for anything in the world.
Indeed, it was first "Chemin de l'hôpital", then "Faubourg de la folie" and after that "La voie royale" before becoming "Avenue du Commerce", which was its last name before becoming Avenue de Champagne.
Its ideal geographical location, halfway between Germany and France, two hours from Paris and just 30 min from Reims, contributed to its development, along with that of trade, particularly that of wine and champagne. While it was only a simple place of passage, the owners of the greatest Champagne Houses saw potential there and put their suitcases down one after the other.
You could say that they had flair and vision because years later, visitors from all over the world continue to come to Epernay to discover the Avenue de Champagne. The most famous Avenue in Champagne, known worldwide for its houses, hotels, and private mansions, each one more beautiful than the next.
Some people even say that it could be called the Champs Elysées of epernay. Like the Champs Elysées in Paris, it is noted for the charm and heritage that characterise it so well, but it can also be called "the richest avenue in the world" thanks to the treasures hidden underground.
But we won't tell you everything; we must leave you some surprises to discover once you're there.
Heritage and Avenue de Champagne, Epernay
Since 2015, the Avenue de Champagne has been classified as a Unesco World Heritage Site, and it owes this to its wine cellars, Champagne Houses and production sites.
Under your feet, more than just underground cellars, you will discover the heritage of more than 110 kilometres of chalk pits. These pits, which have been dug into for the chalk in the past, today house more than 200 million bottles of champagne, all houses included.
The most incredible thing is perhaps how so many kilometres of cellars can exist on an avenue measuring less than 2 km. You will discover this by visiting the cellars of its most beautiful Champagne Houses. Below we have presented for you these most stunning Champagne Houses.
The Champagne Houses, Epernay
Because you can't leave epernay without visiting at least one of them, we have compiled a list of the Champagne Houses that are established on the Avenue de Champagne:
After a visit to the cellars, and most certainly a tasting at the end of the visit. You will be left wanting more, and that's why you shouldn't hesitate to join one of the terraces of the Avenue de Champagne.
The Terraces of the Avenue de Champagne, Epernay
When the sun is shining, and the sky is blue, we love to go to the terraces of the Avenue de Champagne. On the terraces you can taste some of the best champagnes in a dreamy setting.
Between two excursions, returning to the hotel, or before taking a seat at one of the best restaurants in Epernay, we invite you to take a moment on one of the terraces of the most famous Avenue in Champagne.
We share with you some of our favourite places to sip your glass of champagne, but our list is not exhaustive:
Bar Brut (my favorite) :
If you are strolling down the Avenue de Champagne, a stopover at Bar Brut is a must. Nestled in the heart of this famous avenue, this exceptional bar is a true gem of the region.
Run by two young enthusiasts, Bar Brut is resolutely committed to organic farming and biodynamics. In close collaboration with Champagne winegrowers, they rigorously select their wines to offer you an unprecedented experience.
Their terrace is a true haven of peace, where you can savor your glasses while enjoying a calm and serene setting. Their welcoming tables invite relaxation and conviviality.
Adress:  25T Av. de Champagne, 51200 Epernay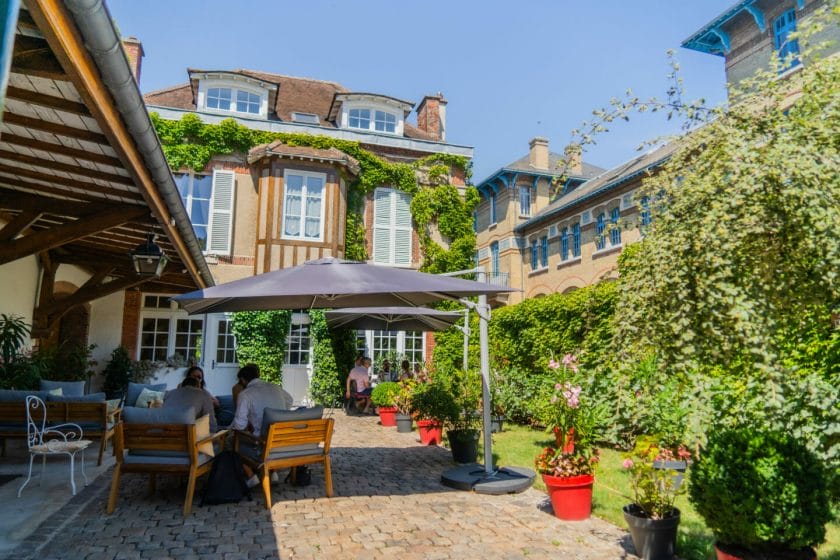 Belle époque society :
Belle époque is an address created by the House of Perrier-Jouët, combining a champagne bar, a restaurant and a boutique to offer a unique sensory and gustatory experience.
Address: 26 Avenue de Champagne 51200 Épernay, France
Opening hours: Open from 11 am to 8 pm, Wednesday to Sunday
The house welcomes you in its courtyard to taste its exceptional champagnes as close as possible to its cellars. Themed evenings with music are sometimes organised by the owners.
Address: 15 Avenue de Champagne 512000 Epernay, France
L'écurie :
L'écurie is a tasting area offered by the Maison De Venoge, where you can taste vintages selected by the experts of the house.
Address: 33 Avenue de Champagne 51200 Epernay, France
Opening hours: 10 am to 6.30 pm Monday to Thursday / 10.30 am to 8 pm Friday and Saturday / 10 am to 5.30 pm Sunday
Tel: 06.75.81.08.01
La Cave de l'Avenue :
Address: 5 Avenue de Champagne 51200 Épernay, France
Opening hours: 12 noon to 11 pm Tuesday to Thursday / 12 noon to 2 am Friday and Saturday
Rest assured, once the summer season is over, the terraces will still welcome you, and some places offer indoor tasting areas.
After a few bubbles, you'll be able to get to know each other better.
The Epernay Museum
On the beautiful Avenue de Champagne stands the Museum of Champagne Wine and Regional Archaeology. It welcomed its first visitors just recently, in May 2021, after a renovation of the premises.
Indeed, this museum is located in the heart of the Château Perrier, first built in the 19th century and classified as a historical monument. It is in this place rich in history that you can discover archaeological treasures and the history of Champagne.
Initially, a private mansion of the Perrier family then used as a hospital in wartime. The mansion welcomed the British Royal Air Force before being inhabited by the soldiers of the D-Day landings.
Today, this chateau is an integral part of the Sparnacan heritage and is waiting for you to discover its most beautiful rooms.
Book your trip back in time now!
Prices: between 5 € and 9 € for an adult ticket, depending on the entrance chosen.
Address: 13 Avenue de Champagne 51200 Epernay, France
And now, after a good dose of culture and history to share with your friends and family, it is time to go to the Town Hall and enjoy a stroll through its landscaped park.
👉 A useful tip for your visit: every first Sunday of the month, admission to the museum is complimentary.
The Town Hall in the heart of the Avenue de Champagne, Epernay
Much more than a simple building reserved for administration, the Town Hall of Epernay is established in an old house of the famous Auban-Moët family. This house was donated to the town in 1919, after being built by Victor Lenoir, the architect of the Parisian station Montparnasse, in 1858.
Don't miss its superb garden, renowned for its charm and known as a "remarkable garden".
In addition to its location in the heart of the Avenue de Champagne, the Hôtel de Ville has the privilege of being in a building with a history, which has stood for over 150 years.
For visits, the doors are open during the week, from Monday to Friday, from 8.30 am to 12 noon and from 1.30 pm to 6 pm.
Address: 7 bis Avenue de Champagne 51200 Epernay, France
The Tourist Office
Prepare your stay in Champagne and discover Epernay thanks to the best suggestions from the Tourist Office, a real Swiss Army knife of tourist resources.
Whether you are looking for excursions, trips to Reims or Paris, accommodation, good deals or events not to be missed, the Epernay Tourist Office is there to advise and welcome you.
Address: 7 Avenue de Champagne, 51200 Epernay, France
Tel: 03.26.53.33.00
Les habits de lumière
This is the must-see event in Epernay, not to be missed under any circumstances if you are visiting in December or if you live in the Champagne region.
To close the year in beauty, the Avenue de Champagne is decked out in its most beautiful lights to celebrate for three days, with two nights of magical festivities every December. It is truly an experience to be had.
The Champagne Houses and other partners come together to offer you a walk through the Avenue, sharing great moments with them during Les Habits de Lumières.
Light shows, animations, shows and a big parade are on the program to amaze the youngest and the oldest, without forgetting the culinary workshops and gourmet tastings to delight your taste buds.
More info: Epernay Tourist Office
Even if you stay in the centre of Epernay, you can travel along the Avenue de Champagne to explore its history and meet all those who continue to write its history every day.
Our favourite Avenue offers you the opportunity to discover its past by diving into the heart of the places that have put it on the world stage, and this, alongside the characters who create its future every day and perpetuate its traditions.
---
Between visits, don't forget to take a tasting break with the best champagnes from the most beautiful cellars in Epernay.
We know that you are already looking forward to walking down the Avenue de Champagne, first book your stay in our apartments now!
Pin for later!
On Pinterest
This article contains affiliate marketing: this means that I get a small commission on the Booking links.
This allows the blog to live (translation, etc.) however it does not increase the price for you.