Where to have a drink in Epernay?
Welcome, I'm Sarah, the editor of this blog where you'll find all the tips you need to discover Epernay and the places not to be missed in the Champagne region.
Today, we're going to dive into the heart of the sparkling world of champagne, push the doors of the best places to drink a glass of champagne in Epernay. Whether it is in between two visits, for an aperitif or just for fun, Epernay is THE place to drink champagne.
In my opinion, the best bar is the one where you feel good, the one where you love to go to have a good time with a drink, the one you want to share with your friends and family. That's why I invite you to discover my favorite places to drink a flute of champagne in the city center of Epernay.
Before we start, I've got a short but useful anecdote for you: remember that in the Champagne region, you will always find a place to have a glass of champagne. Tiny bistro and bar always have a bottle of champagne ready!
Of course, if you are interested in discovering exceptional vintages, Grands Crus and extraordinary selections, I advise you to go first to a champagne bar or to a tasting place.
Bar Brut: my favorite spot for a drink in Epernay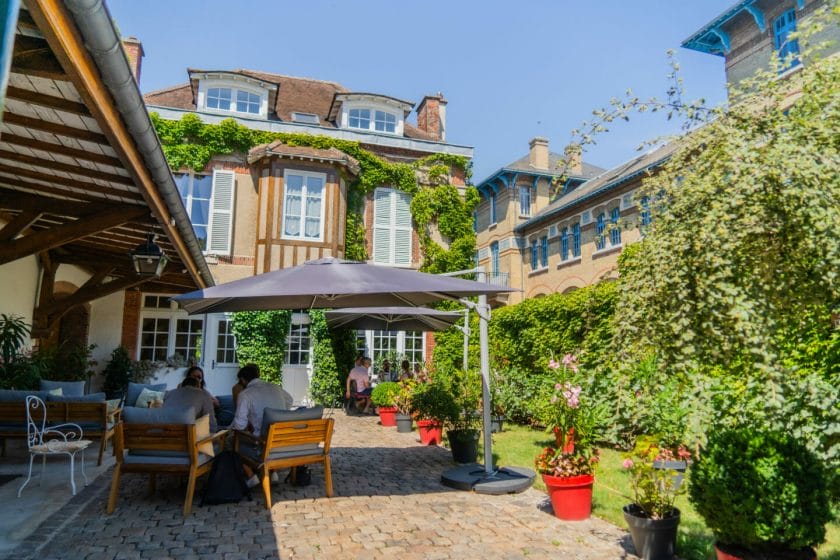 Welcome to Bar Brut, a place dedicated to tastings of winemakers' champagnes, mostly from biodynamic organic vineyards and produced with alternative methods.
Whether you're in the cozy interior space or in the small cobblestone courtyard, you'lI love going to this bar to discover prestigious vintages.
Apparently, terrines, sausages and other fresh local products are even available to match your glass of champagne, something for foodies like ourselves!
The good news is that you can leave with the bottles of champagne that are on the menu, to extend the pleasure at home.
La Tête de Chou: The Craft Beer Magic Right in the Heart of Epernay
Check out the Taproom of "La Tête de Chou" brewery, in Epernay, a must visit spot in town. It has gained quite a reputation for being the top spot to have a drink in Epernay.
What sets this brewery apart is its selection of ten craft beers each offering a taste that reflects the brewing expertise.. Wait there's more! They also have a collection of wines and champagnes perfectly paired with snacks.
One thing I absolutely love about this place is its inviting ambiance. Don't miss out on this gem when you're in town!
Pro tip: If you find yourself exploring Epernay make sure to immerse yourself in a craft beer adventure, at the heart of Champagnes finest region! Cheers! 🍺🥂
Bar le 19″: The Must-Visit Spot on Avenue de Champagne
Every time I want to have a drink in Epernay, Avenue de Champagne is my go-to place. And guess what? I've found the perfect spot: Bar le 19.
Right at number 19 on this famous street, this bar is a dream come true for champagne lovers. Think about this: trying from a list of 100 different champagnes. Sounds amazing, right?
When the sun's out, their outdoor seating becomes the place to be, with fun events all summer long. Being smack dab in the middle of Avenue de Champagne, it's the best place to relax after exploring.
What's the best part about Bar le 19? Their champagne tasting options. Choose from 1, 2, or 3 different champagnes, and learn a bit about each one as you sip.
Les 3 domaines
Les 3 Domaines's tasting area offers you a cozy setting and a small list of champagnes from different winegrowers. This is a true entrance to the Avenue de Champagne. And to top it all, some local suggestions are on the menu to taste with food and wine.
Baptistine Boivin, Cyril Janisson and Vincent Testulat make up this trio of passionate winemakers of the Champagne region who love to welcome you and present their champagnes. Believe me, they are outstanding hosts!
You'll love the friendly welcome, the fantastic champagnes to taste and these passionate winegrowers. There's all you need to share a glass of champagne!
Info: Les 3 Domaines took a winter break between november and april
La Banque
Now, I invite you to come and have a drink in an exceptional setting, namely the former Banque de France in Epernay.
Whether you want a glass or a bottle, the champagnes of the region proposed by La Banque are waiting for bubble lovers. We're really fond of the champagne selection which allows a kind of tour of the region, with vintages coming from various Champagne hillsides.
The most gourmet of you can also have a great time eating there at the restaurant which my husband and I added to our list of the best restaurants in Epernay.
L'Atypique
At L'Atypique, people come to enjoy a selection of champagnes made by independent producers, the exact same one we like to call the treasures of our region. You'll love them.
Whether you're tempted by a glass or a bottle of champagne, you'll find what you're looking for in this place with an original decoration that perfectly reflects its name, all in a friendly atmosphere.
The icing on the cake: there are fresh and local products to be tasted without moderation to please your taste buds around a good glass!
La Fine Bulle
La Fine Bulle is just a few steps away from the Avenue de Champagne. Their tasting area is in the heart of the wine shop, where you can discover the champagnes of the region. Much more than a simple bar to have a drink, it's a great place to experience a sparkling and original tasting!
There you can let yourself be guided by the sommelier's selection, which changes every week. You can pick your favorite between 4 white champagnes, a rosé champagne and the star bottle of the week from a great house.
The little bonus is that you can listen to the sommelier's comments about the selection of wines while tasting these superb products of the Champagne region.
Since you are at a top wine shop in Epernay, you can buy a few bottles of champagne and enjoy our Champagne treasures from home.
La cave de l'Avenue de Champagne
La Cave de l'Avenue de Champagne is the place to have a drink and discover wonderful wines. I love the atmosphere and the elegant decoration of the place which makes you want to meet with friends or family around a good glass.
If you are a sweet tooth like me, I recommend you to join your tasting with one of the specialties on the menu of the dining bar, they match perfectly with the vintages available.
Have a drink in Epernay at the Champagne Houses
Visiting a cellar of a great Champagne House is a must in Epernay, especially when they end with a champagne tasting. You'll definitely feel like you're in a bubble!
And since you won't get enough of it, many of these institutions offer champagne bars where you can sit down to have a glass and discover the different vintages of the House.
I especially love going to the Avenue de Champagne to savor a good glass. You should definitely do the same! My favorites are Collard Picard, Perrier Jouet's Cellier Belle Époque or Leclerc Briant, but there are many others where you can have a drink.
Bars to have a drink in Epernay
And for those who would rather go to traditional bars where you can drink champagne and other alcohol, here are 5 addresses where you can have an aperitif!
Le Vintage
Right in the center of Epernay, Le Vintage is a place with a decoration that fits its name very well, where you can drink very tasty cocktails, good wines, craft beers and of course some champagnes.
You can also have a little gourmet break throughout the week and taste the daily special.
Le Pub
Le Pub is the meeting place for beer lovers who like to drink draught beer in an atmosphere inspired by our neighbors across the Atlantic, with a pool table, a dart board and a table soccer.
But let me reassure you, the die-hards will also find something to please themselves with a few champagnes available on the drinks menu of this Irish-style establishment.
I suggest you go there on thematic evenings or when bands play music, you'll love the atmosphere for sure!
Le Parisien
Would you like to have a drink in the very heart of Epernay? Le Parisien is located in the heart of the city, in our beautiful streets where I always love to hang out.
Special mention for the beautiful terrace on the square in front of the bar, a pleasant and shady place during the hot summer days, ideal to meet around a glass of champagne or your favorite drink.
And since an aperitif can make you feel a little hungry, this place is also a brasserie where you will find traditional French dishes.
Café le Progrès
Still in the heart of Epernay, I love to go to Café le Progrès to have a drink. And for those who adore the sun as I do, a nice little terrace is waiting for you when the sun comes out.
Bar & Brasserie Le Khédive
Le Khedive is a small typical brasserie where we love to gather for an aperitif, a good meal and of course to have a glass of champagne. We warm up during the winter and sunbathe on the wooden terrace when the sun is shining!
---
Would you rather taste beers from the Champagne region? Head to one of the best breweries in Epernay to taste sparkling beers brewed with passion!
Whether it's in a small bar, in one of the champagne cellars or in a tasting lounge, these places to have a drink in Epernay all allow you to have a good time.
And since I love discovering new places, and even more so when it comes to places to taste champagne, please share with me in the comments your favorite places in Epernay.
If you're wondering which shops, restaurants, bars, or activities are available on that day, take a look at our guide on what's open in Epernay on Sundays. You'll find everything that remains accessible in the city
Cheers to you all! Sarah
This article contains affiliate marketing: this means that I get a small commission on the Booking links.
This allows the blog to live (translation, etc.) however it does not increase the price for you.
This article contains affiliate marketing: this means that I get a small commission on the Booking links.
This allows the blog to live (translation, etc.) however it does not increase the price for you.