You either have a sweet tooth or you don't… but we do! And that's good news, because our Champagne region is full of good French restaurants where you can eat divinely, from Michelin star restaurants to bar food. So, we wanted to offer you a little gastronomic guided tour of the best restaurants in and around Epernay, Champagne. Well, the best dining experiences recommended by us anyway!
If you have decided to visit Epernay in the Champagne region, France (a very good idea), here are our tips on finding good places to eat in and around Epernay in the order of our preferences, restaurants that we like and that we recommend.
Why Not
Restaurant in Epernay
This is for us one of the best restaurants in Epernay. Why Not is located in the city centre and offers high quality French gastronomic cuisine. With menus at around 35 euros for the lunch and 47 euros dfr diner, and a wide choice of wines, Why Not is great value if you want to treat yourself to some of the best food and wine during your stay in the capital of Champagne. This restaurant offers splendid food and excellent service!
Address: 5 Place Pierre Mendès France, Epernay
Tel: 03 26 55 22 42
Mail: restaurantwhynot51@gmail.com
Website: restaurantwhynot.eatbu.com
Rotisserie Henry 4
Restaurant in Ay-Champagne
The small village of Ay-Champagne, located 5 minutes from Epernay by car, is one of the must-see dining experiences during a weekend in Champagne. So don't miss out on a meal at the Rotisserie Henry 4 restaurant. An address not to be missed, which combines generous cuisine, an excellent wine list and quality service. The plus: a magnificent interior with a large veranda and an absolutely brilliant terrace to enjoy the fine French weather!
Address: 46 boulevard Charles de Gaulle, Ay-Champagne, France
Tel: 03 26 54 77 40
Avarum
Restaurant in Ay-Champagne
Another very good address in the village of Ay-Champagne, Avarum is a very nice restaurant which offers refined cuisine that combines modernity and tradition. The restaurant also offers aperitif formulas based on planks for more conviviality. And to go even further, not just a restaurant, Avarum is also a grocery shop with great local food products to discover!
Address: 18 rue Roger Sondag, Ay-Champagne, France
Tel : 03 26 56 87 91
Website : avarum.fr
Sacré Bistro
Restaurant in Epernay
Back to the city centre of Épernay to present you the Sacré Bistrot, THE place to go if you want to enjoy a good gourmet burger! The restaurant offers a modern and trendy but accessible cuisine, a menu focused on typical bar or bistro food and a fine French wine list.
Address: 2-4 Place Auban-Moët, Epernay, France
Tel: 09 52 78 27 37
Website: sacrebistro.fr/en
La Pomme d'or
Restaurant in Epernay
Here is a well known institution in Epernay, the restaurant La Pomme d'Or welcomes you in an "English Pub" atmosphere with large bay windows which look directly on the Épernay "captive" balloon. You can eat French-style brasserie cuisine, parmentier, burger, tartar etc, all on the menu.
Address: 12 rue Eugène Mercier, Epernay, France
Tel: 03 26 55 22 73
Au petit fourneau
Restaurant in Epernay
In an old-fashioned decoration that does not look like much, the restaurant Au petit fourneau offers simple cuisine with excellent value for money. With menus starting at 15 euros, the restaurant specialises in "Patates garnies", beautiful potatoes cooked in the oven and decorated in various ways. On sunny days you can enjoy your food on the small sunny terrace.
Address: 31 rue de l'Hôpital Auban-Moët, Epernay, France
Tel: 03 26 32 44 74
Website: aupetitfourneau.fr/en
La Banque
Restaurant in Epernay
Go to the former Banque de France buildings for this brasserie which offers generous dishes of French gastronomy. The setting is truly exceptional and worth the diversions to spend a beautiful gastronomic evening in a place full of history!
La table du 18
Restaurant at Tours-sur-Marne
Located 15 minutes from Épernay by car, this is a restaurant that we tested a short time ago. We were very interested in it because we have had excellent feedback! And it was really nice. The food was good and the service smiling! It's a winning combination for us! The lunch menu is 25 euros, it would be a shame not to go there!
Address: 5 place Auguste Chauvet, Tours-sur-Marne
Tel: 03 26 52 06 18
Website: latabledu18.com
Le Kitsh Café
Café in Epernay
If you are looking for a good place to have a tea or a cake in the afternoon, go to the Kistch Café in the centre of Epernay. A really nice address with a cosy atmosphere, a nice terrace and excellent pastries. It is possible to eat there at lunchtime, which we tried: they make such appetizing bowls! And the cupcakes are great!
Address: 4 rue Saint-Rémy, Epernay, France
Tel: 03 26 54 96 58
Website: kitsch-cafe.fr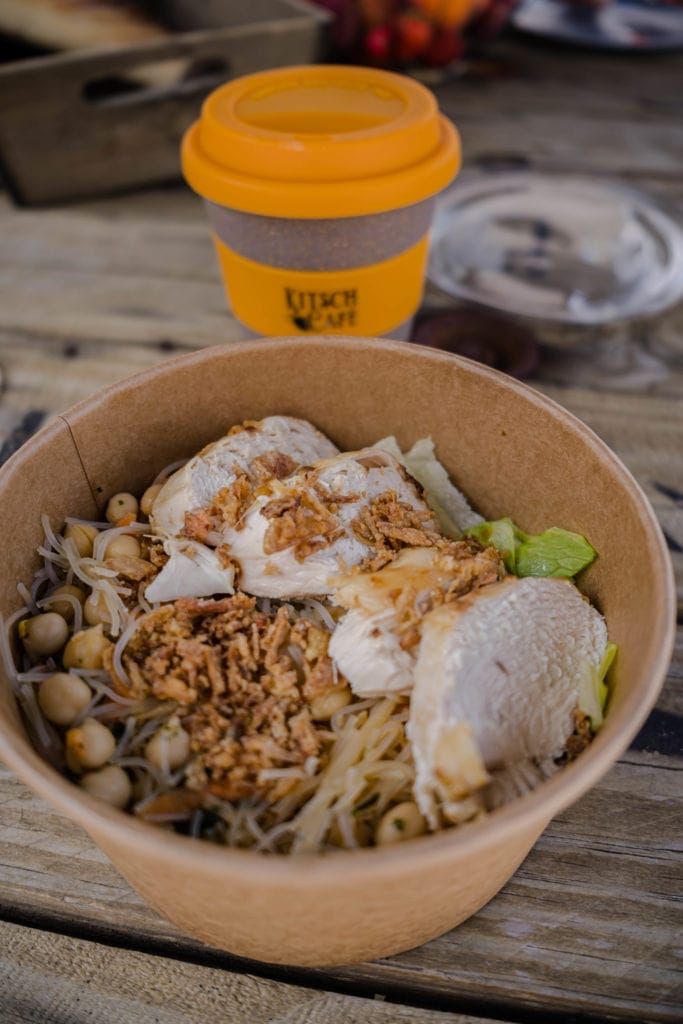 Maison Dallet
Tea room in Épernay and Reims
We continue with the little gourmet breaks and the Maison Dallet, a historic address in Epernay and Reims. We come here for the chocolates and pastries, but also in summer to taste perhaps the best artisanal ice creams in the region!
As you may have noticed, people don't come to our region only to taste Champagne! We hope that you will find in this guide of the best restaurants in Épernay, addresses that will please your taste buds during your stay in the Champagne region! These are our local tips, but there really are restaurants, bars and cafes to suit all tastes and budgets. There is a great gastronomic offer in our region and it would be a shame not to take advantage of it!
Come visit us and take advantage of our advice on tours and tastings to discover the best of the Champagne region!