One Day in Reims? Here's Your Go-To Guide for Things to Do!
Reims in 24 Hours: Can You Do It?
Ever wondered if it's feasible to craft a one day in Reims itinerary that truly captures its spirit? Well, let me assure you, it's more than possible! And I'm your guide to making it happen.
What are the top things to do in Reims in such a short span? Dive deep into the enchanting Champagne cellars and sip on tales of vintage histories, get mesmerized by the grandeur of the Reims Cathedral, and let the panoramic Champagne vineyards leave you breathless. Let's not forget, a lot of these marvels proudly hold the title of UNESCO World Heritage Sites!
For those of you pressed for time, I've put together the essentials for a perfect day in Reims. And if you can squeeze in a little more, I've got golden nuggets on exploring Reims and its neighboring gems. The surrounding areas have their own sparkling stories, after all.
Pondering how to reach Reims? Are the famed champagne houses in Reims a leisurely stroll away? Is it crucial to pre-book your Reims champagne tour? And obviously, what are the insider tips and tricks to elevate your day?
Join me, as we pop the cork on Champagne's most radiant city!
Planning the Perfect One-Day Trip: Things to Do in Reims in One Day
How to Get to Reims?
Organizing your perfect day in Reims requires a bit of foresight, especially if you want to make the most of every minute in the city. Whether you're arriving by train or car, Reims is delightfully accessible, making it an ideal day-trip destination.
Do note that Reims has two train stations. For a central location, opt for the "Reims Centre" station. It's best to avoid the "Reims Champagne Ardenne TGV" station as it's a 10-15 minute drive from the downtown area.
By train, the journey's quicker than you might think: Reims is a mere 45 minutes from Paris Gare de l'Est. What's more, with an average ticket price of €30 for a Paris-Reims trip and 6 trains available daily, it's both convenient and budget-friendly. Starting your journey in Epernay? You're just 30 minutes away from Reims.
For those driving, the journey's scenic and straightforward. Paris is a short 1h30 drive away, while from Lille, it takes roughly 2 hours.
Are you planning a last-minute Reims champagne tour for your trip?
---
Make sure to book your accommodation, restaurants, and champagne tours in Reims in advance to ensure you don't miss out!
Top recommendations for Champagne Tour in Reims 🚐
Top recommendations for accommodation in Reims 🛌
Appartement Forum Reims (mid)
La Caserne Chanzy Hotel & Spa (Luxury)
This article contains affiliate marketing: this means that I get a small commission on the links.
This allows the blog to live (translation, etc.) however it does not increase the price for you.
How to Navigate Through Reims?
Traveling in Reims by tram: Once in the city, the tramways are likely your best bet. They connect the major parts of Reims, ensuring smooth and speedy transits. To get the most out of your travel, the "Reims City Pass" offers unlimited access to public transport.
Walking around Reims: Want to truly feel the city's heartbeat? Stroll around on foot and be captivated by its architectural marvels, especially the art deco gems scattered throughout.
Cycling in Reims: For a thorough yet quick exploration, renting a bicycle or e-bike is the way to go. It grants you the freedom to uncover Reims at your own pace, covering lots of ground in the process.
Where to Stay in Reims: Recommendations for Every Budget
On a tight budget: The "Désirée" is a savvy pick for those craving a warm ambiance without breaking the bank. This snug apartment for 2 is perfect for unwinding after a day of exploration.
Mid-range budget: If you've set aside a moderate sum for your accommodation, "Le Colonel" is a splendid choice. With its complimentary parking, it's ideal for those traveling by car.
For a lavish stay: Luxury enthusiasts, the "Caserne Chanzy" promises an unparalleled experience. Nestled at the foot of the majestic Reims Cathedral, it boasts breath-taking views and top-tier service.
Top Tips to Maximize Your Visit: Things to Do in Reims in One Day
Must-have Souvenirs from Reims
Champagne: When in Reims, the champagne capital, how could you not bring home a bottle straight from the local boutiques, cellars, or the renowned champagne houses?
Ratafia from Champagne: Less famous than its sparkling cousin, Champagne's ratafia is nonetheless an excellent product from the Champagne region, ideal for aperitif.
Pink Biscuits: The iconic Pink Biscuits from Maison Fossier are a local delicacy you shouldn't miss.
Reims Mustard: Don't overlook the Reims Mustard, branded under "Clovis", another flavorful regional specialty.
For more gift ideas rooted in the region, check out my detailed article on 100% Champenois gifts.
Benefits of the Reims City Pass
Efficiently exploring Reims in one day requires good planning, and the Reims City Pass is your best companion to optimize both time and budget. Here's what it offers:
Unlimited Access: Gain free entry to all museums and tourist sites (like Chapelle Foujita, May 7, 1945, Surrender Museum, Palais du Tau, Musée Hôtel Le Vergeur, Reims-Champagne Automobile Museum, Reims Cathedral…)
Value for Money: An economical package to maximize your Reims experience without breaking the bank.
Special Discounts: Avail preferred rates for the renowned champagne houses.
Great Excursions: Enjoy discounted rates for one-day explorations in the Champagne vineyards.
Ease of Mobility: Unrestricted access to all public transportation for hassle-free movement around the city.
Transport Bonus: Travel for free by train between Reims and Epernay with the City Pass.
Handy Information for an Optimal One Day Visit in Reims
When planning to explore Reims in a day, a few practical pointers can make a significant difference:
Proximity to the City Center: If you're arriving by train, the city center is merely a 10-minute walk from the station. This ensures you start your exploration without any delay.
Dining Options: Reims boasts a plethora of dining establishments. The heart of the city is brimming with restaurants, breweries, and quaint spots to grab a bite.
Location of Champagne Houses: If champagne tasting is your main highlight, remember that most champagne houses aren't centrally located but are on the outskirts. Factor in around 20 to 30 minutes for commute using public transport.
Cellar Tours: Brace yourself for cooler temperatures in the cellars, typically around 11 degrees Celsius (52°F). A cozy sweater is a good idea!
Les basses promenades: For families or those seeking a serene break, "Les basses promenades" is the go-to spot. Revamped in 2022, this area is a paradise for kids with its sprawling open space, and during summers, it's the perfect spot to bask in the Champagne sunshine.
Things to Do in Reims in One Day: Marvel at the Reims Cathedral
A visit to the Reims Cathedral is a must when touring the city known for its royal consecrations. With the Reims City Pass, this exploration becomes all the more accessible and enlightening.
I was personally captivated by the history hidden behind these walls. This cathedral, which witnessed the coronation of 33 French kings, has withstood the test of time and wars. Each stone appears to narrate a fragment of our country's tale. I strongly recommend the guided tours, which unravel these subtle intricacies and transport you back in time. This helps one grasp the significance of this venue, not just for Reims, but also for the entirety of France.
Before entering, take a moment to appreciate the iconic statue situated outside: The Smiling Angel. This radiant figure is among the cathedral's most celebrated features.
If you're feeling adventurous, don't miss out on the tour of the cathedral towers, which offers a breathtaking view of Reims.
Please note, however, that registration for this ascent is mandatory, as is the tour of the Cathedral. Yet, it's also included in the Reims City Pass.
For those who prefer self-guided explorations, be informed that entry into the cathedral is free. It's a golden opportunity to immerse oneself in the grandeur of the site, even without a guide.
Book My Visit to the Coronation Cathedral
Things to Do in Reims in One Day: Dive into a Champagne House Experience
Reims takes pride in being home to several renowned Champagne houses. With only a day in Reims, it might be challenging to choose from the many cellars, given the tempting prospect of exploring multiple ones. However, for a truly immersive experience and to make the most of your visit, I recommend selecting just one Champagne house.
Here are your choices: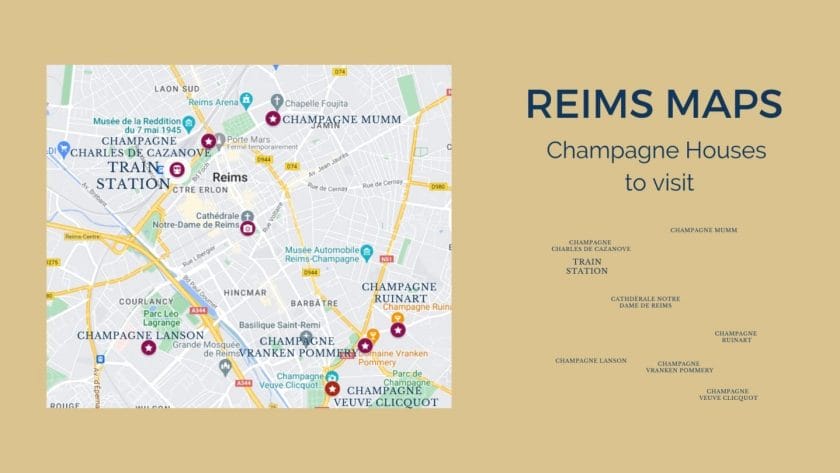 A typical cellar tour lasts between 45 minutes and 1 hour. The cost varies, not based on the duration of the visit (which remains the same), but on the number of tastings offered at the end. Depending on your preferences, you can select from various packages.
An important detail: some of these cellars, such as Veuve Clicquot, Vranken Pommery, and Ruinart, are nestled on the Butte Saint-Nicaise, a site recognized as a UNESCO World Heritage Site. All the more reason to ensure you experience these exceptional tours while in Reims.
Things to Do in Reims in One Day: Unravel History at the Surrender Museum
During your visit to Reims, don't miss the chance to delve into a significant chapter of world history at the Surrender Museum. For me, this venue is a true gem, often overlooked by many. It was here that the end of World War II was signed in 1945, and the museum has impeccably preserved the authenticity and emotion of that pivotal moment.
Your tour will start with a 20-minute video briefly covering the war's major events. It serves as a perfect introduction to set the scene for what follows. After this visual immersion, you'll continue with a traditional museum journey, exploring artifacts, photos, and firsthand accounts from the era.
But the highlight, in my opinion, is the room where the armistice was signed. This space remains untouched, with military strategy maps still pinned to the walls, as if time halted at that exact moment. It's genuinely moving.
An added bonus: this unique experience is included in the Reims City Pass. One more reason not to skip this stop during your one-day exploration of Reims.
Exploring Reims and Its Surroundings: More Than a Day's Worth of Adventure
If you have the opportunity to extend your stay in Reims or if you're traveling by car, it would be a shame not to explore the picturesque surroundings of Reims. The Champagne-Ardenne region is filled with historical, cultural, and of course, wine-related wonders.
If you wish to delve deeper into Reims' treasures, my comprehensive guide on what to see and do in Reims will be your best companion. And for those passionate about bubbly, find out about the top 5 Champagne houses in Reims.
Reims region has so much to offer. Whether you're just passing through for a day or planning a longer stay, you'll undoubtedly be enchanted.
---
Wandering through the alleyways of Reims, parking the car and strolling somewhat aimlessly, is one of the most delightful ways to discover the city. On your adventure to explore Reims in a day, don't forget to stop at a typical Rémois café or bar. You'll be immersed in a Champagne ambiance where it's not uncommon to see many locals and visitors with a glass of champagne in hand.
Always remember that planning is crucial when you have just a day to uncover all the highlights of Reims. Be it the Reims Cathedral, the Champagne cellars, or the Champagne vineyards, each place has its own story to tell.
Plan wisely, but also leave some time for those spontaneous moments that make a trip unforgettable. And if time allows, do explore Reims and its surroundings; the Champagne region still has so much more in store.
For deeper discussions and sharing on this topic, join us on our Facebook group: "Visit Champagne, Epernay, Reims – Tips, discoveries, and recommendations."
This article contains affiliate marketing: this means that I get a small commission on the Booking links.
This allows the blog to live (translation, etc.) however it does not increase the price for you.