Joseph Perrier Champagne House: A Blend of Tradition and Craftsmanship
My love for Champagne Houses grows year by year, and my visit to Joseph Perrier Champagne House solidified that affection!
I was fortunate enough to explore this spot during my day trip to Châlons-en-Champagne, and it's genuinely a gem I highly recommend to anyone in the area.
Before diving into the specifics of Joseph Perrier Champagne House, I'd suggest checking out my comprehensive guide on what to do in Châlons-en-Champagne, the town that houses this renowned brand.
From the cellar tour to the insights, and of course, the delightful champagnes I had the pleasure of tasting – everything was outstanding, truly epitomizing the Joseph Perrier Champagne House signature.
In this article, I'll recount my bubbly experience, igniting your desire to set foot in this iconic domain.
For any further queries or specific recommendations about the Champagne region, Epernay, or Reims,
please head over to our forum:
"Visiter la Champagne, Epernay, Reims – Découvertes, bons plans, conseils".
You'll find a passionate community eager to share their stories and tips.
Let's get started!
An Introduction to Joseph Perrier Champagne House
The legacy began in 1825, and it's no coincidence it's still thriving almost 200 years later! Each generation has passed down the family's rich heritage and unparalleled craftsmanship, resulting in the sparkling treasures of the Marne Valley.
And while the Champagne enthusiasts love Joseph Perrier's bubbles, the English, especially the royalty, have an equally ardent fondness for these exquisite blends.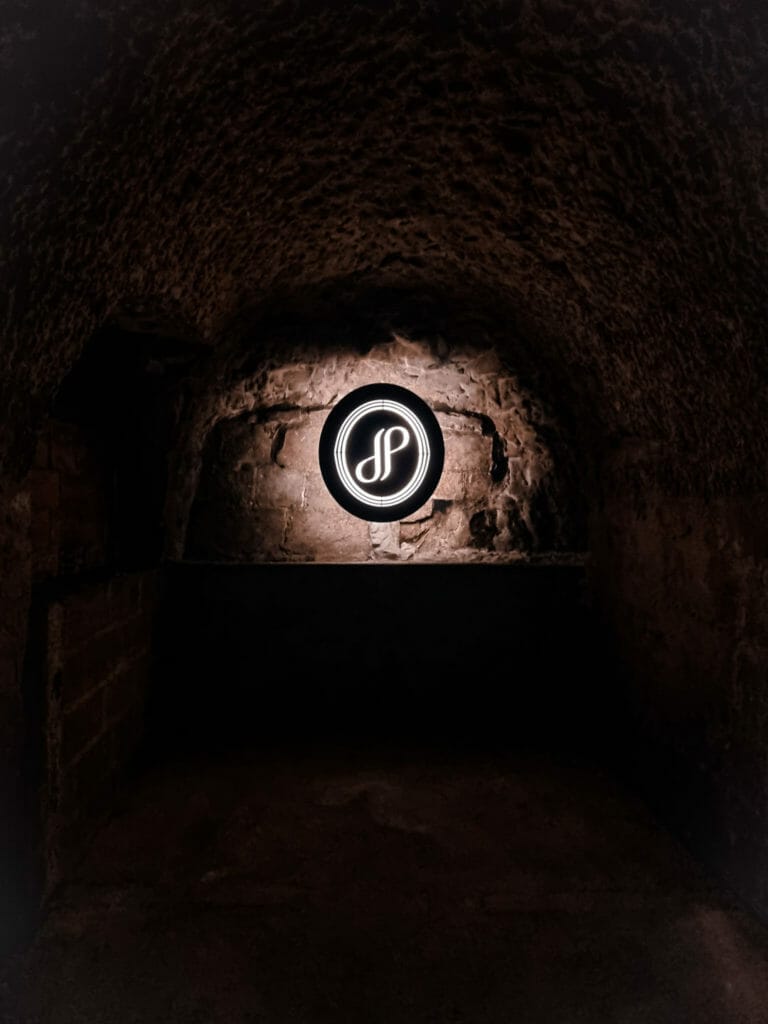 Origins and Legacy of Joseph Perrier Champagne House
By 1889, the house earned the esteemed title of official supplier to Queen Victoria and Edward VII. This illustrious association is commemorated through specially crafted cuvées.
Upon arrival, the majestic facade of Joseph Perrier cellars captivates you.
And I assure you, the marvel continues as you step inside, everything looking splendid after being renovated a few years ago.
As it's the only champagne house in Châlons-en-Champagne, it's an absolute must-visit. I was completely enamored, and I'm sure you'll feel the same. Share your experiences in the comments below!
Exploring Joseph Perrier Cellars
From the vast 23 hectares of Champagne vineyards to the 3 kilometers of ancient Gallo-Roman cellars, this journey into the heart of Joseph Perrier Champagne is essential for your trip!
After a comprehensive introduction about the Perrier family's inception into the champagne world, you dive deep into the house's illustrious past and the tales of its cuvées.
I was particularly taken by unique exhibits, especially ancient documents that bear testimony to the privileged ties between the champagne house and English royalty.
Next, we delved into the champagne-making process, from vineyards to bottling, enriched with intriguing details for both novice enthusiasts and true aficionados.
And then, the most awaited part – the cellar tour of Joseph Perrier Champagne, which was an absolute visual delight!
What stood out was the unique cellar design – unlike the ones I've seen in Epernay or Reims. These cellars are carved at ground level spanning 3 km, a design inherited from Gallo-Roman times and undoubtedly a sight to behold.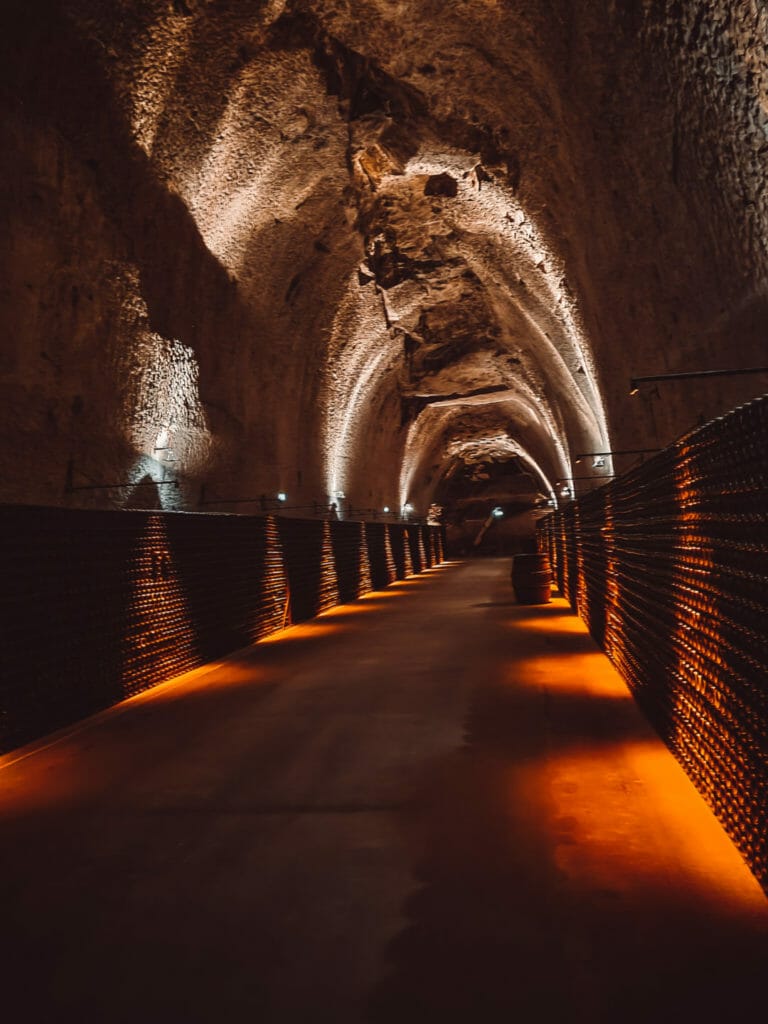 Carved directly into the hillside, these cellars, complemented by manually designed skylights, ensure optimal conditions for wine maturation.
Bonus tip: They offer blankets at the entrance for those who might feel chilly at the ambient 11 degrees.
A Treat for the Palate: Tasting at Joseph Perrier
And to wrap up this enchanting visit, what could be better than a champagne tasting? Apart from savoring exquisite and harmonious cuvées, you'll relish this session set in the heart of the old vat room.
And to wrap up this enchanting visit, what could be better than a champagne tasting? Apart from savoring exquisite and harmonious cuvées, you'll relish this session set in the heart of the old vat room.
The entire experience of tasting around an oval table with a guide in the center, sharing anecdotes and insights about each cuvée, was uniquely engaging.
Joseph Perrier offers a range of tasting experiences. Choose based on the number of cuvées you wish to savor. You can even opt for a blind tasting of two vintages – a treat for the connoisseurs.
This eminent house offers top-quality vintage blends. The tasting session gives you a glimpse into the Joseph Perrier signature – its freshness, unique aromas, and unparalleled blends.
No matter your choice, the cellar tour is meticulously designed – a pleasure for both adults and kids who can also enjoy the grape juice from Joseph Perrier vineyards.
Visitor Information
Tour Languages: French and English.
Reservations: Highly recommended during peak season.
Parking: Available for visitors.
Outdoor Spaces: Terrace to unwind and relax.
Cellar Temperature: About 11 degrees, so bring a jacket!
With its rich family history, breathtaking location, and harmonious champagnes, I urge you to visit Joseph Perrier Champagne House. You'll thank me later!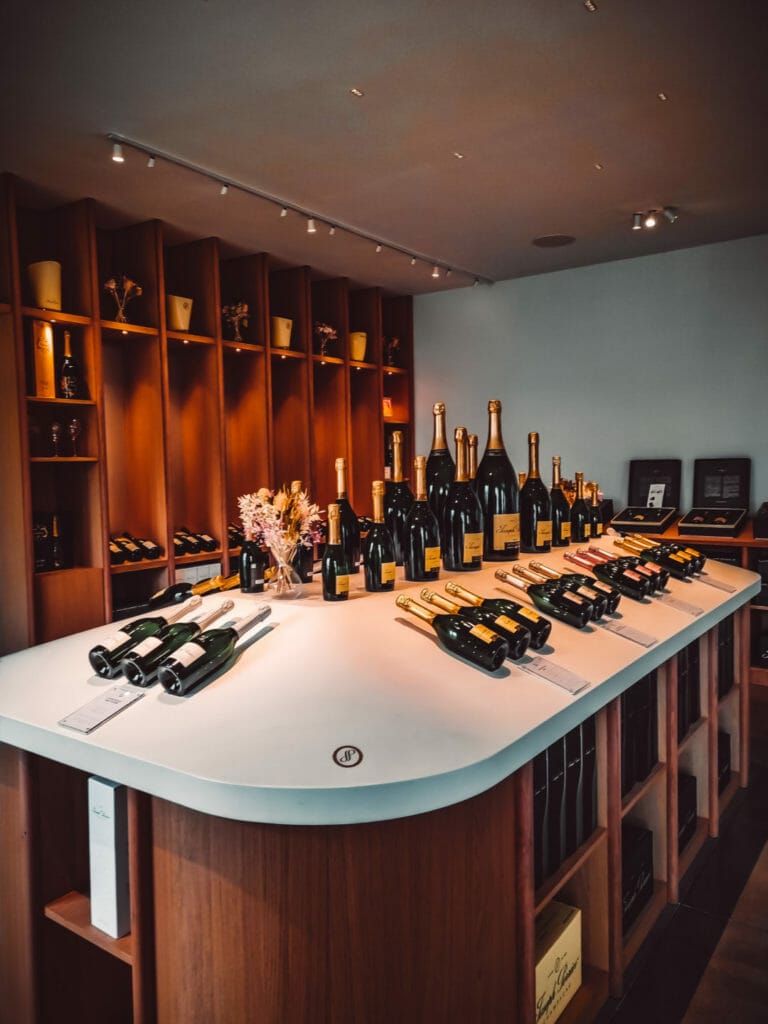 As I always advise my tenants, readers, and anyone visiting the region, set aside time to explore at least one grand champagne house and a smaller vineyard. It provides a comprehensive perspective on both the manufacturing process and the history of the Champagne region.
For those planning a broader tour of the Champagne region, I've crafted a comprehensive guide to exploring Champagne, packed with all the practical info you might need – train schedules, distances between towns, best villages to visit, taxi options, and much more.
Looking forward to crossing paths around Epernay. Cheers!
Drink responsibly. Excessive alcohol consumption is harmful to your health.
This article contains affiliate marketing: this means that I get a small commission on the Booking links.
This allows the blog to live (translation, etc.) however it does not increase the price for you.