The ultimate Champagne region stay guide to discover Epernay and the surroundings
If you wonder how to spend a weekend in Epernay, the capital of the Champagne region , or if you are passing through Reims or planning a road trip in Champagne, you'll love this Champagne region stay guide!
This article is a Q&A meant to be a comprehensive guide to tell you what you need to know before going to the Champagne region and to help you plan your stay. I wanted to share with you much more than a mere list of the best places to visit. This article is full of true advice to spend unforgettable moments.
When browsing on my blog, you can guess I am a real Champagne region lover. I cannot get tired of its history, its heritage and its landscapes. My husband Romain and I decided to settle there, but also to welcome you in our gites in the heart of the valley I'm so fond of. We dreamt of this for so long, we hope you'll love spending some time there as much as we do!
I cannot wait to share with you the best places to visit and discover the surroundings, and to introduce you to locals who deserve to be in the spotlight. All people I recommend to you are true passionate too, and they know better than anyone how to introduce you to the best of our terroir and heritage.
Ready to go for a road trip in the Champagne region? Come on, let's see what great surprises we have in store for you!
Just before we start visiting the Champagne region, here are a few anecdotes that make it unique:
If you were wondering what is the best Champagne region in France , well the answer is quite simple since the Champagne region itself is the only region where we produce champagne.
The Marne, the hills, houses and champagne cellars are a UNESCO World Heritage Site since 2015.
You'll always find a place to taste Champagne in the Champagne region.
All right, I guess the road trip in the Champagne region can start. Let's go and see why the Champagne region is worth visiting!
Where is the Champagne region located in France?
The Champagne region is located in the north-east of France, and goes up to the Bourgogne region and the Belgium border. It is also in between the Île-de-France and Lorraine regions.
Champagne region is divided into 4 departments: l'Aube, les Ardennes, la Marne and la Haute-Marne. This blog dedicated to the discovery of the Champagne region will give you plenty of information on the must-see places in the Marne region.
Just to give you a better overview, we're east of Paris, the French capital that you may visit too when coming to France.
What is the best means of transport to come to Epernay or Reims?
Whether you are travelling by car or by train, you can reach Epernay and Reims quite quickly. The Champagne region is only 2h from Paris and Lille, 3h from Brussels, 5h from Amsterdam and 6h from London by car.
And for those of you who wonder if it is better to stay in Reims or Epernay, note that the two cities are only 35min drives from each other, and 30min by train. If you don't have a car, I'd recommend you to use public transports since taxis and ubers are particularly expensive. If you are a student, a pensioner, a large family or a group, you'll benefit from special offers for public transports.
Our Champagne region guide takes you in the heart of the valleys
The Champagne region is home to several valleys, each of which has plenty of grape varieties as well as a unique microclimate. The Montagne de Reims, the Côte des Blancs, the Marne Valley, the Sézannais and the Aube cover the 34,300 hectares of the Champagne vineyards.
The Marne Valley
It's not a secret any more: the Marne Valley is my favourite. Epernay is located there, just as most of my favourite places in the Champagne region. There are vineyards as far as the eyes can see, a huge history heritage, and much more surprises you'll discover all along your stay.
You'll enjoy strolling in the Marne Valley, going from one village to another and come upon emblematic places of the region where you feel the Champagne region's soul. It goes from Hautvillers to Dormans, crossing Epernay and Châtillon-sur-Marne, all places where you'll mostly see Chardonnay and Pinot Noir grapes.
The Côte des Blancs
This part of the Champagne vineyard stretches to more than 3 000 hectares on the south of Epernay. It is the cradle of the Chardonnay which is the only grape variety in this valley. It is a unique white grape vineyard that produces white juice which gives the famous Blanc de Blancs.
What makes the Côte des Blancs so special in the world of Champagne? If this question nags at you, I invite you to read my recent article.
The Montagne de Reims
The Montagne de Reims is just on top of the hills on the south of Reims and goes up to Epernay. The hard soil of this wine growing area allows Pinot Noir to fulfil along the Pinot Meunier and the Chardonnay.
The hillsides of Sézannais
The valley of the hillsides of Sézannais is located just behind the Côte des blancs, South-East of Epernay. The vineyards are mainly Chardonnay ones. If you visit this area, you will also enjoy the sceneries that are worth going out of your way to see, in between the vineyard and the forest.
Aube
The Aube vineyard bordering the Bourgogne region is the ultimate terroir of the Pinot, a red variety of wine typical of the Champagne region and which makes excellent red wines.
The Champagne being a vast rolling region, I recommend you take the car to discover the surroundings without remaining stuck in one city. It will also be a great opportunity to let yourself be blown away by the most stunning viewpoints near Epernay.
If you stay in Epernay, you can get around by foot or by bike. However, if you stay in Reims, you'd rather taking the city-pass because it allows free access to public transportation. All Champagne Houses are not right in the city centre.
And in case you don't like taking the wheel, consider booking a visit of the region accompanied by a guide. You'll benefit from his comments that will help you learn much more information about the region.
What is the best time of the year to go to the Champagne region?
Although I love my region all year long, spring, summer and fall remain the best times of the year to come. These are the seasons when the sun is the most radiant. In winter, it's rather a chill mood. Still, if you want to visit the Champagne region in winter , there are nice Christmas markets.
In spring, flowers start blooming, warm days are back, and the terraces open again to have a drink. As for summer, it is my favourite time of the year. The weather is sunny and warm, everyone is in a good mood, and it's village parties season! And the icing on the cake, as it is what you might be looking for: these two seasons are the ones when the vineyards are the most magnificent. There is no doubt that this scenery will make your day!
It's particularly true in the summer when grapes start to ripen, and when you can admire stunning sunsets with a view of the Champagne valley. This will leave you speechless. And to top it all, you can have an aperitif in the heart of the vineyard, or have a bike ride.
Speaking of aperitif, summer is the best season to chill on one of the terraces of the Avenue de Champagne or to have a wine aperitif, what we call an apéritif vigneron. Some are often organized in Epernay and around. Believe me, you don't want to miss the opportunity to take great delight!
And as summer comes to an end, it's time for grape harvest to start. It's an incredible moment you may want to experience once! Some winegrowers welcome you to their farm so that you can see the press at work. Again, you won't regret it! The cherry on the cake: most of the time, you can taste fresh grape juice. Hmm, lucky you!
Here is an example of an independent winemaker in Hautvillers which opens its doors during the harvest
Champagne Joseph Desruets where Sabine will welcome you with pleasure and will share and will share with you the work of her Champagne house
If you are looking for an even more immersive experience, you'll be tempted by the Devenez vendangeur d'un jour experience at the Maison Vollereaux. As its name suggests, you'll put yourself in the winegrower's place to pick and harvest the grape on the vine for a day.
In the autumn, you must take time to stroll in the Champagne vineyard to reach one of Eperney's most beautiful vantage points. Not only will you admire a panoramic view of the Champagne valley, you'll also be amazed by the colourful patchwork that takes shape and changes day after day.
Now, maybe you're visiting Epernay for a weekend in winter. Then, come in December to experience the Habits de Lumière, a magical must-see event.
What are the best activities in the Champagne region?
When visiting the Champagne capital city, Epernay, you have plenty of things to do and a lot of places to visit. Now there is one place not to be missed, for sure the Avenue de Champagne. It is a unique place with a big and interesting history, and which hides an invaluable treasure. What more could I tell you except that it is a gorgeous city you're almost bound to visit?
The Avenue de Champagne is a well of history heritage with stunning places to discover the Champagne region universe that holds beautiful moments and memories just for you.
Now let's see what you were waiting for from the very beginning: the cellar visits. Your stay in the Champagne region is the perfect opportunity to visit wineries. You may wonder how many wineries are in Champagne. Well, there are plenty, and I recommend you to do at least two cellar visits, and especially to discover a great Champagne House as well as a more homelike one where you'll meet with winegrowers. The first winery will allow you to get to know the story of a brand and of its cellars, whereas small houses offer a more personal experience.
Still I highly recommend you to visit both. These are very different places but somehow complementary. It's a golden opportunity to discover champagne region some other way with locals fond of the Champagne terroir.
Yet, to enjoy and discover the Champagne region properly, I advise you to visit it accompanied by a local guide. This tip is even more important if you visit Epernay for the weekend and have only two days to get a glimpse of the surroundings.
The local guide will take you through the vineyards of Champagne and around the different champagne producers. An expert guide will explain to you many things that you won't learn elsewhere. This option is one of the most beautiful ways to discover the region with a different look.
It is also very convenient if you come to visit Epernay for a day since your local guide will take you around the vineyards before taking you back to the train station. It's a no-brainer, this is really the best way to make the most out of your day!
My Vintage Tour is the one I like best, quite simply because you will visit the vineyard in a fully renovated vintage "estafette", that is a typical van. On top of being on board a unique vehicle, Maëva and Romain are two real enthusiasts who tell the history of Champagne and anecdotes that only locals would know.
If you are looking for an eco-friendly way to travel across the vineyard, I recommend you to get in touch with Ay-Champagne Expérience for a guided tour in a 100% electric e-mehari with Isabelle. She is fond of our Champagne region that she will make you discover going through the vineyards while telling you about the different wine varieties, the vines and the story of the region.
For those of you who like to be as close to nature as possible, I recommend you to rent an electric bike to enjoy the sun during your ride in the vineyard. You will also have the opportunity to ride along the Marne on the cycling path. As for me, I suggest the loop from Epernay as it allows you to visit wonderful typical villages, to ride along the Marne, and to take a break to eat some treats if you are a sweet tooth!
Again, there are several routes and cycling paths to go around the areas, so you may find it convenient to rent an electric bike to reach the different visits of the day. It is possible to go from Dormans to Châlons-en-Champagne by bike along the greenway built along the Marne and the lateral canal. It is quiet and the landscapes are breathtaking.
By foot, by bike, by car or with your local guide, you've got plenty of activities to do in Epernay, Reims, Hautvillers and in many other villages around. There is something for everyone: museums, cellars, restaurants and champagne bars. All you have to do is follow this stay guide in the Champagne region and you'll have a wonderful stay filled with emotions.
Is it better to stay in Reims or Epernay?
There are countless places to visit in the Champagne region. Still, Reims and Epernay, the capital of the region, remain the most visited towns to stay. Reims and Epernay are very different and complementary at the same time. Both represent the region perfectly, and it is no accident if they unofficially compete for the title of champagne capital.
Epernay is the typical small French city, a charming village to live, but it is also and especially well known for the Avenue de Champagne where you'll see th emost beautiful houses. Its best asset is its location as it is very close to the neighbouring villages where you will admire the countryside of the Champagne region and meet with winegrower in love with the terroir.
In Epernay and in the neighbouring villages, you can spend some time seated at the terrace of a champagne bar and eat at the restaurant until about 10pm during the summer. And the next day, all you have to do is keep on visiting!
If you come during winter, note that some places may close sooner, so you will appreciate to warm you up in your gite around the fire, or even in our balnéo hot tub if you stay in our Jacuzzi 86 or in one of our vacation rental with a hot tub.
For those of you who would rather like to dance the night away, you will find what you are looking for in Reims, just 40min north of Epernay. Not only is Reims a city with a rich historical heritage, but it is also a vibrant town with many activities throughout the year.
In the evening, go near the Reims Cathedral and the main avenue, it's the best place to have a drink, to have a bite, or to party!
During the day, you can visit museums, Champagne Houses and historic sites. If you are fond of this type of activity, I advise you to take the Reims city pass to take advantage of discounts on many activities.
Dive into the heart of Reims with my latest article, brimming with insider tips, must-see spots, and the hidden gems only locals know about – a true guide to experiencing Reims like never before.
What is the best winery to visit in the champagne region?
Champagne tour guide means champagne, and champagne means winery visits! Much more than a must, discovering a production site, exploring the chalk pits and diving into the history of champagne is one of the best ways to discover the story of the region.
I have visited many cellars throughout the years so it is quite tricky to choose, but here are my top 4 Champagne Houses that are worth it.
Let's start in Reims. I highly recommend you to visit the Vranken-Pommery domain. This unique place is just exceptional. Not only will you be plunged into the history of this firm, you'll also go back in time as soon as you step in this unique blue building.
Now let's go back to Epernay to visit the three other cellars. The first one is the Moët & Chandon cellars, an emblematic place on the Avenue de Champagne. This visit is a chance to learn about more than 300 years of history inside the luxurious cellars. I can tell you it will blow your mind away!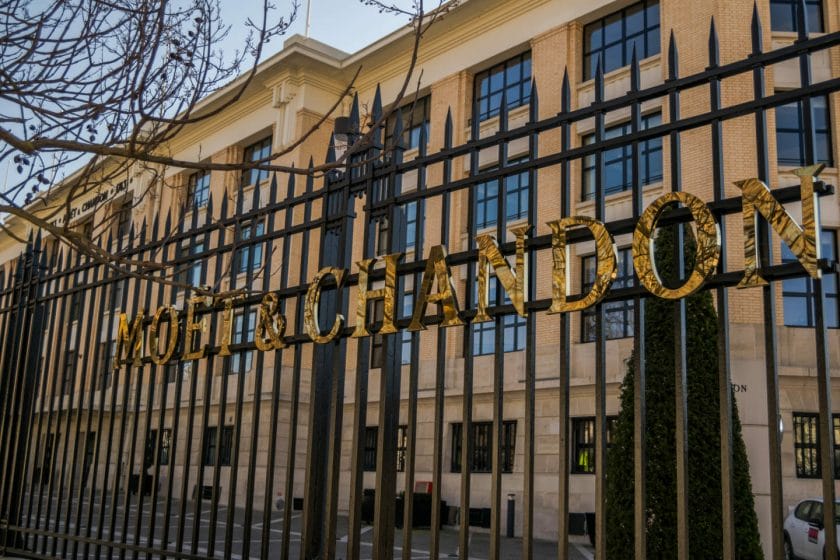 I loved discovering the Maison Mercier, especially for the little train that is an original and very pleasant way to visit the cellars. You don't want to turn down the opportunity to give it a try. There is no other place like Mercier where you can travel through 18 km of cellars by train, it's terrific!
Finally, my last crush is the visit of la Maison de Champagne De Castellane. We truly enjoyed this trip and I always recommend it to visitors who stay in our accommodations. On top of a comprehensive and very interesting guided tour with a tasting, you can climb up the tower, which makes the experience just perfect!
To help you make a choice, go check my experiences in the cellars of Epernay and Reims where I tell you a little more about the different places. Be careful, it will make your mouth water!
Once you've decided which cellar to visit in the Champagne region, I suggest you book time and date to visit some of the greatest Champagne Houses. Make sure you book in advance. Some of our tenants wanted to visit at the last minute and were disappointed to see that it was already full. Trust me and don't push your luck!
Most of the time, there are several departure hours available and visits organized in different languages, perfect for foreigners who come to visit our beautiful Champagne region. Most wineries have a website on which you can book a visit online in only a few minutes, so for it!
Oh and here's a tip from a local:
bring a sweater or a jacket with you no matter how hot it is in the middle of summer since the temperature in the cellars is 11°C. Although the first five minutes are pleasant when it's hot, you soon feel like covering up for the rest of the hour.
Best tips and advice for a great stay in Champagne
To truly make the most out of the region and have enough time to discover the must-see places in Champagne region, consider staying at least 2 days. Indeed, a weekend is a great way to discover the vineyards of Champagne region and to do some visits with tastings.
Of course, if you can stay a little longer, it will only be better as you'll have the opportunity to visit Epernay, Reims, and other small villages typical of the Champagne region.
I've concocted a dream program to stay a weekend in Epernay to explore the city and have some gateways around. Between cellar visits, champagne tasting and delicious dishes, this itinerary is probably the best way to spend two beautiful days.
If you are planning to have a good time visiting the must-sees of Epernay, you will also have the chance to enjoy a good meal and to taste the best champagnes. It will be the perfect opportunity to try the finest gastronomic specialities of the Champagne region, with a glass of bubbly.
However, again to make sure you can get a table, I recommend that you book as soon as possible. Although you will always find a place somewhere, the best restaurants in the area can be booked up to a week before during the summer.
Good news, there are a lot of tasty restaurants with affordable prices and where you can enjoy yourself with your family or with a group.
By the way, for those of you asking "What is there to do in Epernay on Sunday ?", I would like to draw your attention to the fact that many restaurants close on Sundays, so check the schedule beforehand if you absolutely want to eat there.
The same goes for winery visits, especially for small wineries that rest on this day to spend time with their families. However, most of the big Champagne Houses are open on Sunday, that's why I advise you to plan them on Sunday and to dedicate Saturday for the other places that are only open on that day.
Likewise, make sure you check out the openings of the places to visit if you want to plan a stay in Champagne region during the first three months of the year. Many Champagne Houses and museums take a few weeks to several months break right after the holiday season.
During this period of break, the winegrowers and local guides keep warm while waiting for spring which is the key period in the vineyards as it is the moment when the visitors come back to discover Epernay and its surroundings.
And if you plan to visit us in August, be aware that many local restaurants and winemakers go on vacation during this period. It's the perfect time for them to rest before the school year starts, and especially before the beginning of the harvest, which is a particularly busy time for them.
The area also boasts a lot of activities, cellar tours, must-see places and great restaurants. To find out more about the region, check out the other articles available on the blog where I share all my favourite spots. Check out the Visiter la Champagne Facebook group to benefit from the good tips shared by locals who are as passionate as I am.
We recap :
Epernay – Reims : 30 minutes by car or by train
The champagne region is only about 2 hours from Paris
There are direct trains from Gare de l'Est to Epernay and Reims
Visit 2 different houses: A major Champagne house and a winemaker from a smaller vineyard: it's a perfect match
emember to book your visits to the cellars and restaurants (especially during the summer season and on weekends)
Epernay is a small town with a village life – Reims is a younger town with more evening entertainment
You can ride your bike from Dormans to Châlons en Champagne along the walking and cycling path equipped for this purpose
There are city-pass to visit Reims, Epernay and the surrounding villages with free activities and discounts
The tomb of Dom Pérignon is in Hautvillers and can be visited during the day. Hautvillers is 10 minutes from Epernay and 40 minutes from Reims by car
During the New Year and August periods, some Champagne houses and restaurants take time off
The Champagne roads are yours, enjoy!
This article contains affiliate marketing: this means that I get a small commission on the Booking links.
This allows the blog to live (translation, etc.) however it does not increase the price for you.
Alcohol abuse is dangerous for your health, please drink in moderation.