Visit Reims: The Best Things to Do and See
What are the top sights and activities in Reims? That's the question I'm addressing in this article, specifically crafted to help you visit Reims and enjoy its treasures!
As you know, I first fell in love with Epernay and then the Champagne region as a whole. Reims is undoubtedly one of the essential destinations for a dreamy escape. Whether you have a day, two days, three days, or even a week, the City of Coronations is brimming with fascinating places to discover.
From cellar tours, guided city excursions, walking tours, to historical monument visits, I've prepared the perfect itinerary for uncovering the city's hidden gems.
Allow me to be your guide – your journey to visit Reims begins now!
Are you planning a last-minute Reims champagne tour for your trip?
---
Make sure to book your accommodation, restaurants, and champagne tours in Reims in advance to ensure you don't miss out!
Top recommendations for Champagne Tour in Reims 🚐
Top recommendations for accommodation in Reims 🛌
Appartement Forum Reims (mid)
La Caserne Chanzy Hotel & Spa (Luxury)
This article contains affiliate marketing: this means that I get a small commission on the links.
This allows the blog to live (translation, etc.) however it does not increase the price for you.
Visit Reims in a Few Days: My Practical Tips
Before diving into the places I adore in the heart of the City of Coronations, I'll share with you some essential information to make the most of your visit to Reims. From tips and tricks to practical advice, these are the nine crucial things to know for a top-quality stay in Reims.
1. Book Your Stay in Advance
Reims is a popular destination, which is why accommodations often fill up weeks ahead. To secure a lovely, well-situated place, consider booking your stay quickly, especially if you're planning a weekend trip.
Find my recommendations for places to stay in Reims at the end of this article!
2. Book Your Cellar Tours
As the must-do activity in Reims, be sure to book your cellar tours at least three weeks in advance, or even earlier during peak season, holidays, and long weekends.
To easily and quickly book cellar tours at the best prices, use websites like:
3. Get the Reims City Pass
To enjoy free public transportation, complimentary activities, and discounted rates on certain Reims attractions, consider opting for the Reims City Pass. It's truly worth it for exploring Reims in 1 or 2 days, and I'll tell you more about it after these tips.
4. Take Advantage of the Tramway to Get Around Reims
While I always enjoy walking to discover a city, I must admit that public transportation is convenient when your legs start to tire after several visits.
The Reims tramway is perfect for quickly reaching every corner of the city, so make the most of it!
5. Plan for Parking Budget if You're Driving
If you're visiting Reims by car, be aware that parking is not free in the city center. Additionally, the city has a Low Emission Zone (ZFE) where a vignette is required to drive.
6. Visit with a Guide
Hiring a guide for your visit to Reims is an excellent idea! Besides benefiting from their insights and passion, they can take you to various locations throughout your stay.
Most guided tours start at Reims train station or in front of Reims Cathedral, making it easy to meet your guide upon arrival. As with everything else, book quickly, as the best guides are in high demand.
Impériale Marie Antoinette
7. Make Time to Explore the Surroundings of Reims
A weekend in Champagne wouldn't be complete without visiting Epernay, Hautvillers, or other villages in the region. Set aside at least one day to explore these charming locations in addition to Reims' must-see spots.
8. Dress Appropriately!
Even if you're visiting Reims in summer, remember to pack a light sweater. You'll thank me during your cellar tours, where temperatures hover around 50°F (10°C).
9. Indulge Yourself
Last but not least, the golden rule during vacations is to enjoy every moment, which is even more delightful with some bubbles.
Regardless of the champagne house you choose to visit, savor the tasting at the end of the tour. A little tip for trying a variety of cuvées: opt for the higher-priced entrance.
The Reims City Pass: THE Must-Have for a 2-Day Visit to Reims
In addition to the advice I just shared, let's delve into the absolute must-have for visiting Reims: the Reims City Pass.
Cellar tours, museums, transportation, restaurants, tastings, and other activities can add up, making the 100% digital Reims City Pass a wise choice.
With this pass, available for 24, 48, or 72 hours, you'll enjoy numerous benefits throughout the day, while saving money on:
Free attractions
Champagne tastings
Discounted entry tickets
Unlimited public transportation
Many discounts from partner providers
Order your pass now for a 1-day, 2-day, or 3-day visit to Reims!
How Many Days Should You Spend in Reims and Its Surroundings?
Visiting Reims in just 1 day is possible, especially if you're already in the Champagne region or coming from Paris! However, be aware that you won't have time to see and do everything.
If you're only spending one day in the City of Coronations, take the time to visit Notre-Dame Cathedral before heading to Place Drouet d'Erlon for lunch, followed by a visit to a champagne house.
To truly experience Reims as it deserves, I recommend staying in the Champagne region for at least 3 days. This will allow time to visit at least one museum, explore the city, stroll through the Montagne de Reims National Parc, and see the Faux de Verzy.
By extending your stay in Champagne, you'll enjoy a unique experience with cellar tours, visits to independent winemakers, museum visits, and many other excursions.
In addition to discovering Reims, you must visit Epernay or Hautvillers for an immersion in a typical village. It's an unforgettable experience that will remain etched in your memory and make you want to come back for another visit soon.
In my opinion, visiting Reims and its region in 3 days is ideal, even though I would suggest spending weeks there because I adore Champagne so much!
When Should You Visit Reims?
The best time to visit is undoubtedly from April to December! Living in the heart of the Champagne region year-round, I recommend visiting Reims during these months.
From January to March, the vineyard is dormant and the vines are not adorned with leaves, making it the least visually appealing time for our hillsides. Additionally, some champagne houses and attractions close for a break before welcoming tourists arriving with the spring.
Personally, I find the vineyard in autumn and the Champagne region in summer to be particularly charming, with landscapes revealing themselves in a simply magical way.
Now that you know almost everything, let's explore the champagne-making process at the heart of the most beautiful champagne houses.
Champagne Houses of Butte Saint-Nicaise
Even though you can't visit the Champagne vineyards in the heart of Reims, the city is home to some stunning champagne houses that you must see!
The unique feature of Reims is the chalk cellars of Butte Saint-Nicaise, which house cuvées from slopes, houses, and champagne cellars inscribed on UNESCO's World Heritage list.
Carved in medieval times from chalk quarries, the cellars of Butte Saint-Nicaise now contain true treasures, bubbles that are enjoyed by connoisseurs worldwide.
Visiting these unique cellars is a magical experience and a must during your stay in Reims. I never tire of them, and I believe I'll never grow weary of their beauty.
Veuve Clicquot, Taittinger, Pommery, and other renowned champagne houses share the tens of kilometers of underground galleries you'll visit before enjoying a tasting.
These champagne cellars are not only impressive, but they also provide ideal conditions for the champagne-making process.
Good to know: While the cellars are in the same location, some champagne houses are not in Reims city center but outside the city.
Before exploring the monuments of Reims, let me introduce you to a fun place related to champagne, even if it's not an exploration of the Butte Saint-Nicaise cellars.
A bit different but perfect for continuing the enjoyment, head to Champagne Pol Couronne! I loved the experiences offered in the boutique located at the foot of Notre-Dame Cathedral, and I think you'll enjoy it too.
Tastings of the house cuvées, champagne masterclasses, virtual tours of the wine estate, or even saber-opening initiations, the showroom is a great place to dive into this sparkling world.
Notre-Dame Cathedral of Reims: The Jewel of the City of Coronations
Breathtaking, majestic, and magnificent, there are many words to describe the beautiful Notre-Dame Cathedral of Reims!
This cathedral, which crowned 33 kings of France, is famous for its 2,303 statues, the renowned Smiling Angel, its gothic art, and is an essential visit in Reims.
A true symbol of French history, join me in exploring this monument, classified as a World Heritage site since 1991.
I loved delving into the history of this place, thanks in large part to Anne-Marie from AMB, a passionate and knowledgeable guide who accompanied me throughout the visit.
It wasn't my first time visiting the cathedral, but it was by far my favorite experience. Normally, I enter, take a quick tour, and leave, and although it's already magnificent, exploring this iconic place with someone knowledgeable truly enhances the experience.
Beyond the architectural heritage, I learned why kings were crowned in Reims, heard the legend of the Holy Ampulla, and discovered why there are statues carved in the cathedral.
Visit the Grand Reims Tourist Office, and upon request, the reception staff will provide a list of available tour guides for the city and its monuments.
For those unable to afford a guided tour, take the time to join a guided tour to discover the interior and exterior of the lower part of the cathedral. Lasting about 1h30, tours start at just €9, an affordable budget for all!
However, if you want a complete immersion, purchase an €8 ticket at the Palais du Tau to access the upper part of the cathedral. This is an opportunity to enjoy a comprehensive tour of the cathedral, dive into the historical heritage of the Champagne region, and feast your eyes on its beauty.
In my opinion, only a complete tour allows you to uncover the many secrets of this unique place! Between the history of its destruction during World War I, its reconstruction by the Germans, and its original stained glass windows, come and explore the mysteries of our heritage in Reims.
I always recommend to my tenants to visit Reims in the morning, as soon as it opens, as this is when there are fewer people, allowing for a very pleasant experience. And since the entrance ticket for the Palais de Tau can only be purchased on the day, you can choose the time of your visit.
Good to know, entry to Reims Cathedral is free for a self-guided tour!
The Smiling Angel of Reims
While all the sculptures at Notre-Dame Cathedral in Reims are breathtaking, the Smiling Angel is a must-see! Other smiling angels can be found throughout the building, but the Smiling Angel is a true symbol for the people of Reims.
Carved in the 13th century, the angel was initially designed to welcome martyrs by delivering good news, but history had other plans for it. During World War I, the angel joined the many victims when its head fell to the ground and shattered into twenty pieces.
Concerned about preserving heritage, the abbot at the time collected all the pieces in the hope of saving the angel. When the cathedral was restored, the remains were found, allowing the angel to regain its face and smile.
The unique story of the Smiling Angel makes it an emblematic figure of Reims, a witness to a history marked by war, but above all, the symbolic image of the reconstruction of the city of coronations.
The tradition is to enjoy a glass of champagne in the square facing the angel – it's easy to imagine toasting with her, give it a try, it's really fun!
The Palais du Tau and its history
Former palace of the Archbishop of Reims and the place where the Kings of France were crowned at Notre-Dame Cathedral, I invite you to discover another must-see in Reims: the Palais du Tau.
For a bit of history, it's called Palais du Tau in reference to the Greek letter T and its T-shaped construction, which you can observe during your visit to Reims.
In addition to discovering a symbolic site in Reims' history, you can enjoy a captivating and comprehensive small museum. From relics to chalices, and the immense fresco, the Palais du Tau houses treasures that tell the story of Reims.
Personally, I particularly enjoyed the photo exhibition showing Reims, its cathedral, palace, and iconic buildings at various times in its history.
We don't always realize the traces of war, but the different photos provide a point of comparison between Reims before and during the war, which is very interesting.
Visit Reims and its historic city center
Because a walking tour is, in my opinion, one of the most beautiful ways to discover a city, follow in my footsteps to visit Reims by exploring places that trace its history.
Between historic monuments, lively spots, and museums, let this city of art and history reveal its beauty to you!
The Place d'Erlon
If you visit Reims, don't miss Place d'Erlon, a lively pedestrian square with several restaurants and bars where you can relax and enjoy the atmosphere.
The fountain and sculptures add to the aesthetic of the square.
The Place du Forum
This is one of my favorite places for a stroll in the heart of Reims' city center: I take you to the Place du Forum.
Beautiful and very pleasant to live in, it is on one of the oldest squares in the city that I invite you to take a break. Whether it's for a bite to eat, an aperitif, or a little rest on one of its benches, the Place du Forum is a must-see.
I love stopping here for a drink on the terrace; the atmosphere is always really nice, just like the setting, which I find truly beautiful with its many trees and fountain.
Look up and observe the Champagne houses, the Gallo-Roman ruins, and the beautiful bourgeois buildings – it's worth a detour. This is where you'll find the cryptoporticus, a must-see site that I'll take you to right now.
The Cryptoporticus of Reims
Discovered during archaeological excavations in 1920, the Reims cryptoporticus reveals its semi-underground galleries from the Gallo-Roman era. At the time, it was an emblematic place of the forum, the main square, but above all, the heart of the ancient city.
I always find it impressive to see such ancient ruins in such good condition, and it's easy to imagine the Roman market with its inhabitants trading, buying, and selling their products.
In the summer, shows are organized, which is great for enjoying a festive atmosphere before heading to a terrace to savor some good champagne and have a nice meal.
Since we're on a roll, let's continue our immersion into the past by discovering essential sites of Reims' historical heritage!
The Carnegie Library and its Art Deco style
Its semi-circular architecture, mosaic entrance hall, and dome will undoubtedly charm the eye of those who appreciate Art Deco – we're at the heart of the Carnegie Library.
To discover it, walk around the cathedral and take a moment to admire this unique and splendid architecture from the gardens. The setting is so peaceful and quiet; I found this moment almost timeless.
And if the building is beautiful, it's also a place where you can find unique works, heritage collections that have spanned centuries, and that could tell the story better than anyone.
From the archives to the small drawer room, everything is worth seeing in the Carnegie Library. Remember to respect the peace and quiet for those who are working there, especially students taking advantage of this setting to complete their schoolwork.
You'll often see couples there, an image that makes me smile and takes me back to my years in school – an atmosphere that might make you nostalgic too.
Les Halles du Boulingrin: An emblematic place for the people of Reims
We continue with the Art Deco style at Les Halles du Boulingrin, a lively place that is an integral part of the daily life of Reims' inhabitants – a must-see in Reims!
Inaugurated in 1929 following an architectural competition, the city's halls have not always been successful, and they were even abandoned by merchants and then by residents who almost forgot about them.
Fortunately, the unique architectural work of this building is recognized by connoisseurs, and Les Halles du Boulingrin are classified as a historic monument in 1991. A few years later, they become a chic meeting place to buy fruits, vegetables, local products, meats, fish, flowers, champagne, and other delicacies.
Speaking of delicacies, I recommend you stop by Maison Fossier to pick up some pink biscuits, a culinary specialty of the Champagne region to taste when visiting Reims.
The Museum of the Surrender of May 7, 1945, to remember our history
It's May 7, 1945, at 2:41 am, the moment when Nazi capitulation in Europe is signed, officially marking the end of the war. Welcome to the Museum of the Surrender, a place rich in history that I highly recommend for both adults and children.
After a short film that immerses you in the historical context of World War II, you enter the signing room, a truly incredible place in my eyes.
From the chairs to the maps hanging on the walls, everything is exactly as it was at the time – nothing has changed since that historic day. Although the moment is emotionally charged, it's truly extraordinary to imagine what took place here and how the fate of humanity shifted.
Because I think it's a shame that this museum isn't highlighted enough when talking about Reims' heritage, I really invite you to visit the Museum of the Surrender!
The Porte Mars to visit Reims during the Roman Empire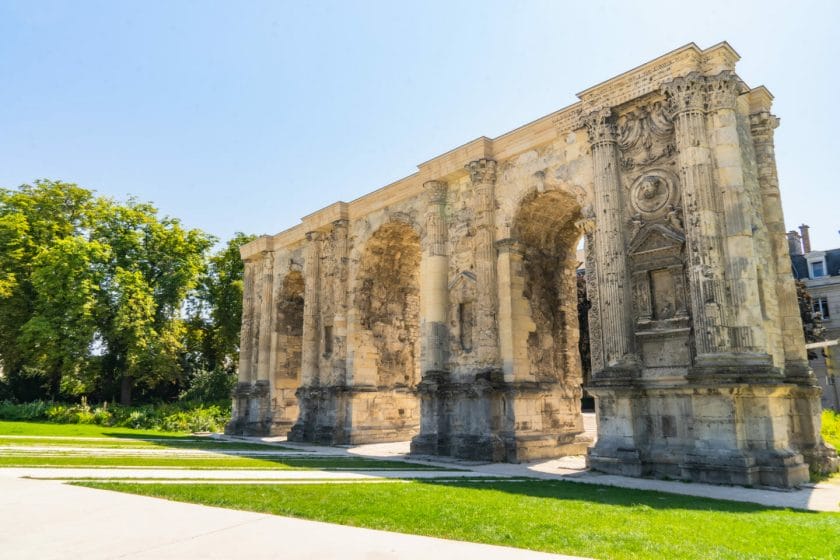 I'm not taking you to the stars or proposing a space conquest, but rather to discover an emblematic historical monument of Reims that you absolutely must see.
"Impressive" is the first word that came to mind when I found myself facing the Porte Mars, and its 32 meters in length and 12 meters in height certainly contribute to that feeling.
Much more than just an ancient monument inherited from the Roman era, it was one of the entrance gates to Durocortorum – or Reims, as it was known during the Roman Empire.
This monument is beautiful, so take the time to pass by between two visits or during your stroll at the Basses Promenades – it's a site to see in Reims that is truly worth a look.
Stroll through Reims at the Basses Promenades
Between monuments, cellars, champagne houses, and other activities, it's always nice to take time for a walk or to unwind.
Where to go for a green break in the heart of Reims? Head to the Basses Promenades – it's the ideal place!
I particularly appreciated the atmosphere of this green space located just a stone's throw from the Porte Mars, a place where both locals and tourists can spend a moment out of time.
Playgrounds, kiosks, carousels, and sports facilities can be found in the heart of a green area with a soothing atmosphere – it's a perfect place to relax, have fun, or lounge.
Don't miss the chance to stroll through this peaceful haven where you'll always encounter locals around the misty basin or the green meadows – it has become a popular living space for everyone.
Régalia: the sound and light show in Reims
All the tenants I advised to experience the sensory journey of Régalia have loved it, and I think you'll also have a great time in the heart of Reims.
Régalia is a show at the foot of Notre-Dame Cathedral and on the façades of the Basilica of Saint-Remi that you should experience at least once in the late evening. The play of light, accompanied by soundtracks and video projections, tells a story – that of the City of Coronations.
I find it fantastic that this show is offered on Reims' emblematic monuments, as it's an original way to discover the city's history.
If you're used to traveling, you may recognize the work of the team that projects light shows on the Sagrada Familia or the Basilica of Montreal. And if you're not yet familiar with these nocturnal festivities, it's your turn to experience a one-of-a-kind immersion
From May to October: Thursdays at the Basilica of St. Remi and Saturdays and Sundays at Notre-Dame Cathedral
Reims Christmas Market for a magical holiday experience
For several years, I had wanted to visit the Reims Christmas Market but never found the time between managing the cottages, the children, the house, the renovations, and preparing for the holidays.
This year, I finally found the time to visit the Reims Christmas Market, and it was AMAZING!
Musical entertainment, gourmet stands, illuminations, children's games, and magic – everything was there to enjoy a true Christmas atmosphere in the heart of the third-largest Christmas market in France.
I always love walking through markets just before the end-of-year celebrations, but I must admit that the numerous champagne bars at the Reims market convinced me that it was the best in the region.
Taste the Champagne-Ardenne pâté-croûte, a must-try regional specialty to warm up and, above all, indulge! I'll let you discover the other local producers' delicacies at the gourmet market corner – they were delicious.
Romain and I absolutely loved it, and the girls were the happiest to spend this magical and fun family moment. From the rides to the treats, through the children's kingdom, they didn't want to leave and are already looking forward to going back next year.
Speaking of rides, take a 5-minute detour to Place Drouet d'Erlon to see the illuminated Ferris wheel and perhaps even ride it to enjoy a stunning panoramic view of Reims.
For even more fun, join the Christmas and Kings Fair – you'll have a blast whether you're a fan of the famous duck fishing game or seeking thrilling experiences.
To enjoy the magic of the holidays, you must spend time at the market once night has fallen to take advantage of the many illuminations, especially with the light trail.
I'm writing these few lines as we are already in 2023, and I admit that I, too, am looking forward to enjoying more great family moments at the Christmas market that I won't miss next December!
Where is the Reims Christmas Market?
Visit the Hautes Promenades to enjoy the Christmas magic with 150 chalets and activities for both young and old!
Christmas and Kings Fair, local producers' gourmet market, Ferris wheel, and Régalia – you'll find other festive attractions nearby after just a few minutes' walk.
When does the Reims Christmas Market start?
The opening of the Reims Christmas Market is the much-anticipated moment each year for both locals and visitors from around the world! To taste the magic of Christmas and spend quality time with family, friends, or your significant other, join the City of Coronations throughout December.
Where to park for the Reims Christmas Market?
The city of Reims offers park-and-ride facilities to allow visitors to park easily before taking the tram to the festivities. I recommend doing this, as the cost is the same as a tram ticket – a great deal that will always be more economical than paying for parking for hours.
And if you're in Paris, hop on a train to reach Reims and its Christmas market in just 45 minutes!
What to do around Reims?
While Reims is beautiful and offers plenty to do, take the time to visit its surroundings for a true immersion in the Champagne region!
I'm suggesting a selection of things to do, but if you have more time, pick your favorites from the blog – you'll find plenty to enjoy around Reims for weeks.
Les Faux de Verzy: a unique Champagne forest
This natural spot is a must-see between Epernay and Reims, and for good reason – I love going to Les Faux de Verzy with my family or for a solo walk.
More than just a forest, it is a magical place for me, and its Exceptional Forest status confirms it. The appearance of the "faux," or twisted beech trees, looks like something straight out of an animated movie, a sight to see around Reims.
In autumn, winter, spring, or summer, walking through Les Faux de Verzy is always fantastic, and the girls enjoy it every time!
I recommend trying the short hike that loops through the heart of the forest. It takes about 1 hour and 30 minutes and covers 3 km, all on terrain accessible to everyone.
Verzenay Lighthouse in the heart of the vineyards
Head to the Verzenay Lighthouse! Yes, you read that right, a lighthouse.
Located in the heart of the Champagne vineyards, hundreds of kilometers from the sea and ocean, you'll find the Verzenay Lighthouse, a must-see near Reims.
Built in 1909 for a publicity stunt by the Joseph Goulet winery, this beautiful lighthouse is now a vineyard eco-museum. Discover the Champagne terroir, enjoy a 360° panoramic view of the vineyards, and taste champagne at this unique and stunning location.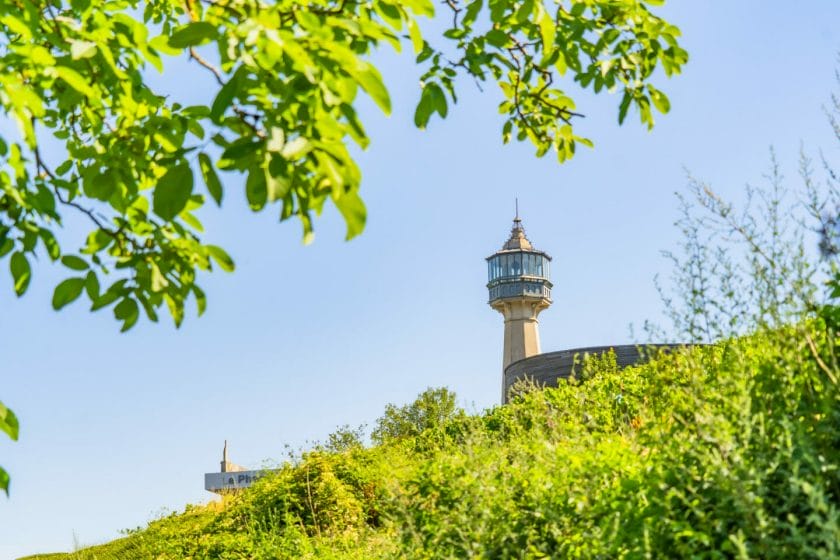 From October 1st to March 31st: From Tuesday to Sunday, 10:30 am to 5:00 pm
From April 1st to September 30th: Every day from 10:00 am to 6:30 pm
Closed in January, reopening on the first weekend of February
Visit Reims and don't miss Hautvillers
Head to the birthplace of champagne! Between two excursions along the Champagne routes, take the time to stop at Hautvillers, a small winemaking village nestled in the heart of UNESCO World Heritage-listed hillsides.
Follow in the footsteps of Dom Pérignon, enjoy the stunning views of this charming village, visit the historic center, take a walk in the forest, and taste champagne at local wineries for a perfect Hautvillers experience.
Epernay: a must-see when staying in Reims
I could talk about Epernay for hours, as I adore my adopted city – the champagne capital that you must absolutely visit during your stay.
Avenue de Champagne, champagne houses, independent winemakers, captive balloon, Mont Bernon, and vineyards – Epernay offers a sparkling experience you'll love!
And if you have the chance, enjoy the drive between Reims and Epernay, which has beautiful spots to discover and places I always recommend to visitors spending several days in the region.
Where to eat in Reims? The best restaurants and bars!
Although I'd love to introduce you to all the best restaurants in Reims, I don't have enough opportunities to dine there. That's why I'll update this list as I explore more places.
In addition to my favorite places to eat in Reims, I'll note restaurants recommended by my friends who live there and know some fantastic spots.
Bon appétit!
My top picks for the best restaurants in Reims
The best brunch spots in Reims
If you love brunch before exploring a city, treat yourself to sweet and savory delights at these spots approved by me.
En aparthé for brunch in a chic countryside ambiance
Sacré brunch for sweet and savory breakfast in a cozy setting
My favorite bars in the city of Reims
And for a drink, which is quite important, especially in Champagne, head to my favorite spots to toast to your health!
Where to stay in Reims?
Hotels, cottages, bed and breakfasts, or luxury establishments – I offer a list of carefully selected places to stay in Reims! Eager to meet everyone's desires, I feature various accommodations in Reims to suit all tastes and budgets.
While some places like La Caserne Chanzy are magical for a dreamy night in the heart of Reims, others like the Best Western Centre allow you to sleep directly on Place Drouet d'Erlon.
You can find many charming and well-located cottages in the heart of Reims city center, perfect for enjoying the city during your stay, day or night.
How to get to Reims?
Now that you have only one thing on your mind – booking your stay in Reims – it's time to find out how to visit the city of coronations!
Getting to Reims by car
Driving to Reims? Take one of the 6 possible exits at the intersection of highways A4-E50 from Paris to Strasbourg or A26-E17 from Calais to Dijon.
My advice is to leave your car at a park and ride, then reach the city center by public transport or bike. It's a good tip for saving on parking costs in the city.
Several VTC services are available from Paris or Epernay, a great solution for enjoying the day without worrying about driving after tastings. It's a fantastic experience if you can take advantage of it, and it can be a beautiful gift for a romantic getaway, a bachelorette party, or a special occasion.
Note: Part of the city is a ZFE(low emission zone), where you must have a vignette to drive. Be sure to request your vignette before your stay in Reims.
Visit Reims by train
Whether by TER or TGV, Reims is well connected by train! It's a mode of transportation I love, as some parts of the journey offer a different perspective on the Champagne landscape.
You can quickly reach the city of coronations from Epernay or Châlons-en-Champagne by regional train, allowing you to spend the day there. Visiting Reims in 2 or 3 days is also possible for travelers on lines from Lille, Dijon, Marseille, Charleville, or Sedan.
To give you an idea, here are some travel times to Reims:
Lille – Reims = 2h20
Paris – Reims = 45 min
Epernay – Reims = 30 min
Brussels – Reims = 2h50
Strasbourg – Reims = 1h 30
Châlons-en-Champagne – Reims = 35 min
Good to know: There are two train stations in Reims, one in the city center and another in Bezannes, just 10 minutes by car and less than 15 minutes by tram from the center.
You can always book a guide or rent a car to visit the surroundings of Reims and reach the vineyards and outlying champagne houses.
From Reims central station, you can explore the Champagne region and easily reach the Champagne villages! Local guides and car rental agencies are located near Reims train station, making it ideal for planning excursions based on your arrival or departure.
Getting to Reims by motorhome
I discovered motorhome vacations last summer, and it was my first but definitely not my last time! I think it's a fantastic idea for exploring a region and making multiple stops.
Numerous motorhome areas are available in the city center, so take advantage of them for a break and explore Reims for 2 days.
If you can extend your stay, discover my favorite motorhome spots around Epernay, places that the whole family will enjoy and are suitable for motorhome living.
Note: Part of the city is a ZFE (low emission zone), where you must have a vignette to drive. Be sure to request your vignette before your stay in Reims.
Getting to Reims by boat
Although rarer and more unique, the boat remains a mode of transportation highly appreciated by travelers, even those visiting Champagne!
Enjoy your journey along the Marne River to reach the nautical stop that welcomes boats and barges throughout the year. After mooring your boat, you can quickly reach the Notre-Dame Cathedral and other must-see attractions in Reims.
Regardless of your mode of transportation to Reims, I can promise you one thing – you will have a memorable stay.
By following my recommendations, you will discover the city in a unique way, explore its historical heritage, marvel at its treasures, and uncover its mysteries. For my part, I can't wait to return and continue my discoveries, and I won't hesitate to add the future gems of Reims that I visit.
And you, when are you coming to visit Reims?
>>>If you can't find all the answers to your questions in this article, come and ask them on the forum Visiter la Champagne, Epernay, Reims – Découvertes, bons plans, conseils" <<<
This article contains affiliate marketing: this means that I get a small commission on the Booking links.
This allows the blog to live (translation, etc.) however it does not increase the price for you.