Have a brunch in Epernay: the most gourmet and tasty restaurants
You know how much I love to help you discover the wonderful French Champagne region. Is there anything better for a traveler than to discover a place by tasting its gastronomic delights?
If you are a foodie and you're looking for the top activities to do in vacation in Epernay, going brunch is probably one of the best ways to start your day, halfway between breakfast and lunch.
Romain, our daughters and I cannot resist viennoiseries, pastries, toasts, all those things that make up a good brunch with both sweetness and salty delicacies.
Good cooking and tasty food have my heart! Hence I keep on investigating to find the best places to eat in Epernay. This ultimate brunch guide will tickle your taste buds, so get ready to brunch in or to take away. Some of these places also provide a delivery option, so you have no excuse!
Brunch is ready!
Where to eat a good brunch in Epernay?
Let's start with the best restaurants to go brunch in Epernay. All you'll have to do is expect to be waited on and treat yourself with the tastiest dishes!
1st brunch spot: Matin gourmand
The name of this restaurant says it all. Matin Gourmand offers a delicious brunch in the city-center of Epernay. You'll leave with your belly full and revived taste buds!
Are you rather a sweet or a savory tooth? There is something to suit all tastes! You can enjoy a traditional viennoiserie, savor specialties of the Champagne region, and discover dishes coming from elsewhere.
You'll also encounter the winegrower of la Maison de champagne Joseph Desruets where passionate people carry the legacy on. In love with the Champagne terroir, they are the best cook when it comes to prepare home made dishes made of fresh products only.
Matin gourmand is also a cozy place with a warm atmosphere and a nice decoration to make you feel comfortable. There are about twenty places available so whether you planned a weekday or a weekend brunch make sure to book a table in advance.
This quite young restaurant opened in 2022 and quickly became one of my favorite places to brunch in Epernay! If you are fond of good food and you plan to spend the weekend in the Champagne region, then begin at the beginning: with a delicious brunch.
Address: 15 Rue Porte Lucas 51200
Opening hours: 9am to 3pm, from Wednesday to Sunday
2nd brunch spot: le KITSCH Café
This arty and colorful coffee shop is one of the coolest places to start your day! It is run by Charlotte who cooks sugary and salty treats that'll make your mouth water! Not only is the Kitsch Café one of the best brunches in the city of Epernay, it is also one of the most pleasant places to relax in a friendly atmosphere. So, don't you want to start off your day on the right foot with a brunch before exploring the city?
Hot drinks, refreshments, cakes, granola, all the chef's specialties taste amazing!
Go for it, it's definitely one of the best restaurants in Epernay.
For a Sunday brunch at le Kitsch Cadé, make sure you book a table, otherwise you'll regret it! Charlotte will be glad to welcome you!
Last but not least, if you are looking for healthy restaurants in Epernay, you can order a bowl and other dishes the entire week.
Le Kitsch Café is definitely one of the most cracking brunches near Reims, believe me, you don't want to miss it!
Address: 4 Rue Saint-Rémy, 51200 Epernay
Opening hours: 9:30am to 1:30pm on Sundays for brunch | 8:30am to 7pm from Tuesday to Saturday
Delivery and takeaway brunch in Epernay
Would you like a brunch delivered directly at home to lie in bed before going to visit the Champagne region? Here is my selection of the best breakfast and brunch restaurants to take away or to order a sharing platter.
1st brunch box: Jooka
Jooka's brunch gets everybody to agree. Each sweet treat is tastier than the last, whether it be granola and yogurt, homemade caramel, or the savory bagel bread. The menu is 100% homemade with fresh products.
You can choose between two brunch boxes: 2 or 4 persons, with generous portions to share. No doubt you'll love it all, especially the French toast topped with homemade caramel. This one is to die for, I just can't get enough!
Much more than an incredible cook, Julie is also extremely kind and will be happy to have a chat with you and share her good tips to discover the surroundings! She wants to offer tasty and gourmet brunch, and it is a successful bet!
Watch out, everybody loves Julie's brunch, so make sure to book your brunch box 48h in advance, or even a week before if you plan to come with a big team.A delicious and 100% homemade brunch takes some time to prepare!
All you have to do to eat a brunch in Epernay and around is to select the option and the hour, and to complete your order directly online.
And for the real brunch lovers, I recommend you Julie's other sweet and salty recipes. Romain, our daughters and I cannot wait to taste them! Don't hesitate to give a try to the apéro-boards to share, they look awesome.
The cherry on the cake: the cooking classes and patisserie workshop. I'm pretty sure you don't want to leave France without knowing how to cook those delicious meals and pastries at home. Jooka offers workshops for up to 8 persons. I highly recommend this family activity in Epernay. It's a golden opportunity to have a good time and learn how to cook tasty recipes by yourself, as well as Julie's little secrets that make a difference!
Address: 3 Rue Gambetta, 51160 Ay-Champagne
Contact: 07.88.44.69.59
2nd brunch box in Epernay: O'local
If you're still wondering "Where can I go breakfast in Epernay?", then O'local is one of the best Sunday brunches in Epernay. The box brunch offers a mix of sweet and salty food to treat your taste buds!
Feeling like some pancakes? With fresh fruit juice, viennoiseries, bread, muffins, fruits, cold meats, cheese and gravlax salmon. And to top it all: jelly, maple syrup and a delicious homemade spread.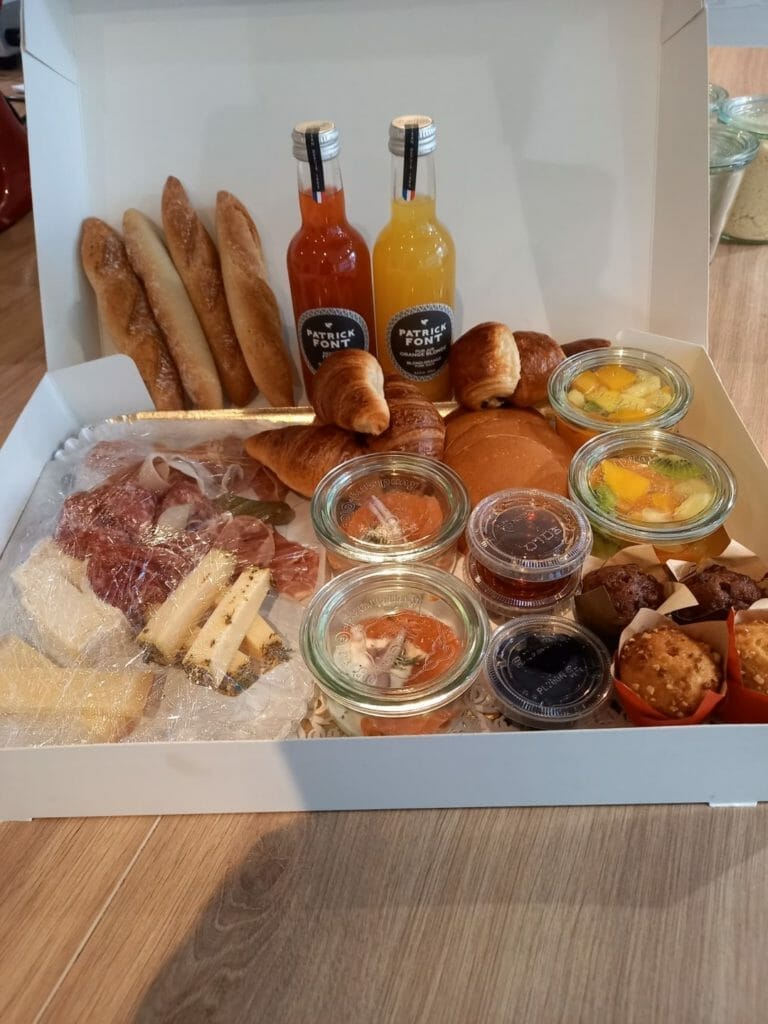 This generous and high quality royal brunch open during the week, from Monday to Sunday, will help you to build up your strength before going to visit Epernay and the Champagne region.
In short: a nice and tasty brunch to fill up with delicious food! You see why it's one of my favorite breakfast and brunch restaurants in Epernay.
Make sure you order your box 48h in advance so that the chef can prepare it. This affordable brunch in Epernay is about €25 per person. When the day has finally arrived, go pick up your brunch box just a short walk from the Avenue de Champagne.
Address: 9 Rue du Dr Verron, 512000 Epernay
Opening hours: 9am to 7pm from Monday to Sunday
Contact: 03.26.54.28.46
3rd brunch box in Epernay: Sparna Brunch
Last but not least, Sparna Brunch and its well-known sharing platters to be delivered around Epernay. The 2-persons brunch box is made up of fresh fruits, pancakes, viennoiseries, bread, crêpes, and much more treats.
And for those of you who, just like me, are having a hard time choosing on the menu, you can add extras! If you are looking for a vegetarian brunch in Epernay, you'll love the egg muffins and the avocados toasts! And for those of you who eat meat, don't worry, cold meat platters are available too. Everyone can customize his brunch and eat what they want.
This is the perfect brunch for people who are going on a roadtrip in the Champagne region, or for tourists who come to Epernay for a week. Indeed, Sparna Brunch delivers seven days a week, wherever you want in Epernay and around.
Simply choose what you want to eat and book the delivery the day before the morrow.
---
Well, writing this article made my mouth water, so I guess you already plan to discover and book one of Epinay's best brunches to make the most out of your stay in Champagne. And if you want to benefit from more tips and advice, feel free to join the Visit Champagne group.
I'm looking forward to seeing you in Epernay, but before then, I'll go book my weekend brunch! See you very soon!
I almost forgot, don't hesitate to leave us a comment. We're curious to know which brunch place you went to, and how much you love French gastronomy!
Pin for later!
On Pinterest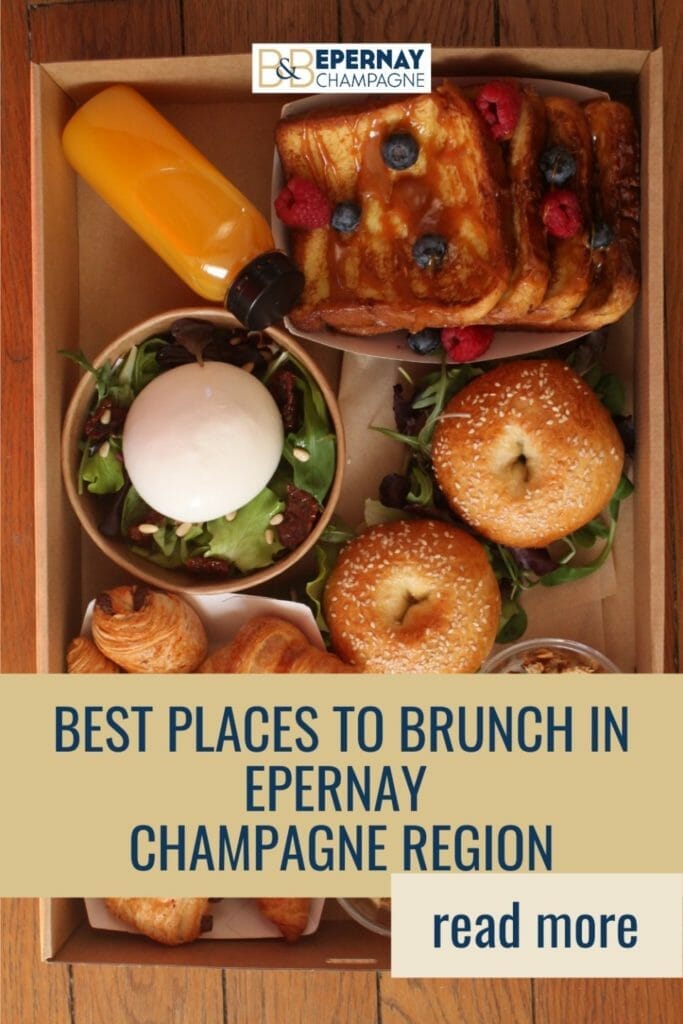 This article contains affiliate marketing: this means that I get a small commission on the Booking links.
This allows the blog to live (translation, etc.) however it does not increase the price for you.