The route du champagne and the villages around
Welcome to my blog 100% dedicated to the exploration of the French Champagne region. I'm Sarah, the owner of cottages located close to the Avenue de Champagne. This is my website where I share with you my top picks and suggestions to visit the Champagne region in the best way possible. Today, I invite you to discover the most beautiful villages around Epernay. These areas to visit near Epernay are my favorite places where I like to have a good time.
The Champagne tourist route (Route touristique du Champagne in French) features several itineraries which are all very pleasant to explore. Believe me it's really worth it to go for a drive if you want to be blown away.
Based on my favorites and my experience, I suggest you a champagne route which crosses the most beautiful villages around Epernay, between the Marne valley and the Côte des Blancs.
The French Champagne region villages
Epernay and Reims are the two unofficial capitals of the Champagne region. Hence, they are the two main destinations to visit. Still, let's not miss the small wine villages where you'll meet winegrowers.
Not only do they have charm, they also offer a very special atmosphere and allow you to travel along the champagne route (route touristique du champagne) and discover wonderful places.
Of course, you may not discover all the villages around Epernay since as in all French regions, some are more attractive than others. I consider there are villages to discover for real, and villages to find a place to sleep.
Let's focus on the most beautiful villages around Epernay, the ones that I consider really nice and where you can spend a part of the day.
Here are lively and authentic places near Epernay, the kind where the village bar terrace overflows onto the road to welcome the locals who meet there every day. Some of them are not used to being visited by tourists, but they always offer a friendly welcome, often with a bottle of champagne.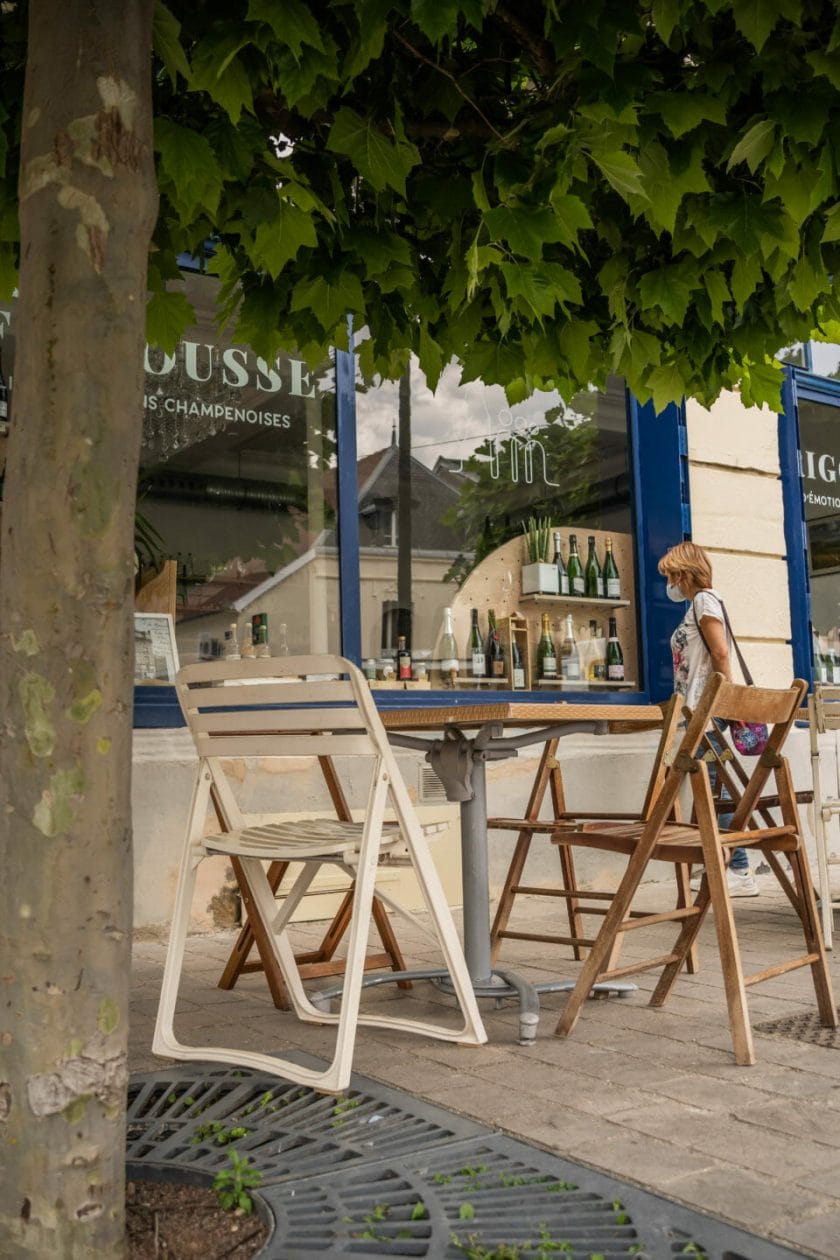 Do you want to follow me? Let's go on the roads of the Champagne region.
The most pretty villages near Epernay
Wherever you go, you should always look up to the sky to discover the architecture of the buildings and see the details that add to their charm.
Hautvillers
Hautvillers, my absolute favorite! Only 12 minutes north of Epernay, this is definitely a village to stop by. With its incredible view points over the Champagne valley and its great history, you can only enjoy a good time there.
Nestled between the vineyards and the forest, Hautvillers is ideally located to enjoy both nature and the city, enough to delight everyone.
Did you know that? With its location in the heart of the Unesco World Heritage hillsides and its history, this is the village known as the cradle of champagne. Much more than a prized location for vineyards, it is the land of the spiritual father of champagne, Dom Pérignon.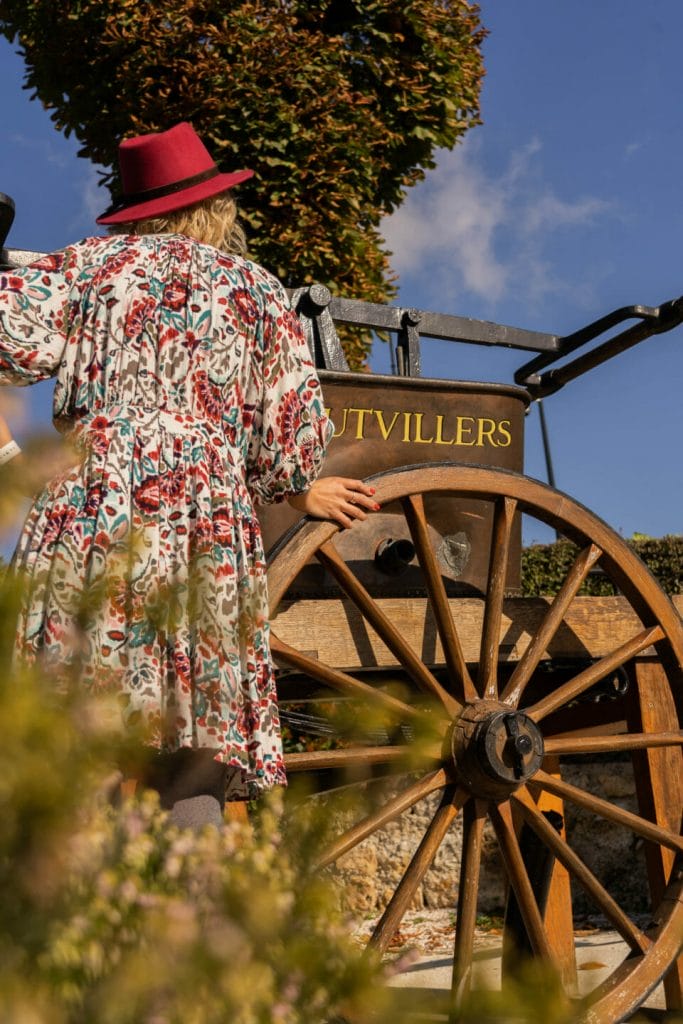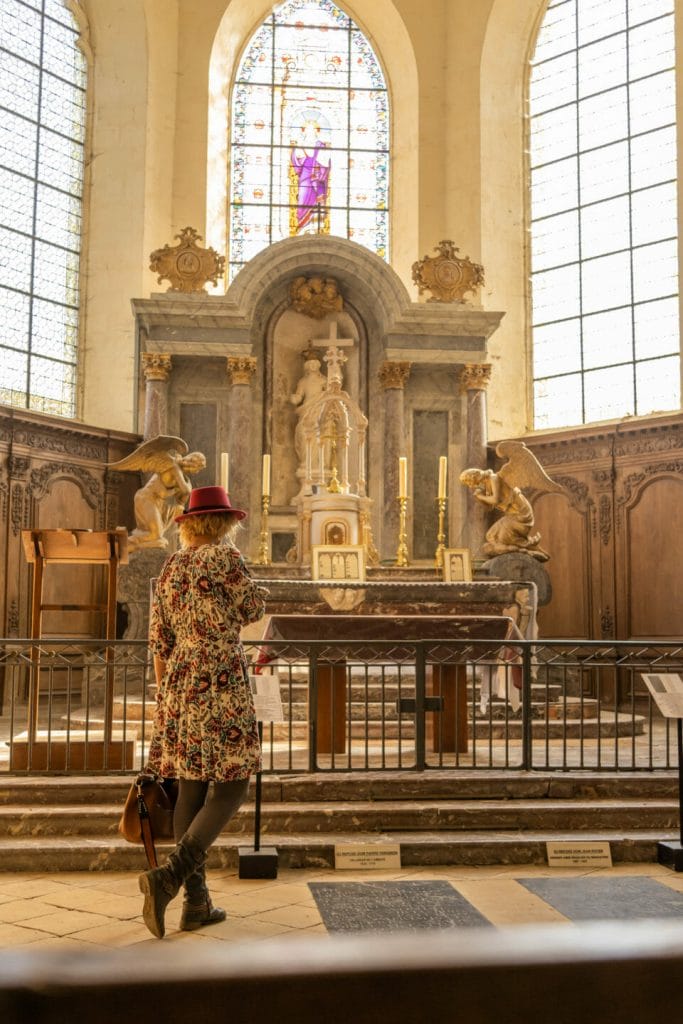 To find out more and make sure you don't miss anything during your visit, take my Hautvillers tourist guide with you, it's full of gems!
Ay-Champagne
Right in the heart of a Grand Cru vineyard and its hills, you will find the pretty champagne village of Aÿ-Champagne, a place I really recommend you to visit.
I love to walk around Aÿ-Champagne, and more particularly to spend some time in the main street surrounded by houses that are worth admiring. Make sure you go past the famous Town Hall bench and its statue, it's worth the trip.
I encourage you to have a drink among the locals at the bar in the village square for an immersion that will leave you with a great memory. If you want to impress them and make some of them smile, don't fail on the pronunciation, we say "Aie-hi".
I'm so in love with this Champagne village that I recommend it to my tenants and visitors for a 2-day trip in Epernay, a roadmap to fully make the most out of Epernay over a weekend.
Not only is it one of the most beautiful villages around Epernay, it is home to Pressoria, the sensory museum of Champagne which is a must-see too. Much more than a simple discovery, treat yourself to an unforgettable experience where all your senses will be stimulated.
Tip: If you're looking for Champagne houses to visit in Ay-Champagne, which is one of the beautiful villages around Epernay, I recommend Maison de Champagne Ayala and Champagne Pierre Leboeuf.
The first for an elegant tasting experience and the second for an authentic champagne cellar tour with Hélène, who has taken over the estate.
Interested in uncovering the hidden charms of the village of
Aÿ-Champagne? Let my dedicated article guide you for an unforgettable tour.
Mareuil-sur-Aÿ
Let's stay in the surroundings and go to Mareuil-sur-Aÿ, a commune delegated to Aÿ-Champagne, just 2 minutes away.
We love going there with Romain and the girls to spend some time by the water with the family. In order to relax, we come with a picnic and a small bottle of champagne, and we look at the boats passing by while the girls play in the park.
Otherwise, we jump on our bikes for a bike ride along the river Marne, which allows us to mix physical activity and relaxation, ideal if you are looking for an activity on a Sunday afternoon in the Champagne region.
It's definitely a typical Champagne village, with no fuss and where you can meet authentic Champagne people, especially at the little bar in the main square, which I recommend.
➡️ If you're looking to explore the beautiful villages around Epernay, I highly recommend having a champagne lunch in Mareuil-sur-Ay. Recently tested (and approved!), I was pleasantly surprised by the champagne lunch experience, including a cellar visit and a fun activity.
Also, take the opportunity to rent an electric bike with a guide to discover the region in an enjoyable and informative way! You can easily explore the picturesque villages while listening to clear and detailed explanations from your guide, without getting tired thanks to the electric assistance.
Avize
I'm taking you fifteen minutes south of Epernay, still in the heart of the Côte des Blancs. Welcome to Avize! Not only is it a small and friendly village beautifully flowered when the sunny days finally arrive, it is also a place where I love to go and take a nature break.
Nestled on the heights of Avize, you will find the famous Vix park and its giant bottle of champagne where you can take a picture and get a nice souvenir. This park is very nice for a walk or if you want to take a relaxing break. You will also have the opportunity to admire an incredible view of the Champagne valley.
You will also encounter some major names in Champagne come from Avize, such as Agrapart, Michel Gonet and Jacques Selosse, three winegrowers' houses that are passionate about celebrating the unique terroir of the Côte des Blancs.
Where to have a drink in Avize
And if, just like me, you are a gourmet and love the delights of life, then head to Le recommandé, a tasting bar set up in the historic post office of the wine-growing village. With good local products in an original setting, it is an ideal place to eat near Epernay, for a champagne tasting or for a Sunday brunch.
Where to sleep in Avize
"Le Recommandé" also offers a gîte for rent for 8 people. With its 4 bedrooms and 2 bathrooms, this apartment with its undeniable cachet will seduce you by its ideal situation.
Romain and Cécile's apartment is also a perfect place for couples or families. True lovers of the Champagne region, they will give you information, advice and will offer to take you in the vineyard with their 80's estafettes through the most beautiful villages around Epernay.
Fleury-la-Rivière
Don't lose too much time looking for the river, there isn't one! The village's name Fleury-la-Rivière is a reference to its history and heritage. At the time, the winegrowers used to make a lot of red wine, and to roll the barrels from the farms to the Marne river, a few kilometers away.
However, the place is beautifully flowered, which gives it a little charm I really like. It's even more pleasant if you come to visit the French Champagne region in spring when you can enjoy both the flower beds and the awakening Champagne vineyards.
In Fleury-la-Rivière, there is also La Cave aux Coquillages, a magical place you should definitely visit. Far from the traditional Champagne cellars, you will find not just bottles of champagne, but also a geological treasure left there 45 million years ago: shells.
Unusual, surprising, original and fascinating, this village is one of my must-sees to discover Champagne in another way.
Contact: 03.26.58.36.43 / info@geologie-oenologie.fr
Learn more: https://www.geologie-oenologie.fr
Don't miss the visit of the Cooperative of Fleury la rivière which is also a pressing center during the harvest. It means that the closest winegrowers bring their freshly cut grapes to be pressed to extract the liquid.
The first visit is at 10 am and you go for 1h15 of explanation on what is a cooperative, how it works and its history.
The little extra: The tasting in a room with a panoramic view on the vineyard.
Laure will welcome you in French, English or even Italian from Thursday to Sunday upon reservation.
From May to mid-September the 5:30 pm visit ends with a dinner aperitif.
Annual closure from January to mid-February
---
I could keep going for hours sharing my favorite places in the Champagne region, but this article would be endless. You now have a guide to discover the most pretty villages around Epernay from a local lover.
>>> For personalized travel tips for your next trip to Champagne, join the "Visiter la Champagne, Epernay, Reims – Découvertes, bons plans, conseils" forum and chat with local experts <<<
Hope to see you very soon to discover your favorite village in the heart of the Champagne region!
Pin it !
On Pinterest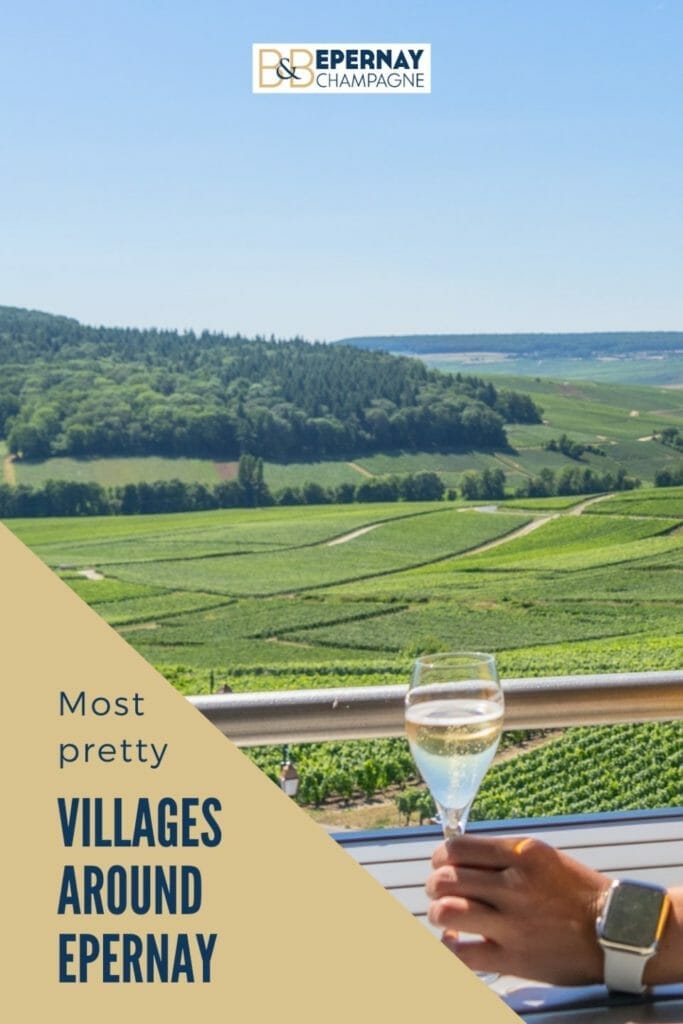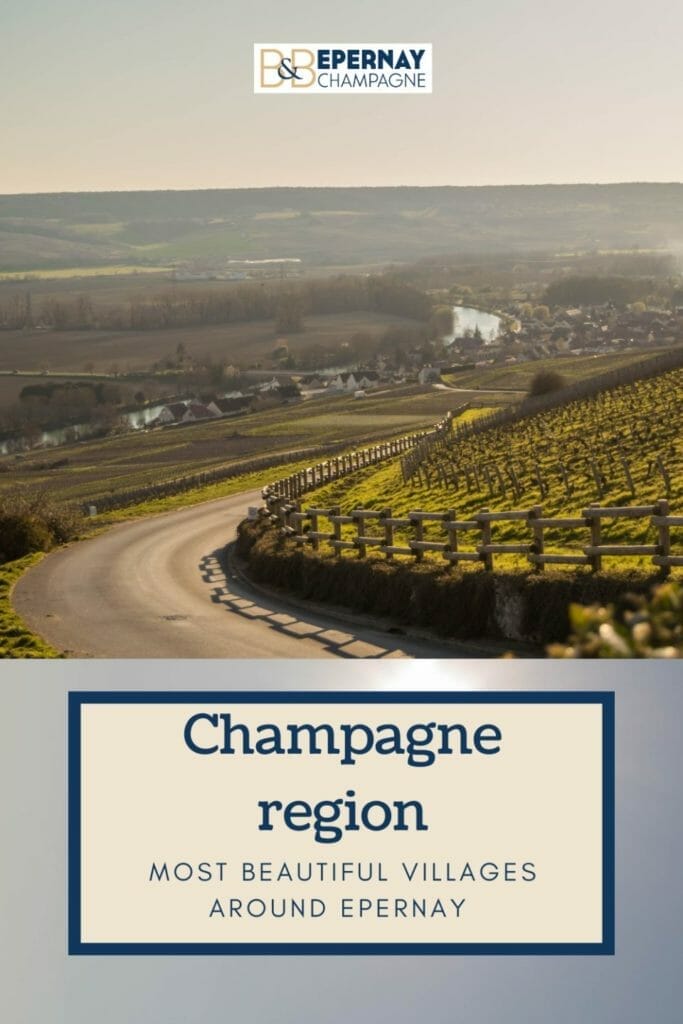 This article contains affiliate marketing: this means that I get a small commission on the Booking links.
This allows the blog to live (translation, etc.) however it does not increase the price for you.