Visit the Côte des Blancs in the Champagne Region
Hey everyone! Let's explore the Côte des Blancs, the heart of chardonnay spread over an impressive 3,000 hectares in Champagne's lovely hills. I have a soft spot for Vallée de la Marne, but I'm excited to share my go-to places in Côte des Blancs, perfect for a walk, a winery visit, or a tasting session.
Welcome to my blog 100% dedicated to the Champagne region, where you'll find countless ideas and good tips to visit Epernay and its surroundings. I'm Sarah, owner of cottages near the Avenue de Champagne with my husband. I'm also the editor of this blog in which I strive to answer your question: how to make the most out of a stay in the Champagne region?
Thinking about what to do and see during your trip to the Côte des Blancs? Check out my top picks of winemakers you shouldn't miss in the Côte des Blancs. Plus, I'll share with you some awesome parks, friendly spots, and hidden treasures to make your stay truly memorable.
Let's dive into my favorite spots on the Côte des Blancs!
Getting to Know the Côte des Blancs: Home of Chardonnay
What is the Côte des Blancs? The Côte des Blancs is a very special place in Champagne, south of Epernay. Where over 95% of its vines are dedicated to a single grape variety : the chardonnay. This type of vine produces white grapes that make white juice which is used to produce the famous Blanc de Blancs.
The territory of the Côte des Blancs stretches over some twenty kilometers of very chalky soil and includes around a dozen communes, among which are some of my favorite places. Although all these villages are very interesting, Avize, Cramant, Grauves, Oger and Le Mesnil-sur-Oger are the ones I recommend to visit first.
The Côte des Blancs covers about 3,200 hectares and includes these towns:
Avize
Bergères-lès-Vertus
Chouilly
Cramant
Cuis
Grauves
Le Mesnil-sur-Oger
Oger
Oiry
Vertus
The road between Epernay and the park of Vix in Avize is a very nice route very pleasant to travel by car. Going from valley to valley, you drive through small villages typical of the Champagne region, a very pleasant experience and even more so in the summer.
Starting from Epernay, you first cross Cuis, then the Cramant village which is a must-see with its huge statue in a bottle shape, before arriving at Avize, a small village which offers breathtaking viewpoints. Beware, do not venture there by bike, there is no bike path.
If you're thinking about riding an electric bike around the region, keep in mind: the stretch between Epernay and Cuis or Chouilly has limited bike paths and can get a bit busy.
Explore the beauty of the region with these two exceptional routes through the Côte des Blancs by bike around Epernay in Champagne.
But once you're in the Côte des Blancs villages, it's totally worth it!
Travel easily from one village to another through the vineyards, away from busy roads: stick to the smaller paths in the vineyards.
Of course, once you're in the car, if you feel like going down a small road, go for it, all paths will inevitably lead you to a pretty spot.
Green Gems: Parks and Gardens of the Côte des Blancs
Somewhere between nature and culture, come and follow me to dive into the very heart of the Côte des Blancs. Some places to have a walk in the Champagne region, some other spots to taste fresh products and champagne, all you need to have a wonderful day.
The vineyard garden in Chouilly
The vineyard garden is a wonderful outdoor museum that allows you to discover the vineyard from every angle, in all seasons, and of all sizes on the Champagne terroir.
I literally fell in love with this natural area which I loved discovering and where Romain and the girls learned a lot. A perfect family activity in the Champagne region!
Informative panels are displayed all along the route, with quizzes for the most curious children. It feels a bit like being in a smaller version of the Champagne vineyard, which is really cool.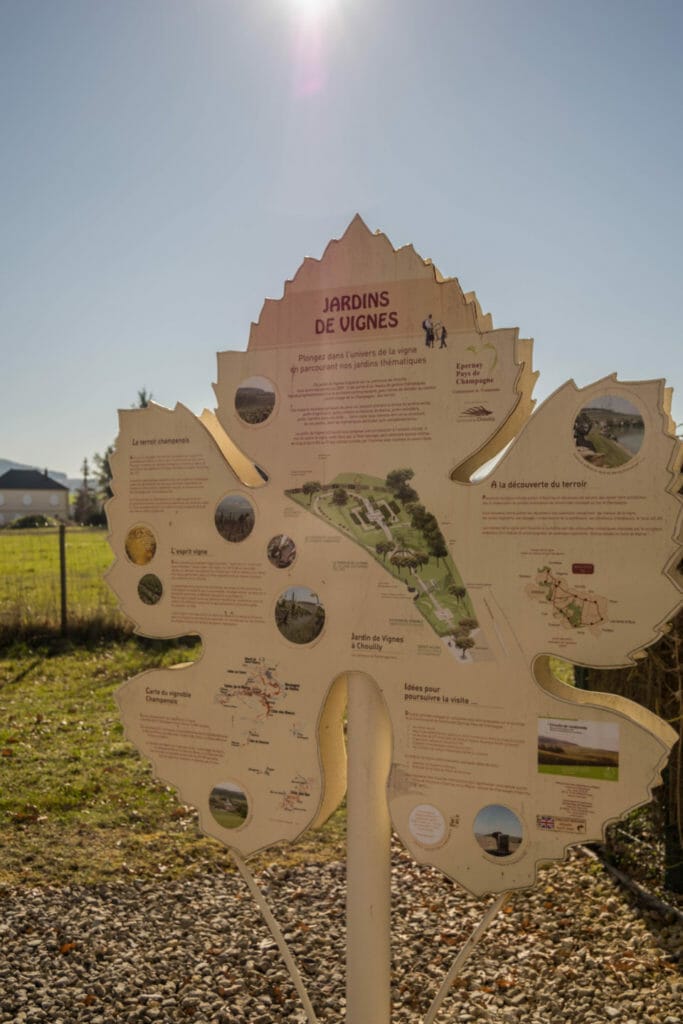 Particular praise is due to the wild vineyards and the giant French map which allows to discover all the vineyards in France.
This playful garden is a must-see and will undoubtedly delight both the youngest and the oldest!
There's a handy car and two-wheeler parking spot available
The Clos Saint-Vincent: A Serene Escape in Mesnil-sur-Oger
Tucked away in the heart of Mesnil-sur-Oger, The Clos Saint-Vincent is the perfect spot for a little getaway. Picture yourself seated in the shade, sipping on a freshly purchased bottle, all while gazing upon the rolling vineyard landscape. That's the enchanting scene this magical place presents.
But this garden is more than just a splash of green. It tells a tale, that of the village's winemakers. As you wander around, you'll find handprints etched into the ground, a tribute to their hard work and the famed Maison Krug.
For those bringing the little ones along, there's a delightful surprise awaiting: the aroma garden. A fun, educational space where they can discover and smell the varied scents associated with champagne.
The Clos Saint-Vincent promises both a relaxing and enriching experience. If you're around, it would be a shame to miss out.
The Vix Park
A natural treasure situated in the heart of the Côte des Blancs, I invite you to take a little trip to the Vix Park in Avize, a doorway to the forest, and above all a magnificent garden to visit.
Whether for a walk, a picnic, a relaxing break or just to get some fresh air, the Vix park is a superb place. You can even play a few notes on the giant musical instruments. Enough to have a great time!
But the highlight really is the exceptional view from the park! We love to sit for a few moments watching the incredible panorama of the Côte des Blancs and the Champagne valley.
It's a great moment to spend with children, my daughters always love to spend time there and have fun with the attractions on site. Follow the botanical path and wander from pond to pond, before taking a break to contemplate.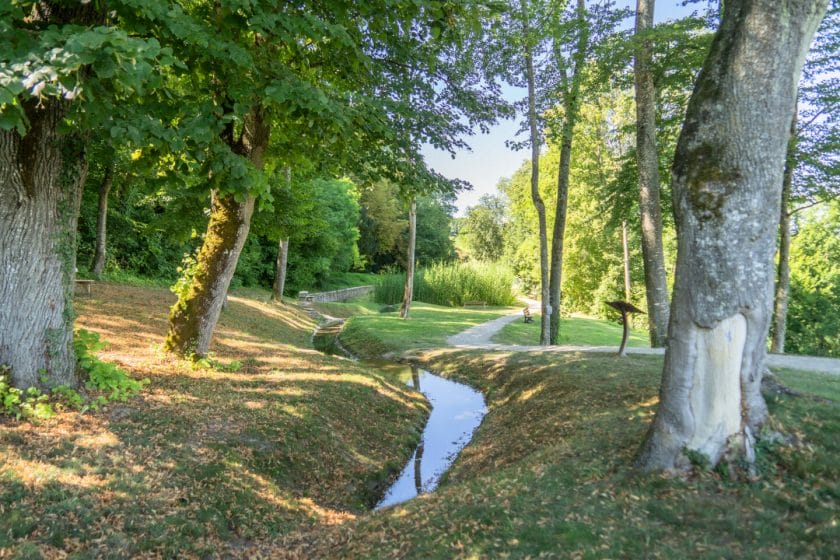 The view is so stunning that it ranks in my top of the most beautiful views around Epernay. Take a closer look, you'll see Avize and the surrounding Champagne plain.
The Launois Père et Fils Vineyard and Champagne Wine museum
Let's go to the Domaine du Champagne Launois. This time, we're not going to visit their cellar, but rather the Musée de la Vigne et du Vin.
Even though I already did this visit several years ago, this museum remains one of my favorites and must-sees that I always recommend to people going to the Côte des Blancs. More than just a simple visit to a museum, it offers a time travel that helps you understand the history of champagne and its protagonists.
I found it really nice, and I still remember the huge number of objects accumulated over the years. You'll see, it's merely incredible. There are all kinds of collectibles, little contraptions, wine-making tools, and even vintage wine presses.
It's all well presented and in surprisingly good conditions, so it's really worth the trip!
The visit lasts 2 hours and the entrance ticket is only €15 with a tasting of 3 glasses of champagne included, so don't miss this main visit to do on the Côte des Blancs.
Where to Enjoy a Glass on the Côte des Blancs?
Wondering how to sift through various champagne bottles to find one that truly suits your taste? Check out my guide on choosing the right champagne. It'll guide you straight to bubbly choices that'll truly resonate with your tastes.
Le Munificence
Champagne Bar
Let's dive right into my undisputed favorite find nestled deep in the heart of the Côte des Blancs. Opened during August 2023, this place is a living tribute to the winemakers of Chouilly. As you walk in, it's none other than Nicolas, born and raised in Chouilly, who welcomes you with a warmth and passion that's simply contagious.
His dream? To fill a void with a lively space in this charming village tucked between Epernay and Oiry, right at the entrance of the Côte des Blancs. Oh, and what a dream turned reality!
But, have you ever tried a Chouilly Champagne? Before my visit, I couldn't recall tasting one. Thanks to Nicolas, that gap in my tasting adventures is now history.
The Munificence is a true sanctuary. Between its tranquil atmosphere, chic décor, and a terrace perfect for daydreaming, the attention to detail is palpable. Every week, Nicolas showcases various winegrowers, offering guests the chance to discover a range of champagnes by the glass, be it brut, rosé, blanc de blancs, or blanc de noirs.
Champagne Cellar
And the wonders don't stop there. For those wanting to take a bit of the magic home, Nicolas has a curated selection of Champagnes de Chouilly on sale, and here's the kicker – at producers prices. An absolute golden opportunity to treat yourself to a bottle (or more) with prices kicking off at a mere 16 euros. How fabulous is that? 🍾🥂
Le Recommandé
You don't want to miss Le Recommandé, a tasting bar located in the historic centre of Avize, in a very special place. Indeed, this gourmet spot is located in the historic post office and is run by Nina, a passionate winegrower who loves to share her universe with you.
In addition to being a place where I love to go for a drink or a quick snack, it is the only place in the area to do brunch on Sunday morning, which I love before spending a family day out.
Contact: +33 9.80.37.38.72
Opening hours: 11:30am to 2:30pm & 5pm to 7pm Monday and Tuesday | 11:30 to 2:30pm & 5pm to 11pm from Thursday to Saturday| 10am to 2pm on Sunday
La Champagnothèque
Would you like to have a champagne tasting? The Champagnothèque in Cramant is the perfect place to savor bottles from the Champagne region along with a few delicacies.
Blanc de Blanc, Chardonnay, Meunier or Pinot Noir are available on the menu to delight your taste buds, as well as aperitif platters made with local products. And if the sun rises, you will be able to enjoy it seated at the terrace.
After a delightful tasting, if you're thinking of taking back some 100% Champagne region gifts for yourself or your loved ones, I've got just the perfect recommendations for you.
Must-Visit Cellars in the Côte des Blancs
On the lookout for the best cellars to visit in the Côte des Blancs? Here's a handpicked list of winegrowers I've had the privilege of meeting.
Before you head over, I strongly recommend booking in advance or at least reaching out to ensure they're available. They'll walk you through their signature wines, the unique tale of their heritage, and so much more.
Wondering which estates are a must-visit during your Côte des Blancs exploration? On the hunt for the most authentic cellar tours?
Let me steer you towards some of the gems of this region. I'll be updating this list with fresh finds, so make sure to check back from time to time.
Champagne Doyard Mahé à Vertus
Picture this: a quaint village nestled deep within the heart of the Côte des Blancs in Champagne region. As you wander down a narrow lane, you come across a humble sign: Champagne Doyard Mahé. But don't be fooled by its unassuming facade, for once inside, an entire world unfolds before you.
You're greeted by Carole. Her zest for life and infectious smile epitomize the passion that drives her. She starts narrating the chronicles of the estate – a family tale spanning centuries. With each story, each memory shared, you feel the depth of their legacy, the dedication and vineyard love handed down from one generation to the next.
But that's not the end of it. Carole then introduces you to their champagnes. Through her words, you grasp the craftsmanship, patience, and elegance they embody. Every sip reveals a chapter of this narrative.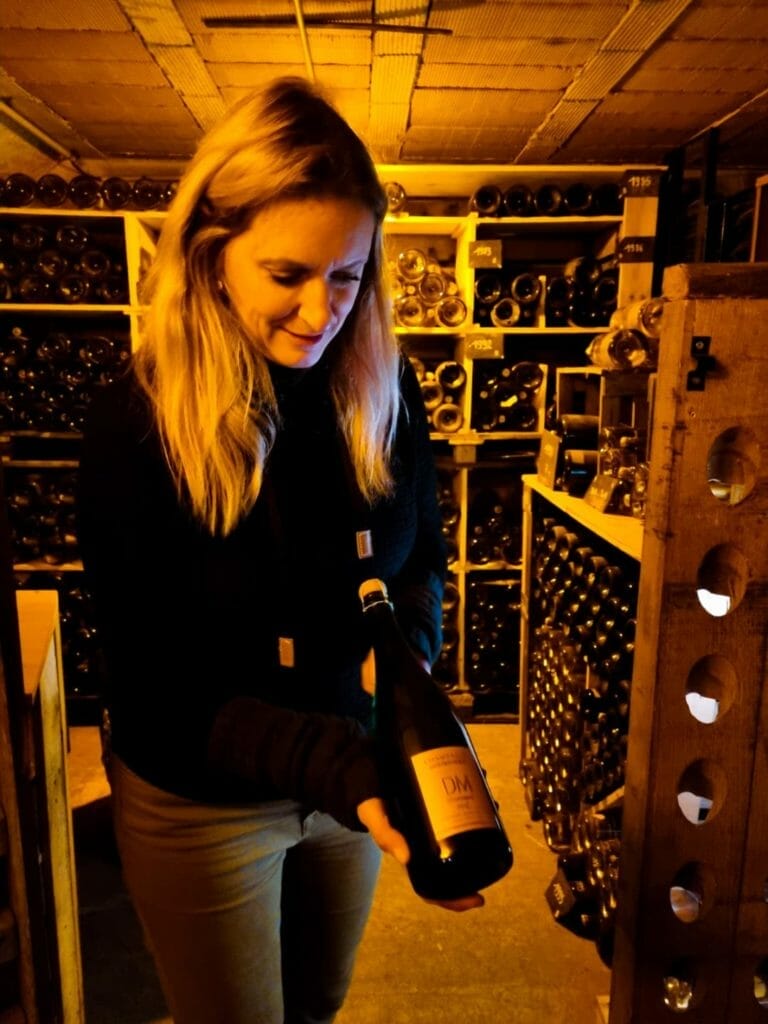 Champagne Doyard Mahé isn't just a pit stop in the Côte des Blancs, it's a tale waiting to be experienced.
As you leave, you realize that you haven't merely toured a champagne house; you've embarked on an experience – a journey through time and emotions.
Reservations are a must.
Tours start at 15 euros with 2 tastings included.
Champagne Launois père et fils
Nestled in Mesnil-sur-Oger, Champagne Launois is yet another gem of the Côte des Blancs. Their museum takes you on a journey through time, showcasing the grandeur of Champagne traditions.
Moreover, their Champagne-themed meals are touted as a culinary delight. A word of advice: arrange for transportation back after your visit!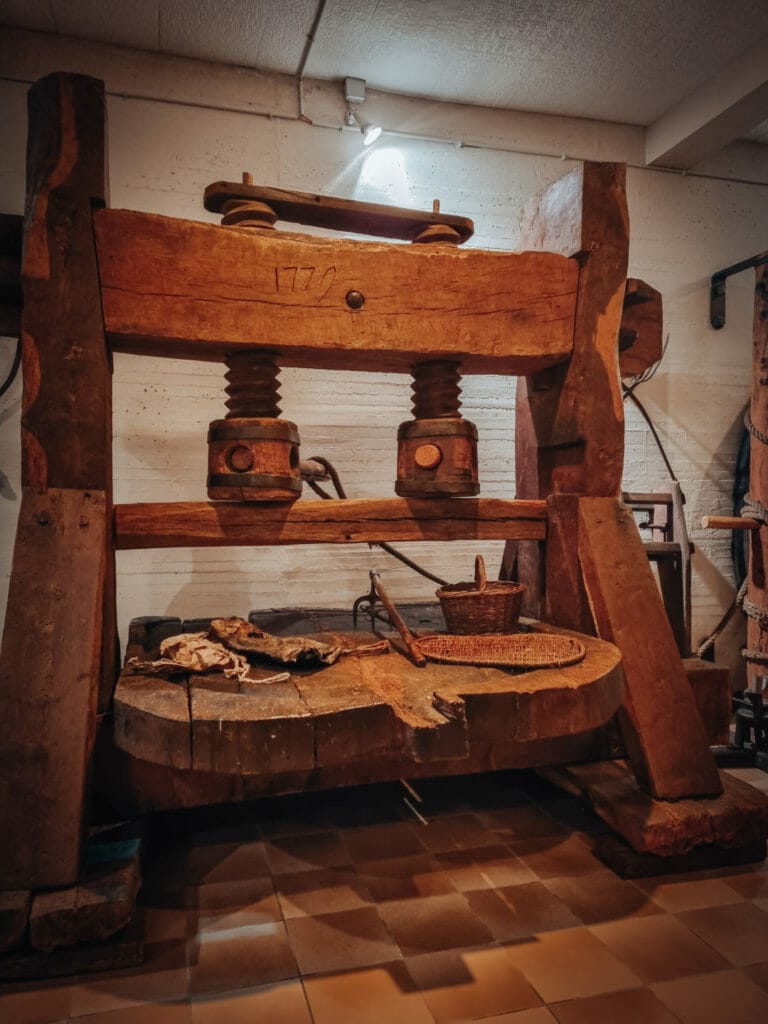 Champagne Jean Milan
If you're touring the Côte des Blancs, making a pit stop at Oger might be on your itinerary. Champagne Jean Milan is that family-owned house exuding genuine authenticity. And if you're traveling with toddlers, good news: the entire place is stroller-friendly!
No frills here, just deep-rooted tradition. What's more, they allow you the privilege to explore the press room and their quaint museum independently. This is truly a boon, especially if you're the kind who loves taking their sweet time to unearth every secret. And if the weather permits, they even host outdoor tastings.
Booking recommended
Open on Sunday mornings
Starting from 15€: Self-guided tour with 3 tastings
Champagne Thomas Pavy in Chouilly
In Chouilly, just a 5-minute drive from Epernay, you'll be enchanted by the warm welcome at Champagne Thomas Pavy. Their fervor for winemaking is palpable and mirrors in every blend crafted.
What truly sets this house apart? A somewhat unorthodox method in Champagne. Instead of the customary post-fermentation blend, they employ a unique approach for one of their champagnes: direct blending at the press with successive layers of pinot noir, pinot meunier, and chardonnay. This "ancestral" blend epitomizes boldness and rare innovation.
For those wanting to add a culinary twist to their visit, they offer a food and champagne pairing starting from 20 euros per person for groups of at least 8 (advance booking mandatory).
Booking recommended
Complimentary tasting with a champagne purchase.
Essential Tips for Your Journey Through the Côte des Blancs
Public transportation is limited in the area, so having your own mode of transport is advised.
The villages, as charming as they are, can be quite distant from one another.
Make sure to book your cellar tours and tastings in advance, especially during peak season. The same goes for restaurants.
The Côte des Blancs is truly a gem, offering a unique blend of gardens, museums, and of course, an unparalleled champagne experience.
If you're a champagne enthusiast, dedicated champagne bars will provide moments to remember. Take a moment to sit down, savor, and relish the experience.
While self-exploration is a great approach, know that having a local guide can significantly enhance your journey, allowing you to delve into stories and anecdotes.
The roads of the Champagne region are yours to explore the Côte des Blancs! You'll love this part of the Champagne vineyards which has so much to offer both visually and in terms of taste.
Undecided about touring Champagne? Here's 5 undeniable reasons to journey through this splendid region. Naturally, the Côte des Blancs tops the list! If these tips resonate with you, be sure to dive into my other Champagne favorites.
>>>And to discover the other side of the vineyard by exploring the Marne Valley, join our Facebook group Visiter la Champagne, where you will find all the best things to do in Epernay, Reims and in the surrounding area.<<<
See you soon for your Champagne getaway!
This article contains affiliate marketing: this means that I get a small commission on the Booking links.
This allows the blog to live (translation, etc.) however it does not increase the price for you.