Whether you're a local, a holidaymaker from the other side of France or a foreign tourist, we want to tell you the reasons to visit Champagne, France. Discover the Champagne vineyards, the Champagne Houses, Reims and Épernay, and we promise you a sparkling stay.
We are Sarah and Romain, as well as welcoming you to our apartments in Épernay. We want to offer you the best of the area, help make your stay unforgettable so that you can create the most beautiful memories.
Here we present our top 5 reasons to visit Champagne, history and heritage, through the Champagne vineyard and the French characters, but also to explore its iconic monuments.
Discovering a Unesco listed heritage site
Visiting Champagne means stepping into the heart of French history. First, above all, it means entering a region that offers you UNESCO World Heritage Sites, known throughout the world thanks to their exceptional value.
Since 2015, various iconic locations in the history of Champagne have been classified as UNESCO heritage sites and attract tourists from all over the world every year.
It's fair to say that Champagne is honoured, from the vines from which it comes to the Champagne Houses that offer it to you, via the cellars where it is produced and stored.
To give you an idea, we have compiled a list of places classified as UNESCO heritage sites to explore when touring Champagne, France:
Coteaux, Maisons et Caves de Champagne, France
Notre-Dame de Reims Cathedral and the Palais du Tau
The ancient abbey of Saint-Rémi in Reims

To begin with, we invite you to tour Hautvillers, Aÿ or Mareuil-sur-Aÿ, as well as to the Saint-Nicaise hill in Reims. First, set foot on the land of one of these famous historical and classified French vineyards.
Then, join one of the classified Champagne Houses for tours of the premises and a small underground expedition with a guide. Finally, visit the heart of the cellars where the bottles of the best wine vintages in the world are kept.
The historic centre of Reims will amaze you with its rich architectural heritage, marked by two millennia of history.
Visit the Champagne region and discover the secrets of champagne production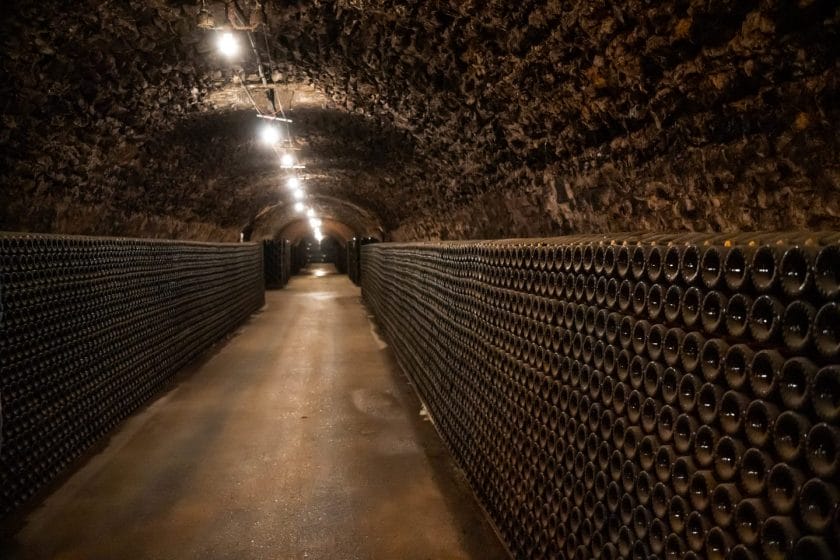 Visiting Champagne without tasting a few bubbles is unacceptable. You can't leave without taking a trip to discover the history of Champagne.
In the company of the best local guides, and passionate experts who work in the wine world, take a day tour and discover how Champagne is made, from the vine to the sparkling Champagne, through all the stages of its production.
To get the best insight into this great world and to discover the secrets of Champagne, we recommend combining a visit to a Champagne House with a tour of a small independent winemaker or vineyard.
Take a tour and learn how to saber Champagne
For an original experience and a visit that will leave you with lifelong memories, we suggest that you learn how to saber Champagne. The bubbles will only taste better!
At My Vintage Tour, our favourite place to learn how to saber a bottle of Champagne, you will be able to experience this unique moment alongside Maëva and Romain, two enthusiasts of the Champagne region. What makes their tours a little extra special is that your introduction to sabering takes place in the heart of the vineyards and is then followed by a tasting of the bottle sabered by you.
With these local guides, you will visit the Champagne region on board a fully renovated vintage Renault Estafette.
Other guides in the area also offer the same service. You can take a tour with a guide and learn about sabrage in some Champagne houses in the region.
Explore Reims, the city of the coronation and Champagne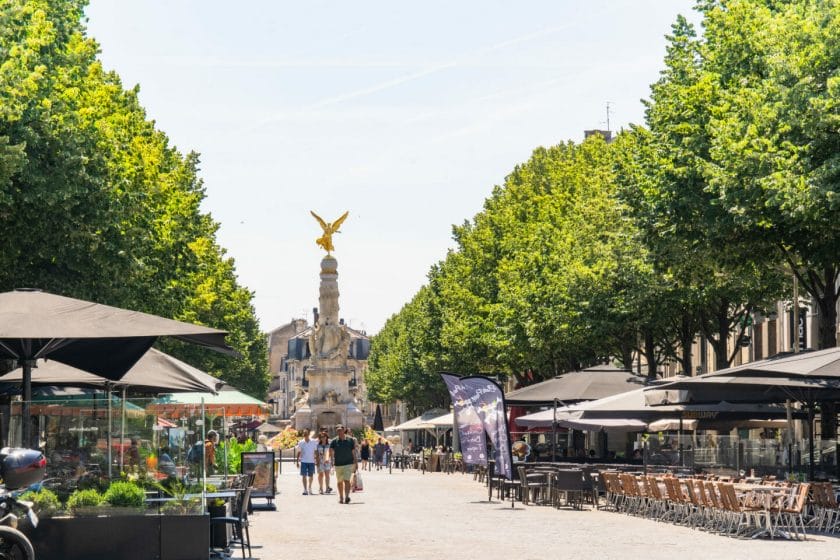 Classified as a city of art and history, Reims is an essential stopover when visiting the Champagne region. Reims' appeal is thanks to all that it offers its visitors.
In addition to being a champagne capital, Reims is also known as the city of the coronations. Countless kings of France have been crowned there, perpetuating the tradition and paying homage to Clovis I, the first king of the Franks, who was baptised in Reims in 498.
History lovers will be happy to enter these symbolic monuments, where kings, queens and other characters of our history have succeeded one another. Each one writing a piece of France's story and leaving us wonderful jewels.
But let's not forget its status as the unofficial capital of Champagne. Reims is also the place to enter the effervescent world of Champagne by visiting some of the most beautiful cellars in France.
Walk down the wealthiest avenue in the world

A must-see in the Champagne region, the Avenue de Champagne, also known as the richest avenue in the world, awaits you in the heart of Epernay, the capital of Champagne.
It owes its fame to the treasure it preserves more than 200 million bottles of Champagne on more than 110 kilometres of pits beneath the houses.
Classified as a Unesco World Heritage Site since 2015, the Avenue de Champagne is an expression of our heritage par excellence, thanks in particular to the Champagne Houses that have taken up residence there.
These Champagne Houses welcome you. Visit and discover the history of the Champagne houses, which invite you to explore their cellars, each one more beautiful than the next.
Visiting Champagne is also an opportunity to taste some bubbles on the terraces before visiting the museum and the town hall, both located in the heart of the Avenue de Champagne.
Come and visit the Champagne region
Here are the best ways to come and explore our two champagne capitals from Paris!
Epernay
Car: via the motorway, Epernay is 1 hour 40 minutes from Charles de Gaulle airport, Paris and 1 hour 50 minutes from Orly airport.
Train: from Paris Est station, it takes 1 hour and 20 minutes by TGV to get to Épernay.
Bus: several companies offer bus services from various stations within Paris to Épernay.
Reims
Car: Reims is located 1 hour and 30 minutes from Charles de Gaulle airport, Paris and 1 hour 45 minutes from Orly airport.
Train: by TGV, and from Paris Est station, you can reach Reims in 45 minutes with a direct link.
Bus: several companies offer bus services from various stations within Paris to Reims.

And for those who like to socialise, we invite you to try a carpooling trip from Paris to Reims and Épernay.
We know that our top 5 reasons for visiting the Champagne region have whet your appetite. We assure you that there are many more must-sees in Épernay and its surroundings. We will help you discover the best addresses to visit the Champagne region.
Book your visit at one of our apartments, and come and tour the Champagne region. Staying with us means spending time with two passionate local people of the beautiful Champagne region, France.
We are waiting for you, with a glass of Champagne! See you soon!
This article contains affiliate marketing: this means that I get a small commission on the Booking links.
This allows the blog to live (translation, etc.) however it does not increase the price for you.