Are you looking for a place to have a champagne tasting in Epernay? Do you want to tour and discover the champagnes of wine growers? You are at the right place to discover where you can have a tasting of champagnes from the region's local wine growers!
If Epernay is the ideal city to discover the Champagne region, tour its cellars, visit its typical villages, the treasures of its terroir and the Champagne vineyards. In that case, it is also the best place to taste the best local bubbles and wine.
Welcome to our blog. We are Sarah and Romain, two people from Epernay, who love the Champagne region, but who also own apartments in the heart of Epernay, where we love to welcome you and offer you unique moments that will make your visit unforgettable.
Far from the tastings of the great Champagne Houses, we offer you today to discover champagnes created by wine growers and put forward by these same passionate wine experts.
First, we will visit Les 3 Domaines, a new must-see place in Epernay, for a successful Champagne tasting day or tour.
Les 3 Domaines – Tasting Epernay
We take you to the gates of the Avenue de Champagne, Epernay, to discover a champagne bar that honours the Champagne terroir and welcomes you for tastings tours full of flavour.
Here, you will not be offered a list of all the famous champagnes known throughout the world, but rather a selection of local vintages from the three winegrowers who have created this wine bar designed for you to visit in Epernay.
The name of this place says a lot about its history, revealing perfectly the soul of this house born from the association between three lovers of bubbles and the Champagne region. At Les 3 Domaines, Baptistine Boivin, Cyril Janisson and Vincent Testulat welcome you for tasting tours to present their lovingly prepared wines.
All three are true locals, having been immersed in the world of champagne for many years, which is why they have decided to offer you a unique place where you can visit tour and discover the champagnes produced in their own Epernay vineyards, namely:
On the tours programme, three trilogies of tastings to try, ranging from entry-level bottles to the finest champagnes, all presented with explanations always shared with a smile.
Because the bubbles can be accompanied on the palate by sweet and savoury treats, charcuterie, Champagne sweets, chocolates and other local delicacies are requested to your table for perfect food and champagne pairings.
Because this trio wishes to highlight local craftsmanship, all the products served come from local partners, with the only exception being caviar, which is on the menu. Still, we are happy to excuse them, as we have not yet found any sturgeon making its way through our vineyards.
For your wine tasting tours, you can sit inside in a superb room with a high ceiling where a cosy atmosphere reigns, but also on the outside terrace from which you can enjoy the view of the Avenue de Champagne and Epernay.
Gourmets will want to visit the small shop before leaving. It will be the occasion to stock up on regional specialities, and why not take with you a few boxes of the wine vintages you have tasted on your tour to enjoy all year round.
And if you are really a champagne lover, you can even buy buckets and champagne glasses to taste like a pro from your living room.
The little extra? The small terrace with its bench will even allow you to take a photo that will be a hit on your Instagram feed!
Address: 1 Avenue de Champagne 51200 Epernay
Phone: + 33 6.84.07.51.12
Open all week until the end of October except on Wednesdays
Why visit and taste local wine producers?
We've come up with our top 3 reasons to visit Champagne winemakers and discover their vintages.
Taste local champagnes from the Champagne region, prepared with passion by champagne lovers
Meeting the winemakers in person is also a way of sharing a friendly moment with passionate people who want you to discover champagne from the ground up
Tour and learn the history of champagne, the production process and all the secrets of champagne with the artisan winemaker who works all year long to offer you his most beautiful bubbles
We love the Les 3 Domaines concept so much mainly because we find these advantages of meeting the winemaker in the heart of Epernay, which is an experience to plan on your champagne tour program whether you are locals or visiting the region.
Our experience at Les 3 Domaines, Epernay
Les 3 Domaines is a big favourite among all the tasting rooms we tested for you in Epernay. It's good because you travel to the heart of the Champagne vineyard without even leaving the Avenue de Champagne, Epernay.
We recommend 100% this unique place for a tasting in Epernay, which is now one of our favourite tasting addresses. For us, it is the kind of place you should visit in order to enjoy a tasting of champagnes from dependent winemakers at an affordable price.
We were welcomed by Baptistine and Boris, two extremely warm and smiling characters with whom we spent an excellent instructive and gourmet moment, as much for the wine tastings as for the atmosphere.
Without a shadow of a doubt, we will return to visit this sparkling trio very soon, and we hope to see you there! We couldn't keep this Champagne nugget in Epernay to ourselves with friendly tour hosts and affordable prices.
---
Whatever the length of your stay in Epernay, jump at the chance to enjoy a champagne tour or tasting with a visit to local winemakers, it's a must-do experience, and you might even come back for more.
And if you want to discover our other favourite spots, go to our blog, where we share with you the places to tour and visit to discover Epernay, Reims and the Champagne region.
Pin it !
On Pinterest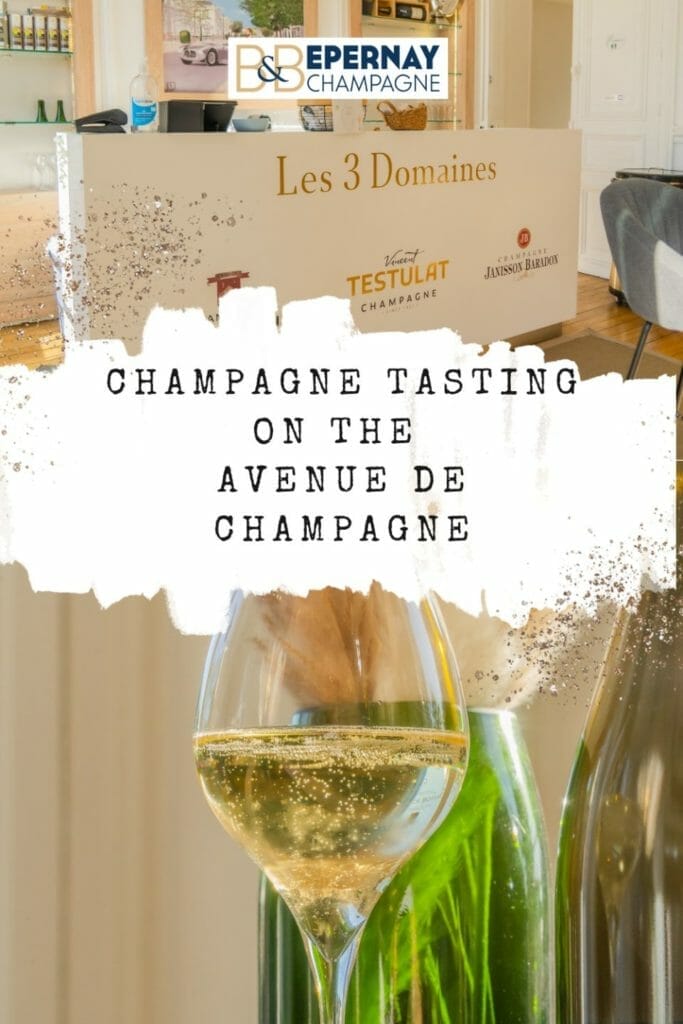 See you soon for your visit and tours of Epernay, Reims, and the Champagne region!
This article contains affiliate marketing: this means that I get a small commission on the Booking links.
This allows the blog to live (translation, etc.) however it does not increase the price for you.